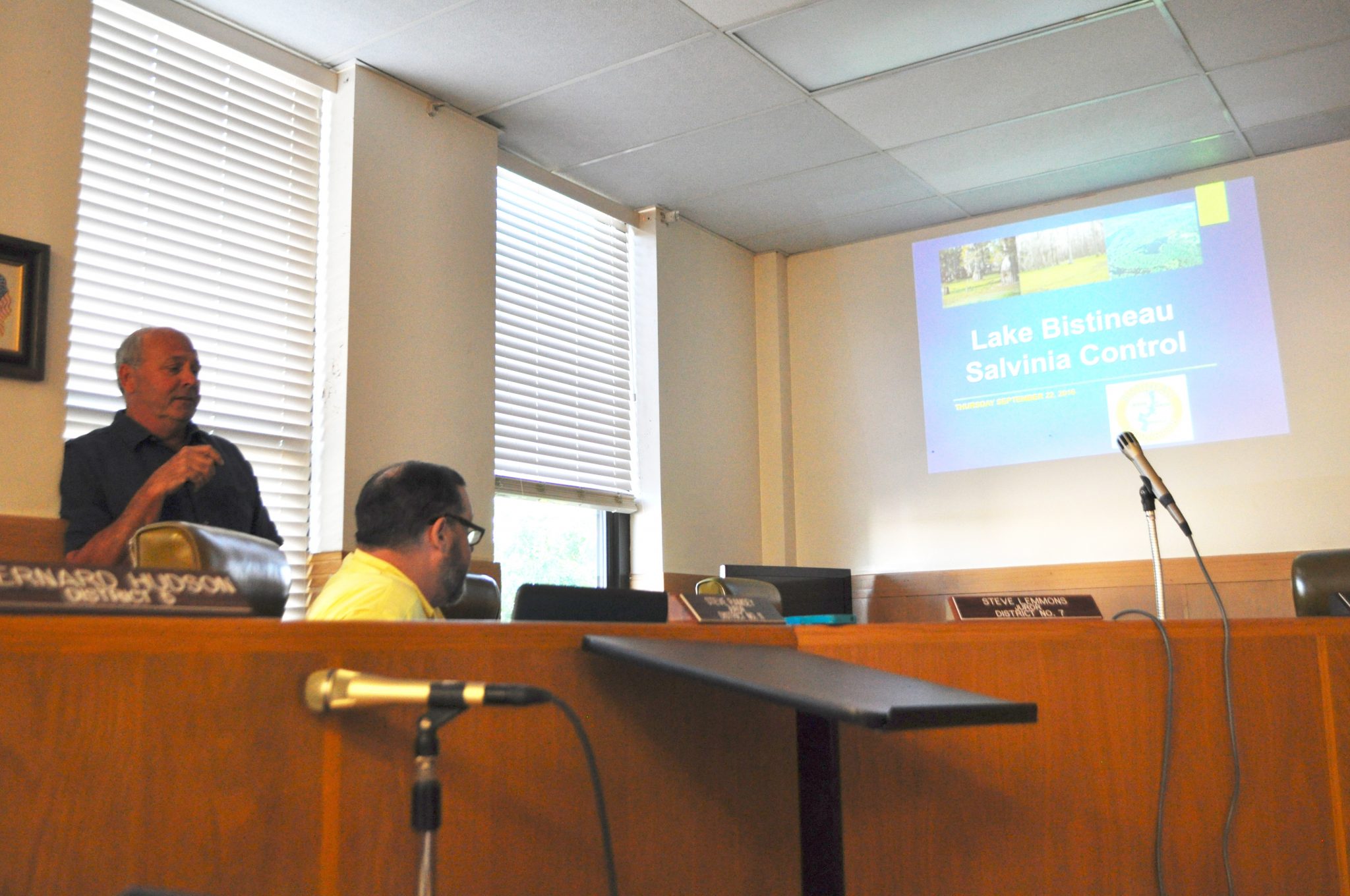 The Bistineau Task Force may have found a way to assist in the fight against the invasive aquatic weed giant salvinia on Lake Bistineau.
During a meeting Thursday, Member-At-Large Pete Camp gave a presentation on a water mower and an update on their weevil study, saying both are viable ways of getting rid of it.
He showed a video of a five-day trial in which a water mower, which picks up the salvinia and grinds it to a pulp before spitting it back out into the lake, is faster than its original version.
"I had seen the water mower at least three or four times from the day it was invented until a few weeks ago at the state park," he said. "Every time it got better, and I understood why Wildlife and Fisheries wouldn't give it a second thought. I agreed with them, but it was time to give it another look."
The water mower is used on Cypress Lake, he says, and has been used for at least the last two years.
Camp founded the Bistineau Foundation in January, a nonprofit to raise money for lake project studies to fight the salvinia.
"We're going to use the money to do whatever we can do to help Wildlife and Fisheries take care of the salvinia on the lake," he said. "There's a lot of things that Wildlife and Fisheries cannot do, and it's a good place for others to come in and help take care of some of this."
The foundation is made up of seven volunteer members.
He also updated BTF members and the audience on their weevil project saying the mild winter and warmer weather has allowed the weevils to flourish and really work on the salvinia.
Weldon Thomas, Bistineau News member, announced a fundraiser set for Saturday, Oct. 1 at Lake Bistineau State Park to raise money for lake projects throughout the year, but specifically for a barge that will pick up the salvinia and get it out of the lake.
The fundraiser will be from noon until 10 p.m.
Jeff Sibley, biologist manager with the Louisiana Department of Wildlife and Fisheries, gave an update on the lake regarding the drawdown and the status of the giant salvinia.
"The lake is five feet and three quarters down right now, and with the delay and the overall rain we've had, we're falling at a slower rate than we have," he said. "We have treated over 900 acres since the drawdown began, and we're trying to work out a contract on an aerial application."
The gates are expected to be closed Nov. 30, Sibley said.