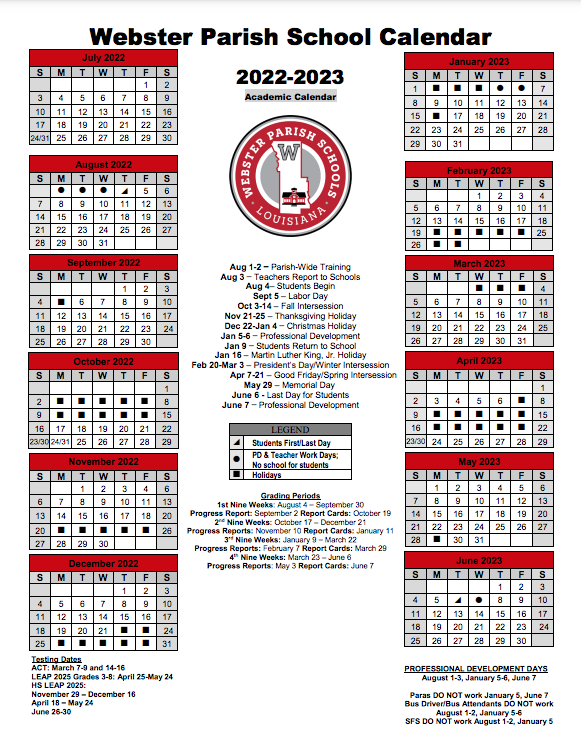 The Webster Parish School Board approved the Balanced Calendar for the 2022-2023 school year during this month's school board meeting. Eight employees of the school district presented feedback about using the Balanced Calendar in the current school year. The feedback was mostly positive, and everyone agreed that the Balanced Calendar should be used again next year.
"The Balanced Calendar has helped by spacing traditional, long summer vacations into shorter, more frequent breaks with intercessions throughout the school year, " said Yolanda Palmer, Federal Programs Supervisor. "The goal of the Balanced Calendar is to reduce summer learning loss by continuing instruction throughout the year."
The summer break is reduced from about eleven weeks down to about six weeks. During the school year, there is an intercession, or two-week break, about every four to six weeks. At this time, the first three days of each intercession are used for intensive small-group tutoring in an effort to help students reach academic goals.
"My teachers have loved intercession," said Mrs. Finley, Principal of E.S. Richardson Elementary. "Most have worked during intercession tutoring. The kids have all come. They're happy. It's going great. Everyone seems refreshed when they come back. I've heard nothing but positives from my staff or from the students. I've heard nothing negative from parents either, and we have over 375 students."
The intercession breaks have presented some problems for parents. Finding childcare for those two-week breaks can be a challenge. Members of the school board are open to hearing about those problems and hope some people will also present solutions. A survey will be forthcoming.
One parent had already sent a message stating that the intercession tutoring would be easier to accommodate if the tutoring lasted all day instead of only half days. Another member of the community, Ms. Smith, asked what children were doing all day during these breaks. She shared stories of parents having to bring small children to work because they had no childcare. In response, Board Member Frankie Mitchell said, "We're going to have to get our community people—our churches, our sororities, our fraternity—to fill in what we need, the help we need for our kids to be successful. No one can do everything. The churches can't do everything. But we can come together as a team. Our goal is to get our kids back on line."
Some adjustments have been made to the calendar to improve the way it works for students. The school year will start a little earlier, on August 4th. This will allow the first semester to be completed in December instead of rolling into January. The last day of school will be June 6, 2023. This has been coordinated so that graduation will not interfere with college orientations.
It was decided that more than one year would be needed to assess the effectiveness of the Balanced Calendar in helping students to get back to where they need to be academically. "The intervention data that is being analyzed is reflecting individual student growth," said Ms. Palmer. "However, one year of data is not enough to determine the success or failure of the Balanced Calendar."
The vote was unanimous to use the Balanced Calendar again. President Fred Evans ended the discussion by saying, "You never make progress unless you change."
The school board's next meeting will be on April 4th at 6:00. The public is welcome to attend.