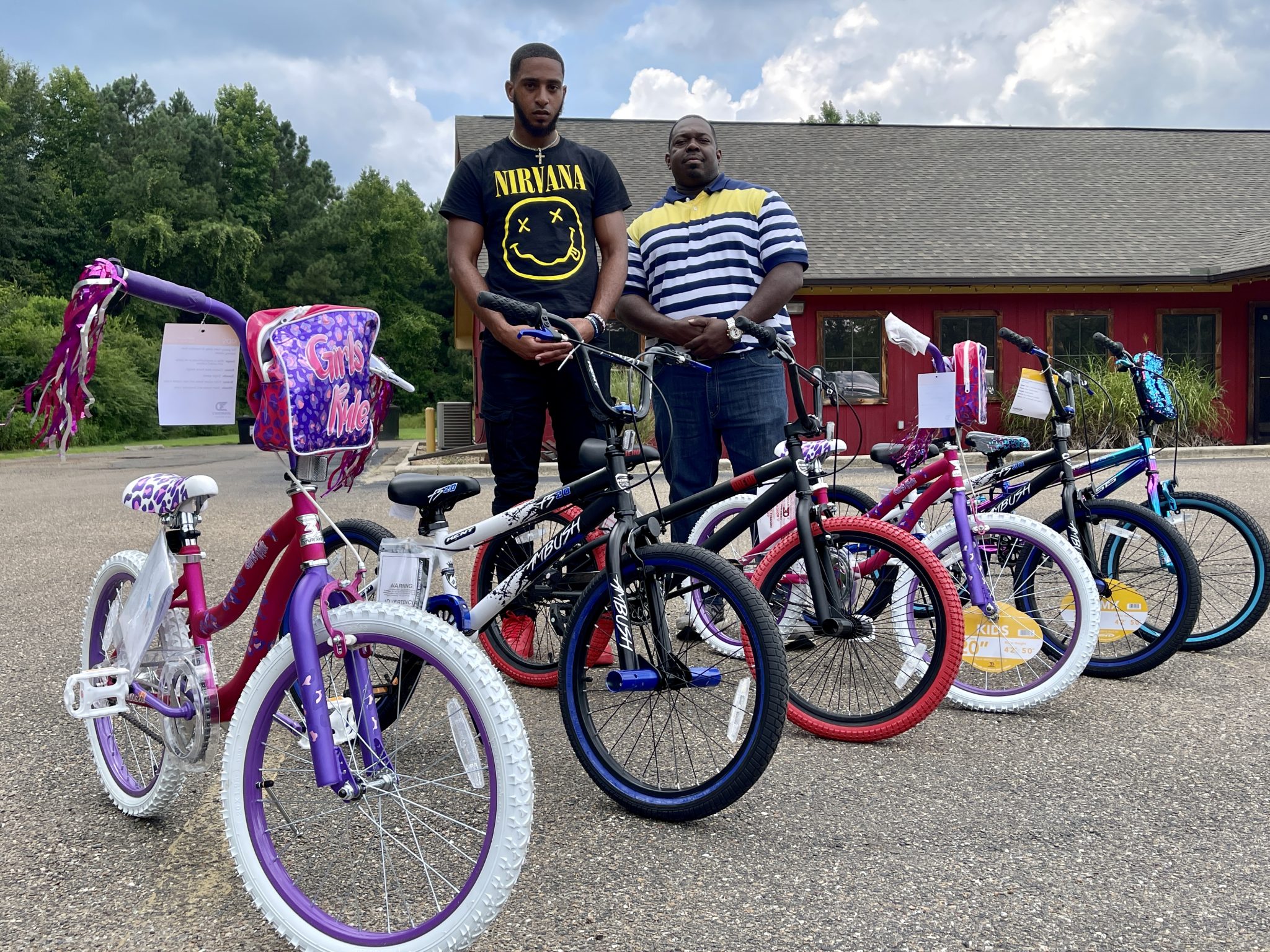 We Care is an organization spearheaded by Patrick White to let the community of Minden know that there are people here locally that care about them. This year, they are organizing a Bike Drive where the bikes will be given to the youth of the area, giving them something tangible to show them that 'We Care.'
White has always done things for his local neighborhood community from cookouts giving free meals to driving around on Thanksgiving making sure that everyone had holiday dinner.
We Care originated from White seeing that the local community is a giving one, there just needs to be extra work done connecting the people who can help to the people who need it. The organization in a bigger sense aims to act as a network to foster these relationships and make these connections to facilitate getting help to those that need it with as little hassle as possible.
"There are many business owners, many people out here that actually care about people. Now that I do realize it, I see there's a lack of reaching out to the people who need help and letting them know that we're here, that we care," said White.
"Sometimes you need someone to reach out to without going through a lot of red tape. Sometimes you just need somebody to cry to, and I just want to let them know that we're here."
Missing the times that he would take his son and other kids to local events, rather than doing another cookout this year, he felt called to go bigger, and to supply bikes to kids in need.
"I was really missing when my son was young, how I used to pick him up and other kids and take them to the Minden Airshow and things like that. So I was planning on cooking something to giveaway again, but God put something on my heart and just said let's do bicycles this time. Then I was like, let's do bicycles then."
More than simply gifting a bike to a child, White wants to attach the names of individuals and businesses to show the youth that there are people here locally that want the best for them. To say, "They care about you so much they gave you a gift. That's what it all came from," said White.
We Care will also be attaching fliers to the bikes with contact information of individuals who have volunteered to be a contact for any of these kids who are going through something and need someone to talk to. White stated that he wants to remove the amount of red tape that kids need to go through in order to be able to reach out to someone.
"Everyone had a time when they were younger when you didn't want to come outside, were too scared to play sports, or do something. The only person you could talk to was your parents , and you don't know how to explain that to your parents," sadi White.
"On each bike, I'm going to put a flyer of people that kids can actually contact, and we're creating a facebook group, where kids can actually call directly anytime they're going through something, or feeling something and need someone to talk to," said White.
On top of getting donations for bikes, We Care is also looking for individuals who would be willing to be contacted in circumstances such as the one described above. Particularly they want to find counselors, so if any volunteer receives a call from someone in the midst of a crisis, they could be referred to a mental health professional as soon as possible.
The Bike Drive will be accepting Bikes and monetary donations that will be used to purchase bikes until July 29th. Businesses or individuals interested can reach out to Patrick White at 318-517-5670.
So far the drive has received over 70 donations from individuals and businesses, some of which include Mercy's Closet, Marshall's Office, Alice's Soul Kitchen, Best Kare Journey, Waller Petroleum/Smoking J, Minden Police Chief Steve Cropper, Caraway Pre-Owned, Saint Rest Church, Lawanda Jefferson First Aid & CPR Classes, Benevolent Funeral Home, Doyle Funeral Home, Minden Medical, Davidson Investment Group, and Chad Auto and Exhaust. 
"To every business entity and person in the community that contributes, thank you for continuing to be a part of our youth lives. Let's continue to support a community that's powered by love," said White.