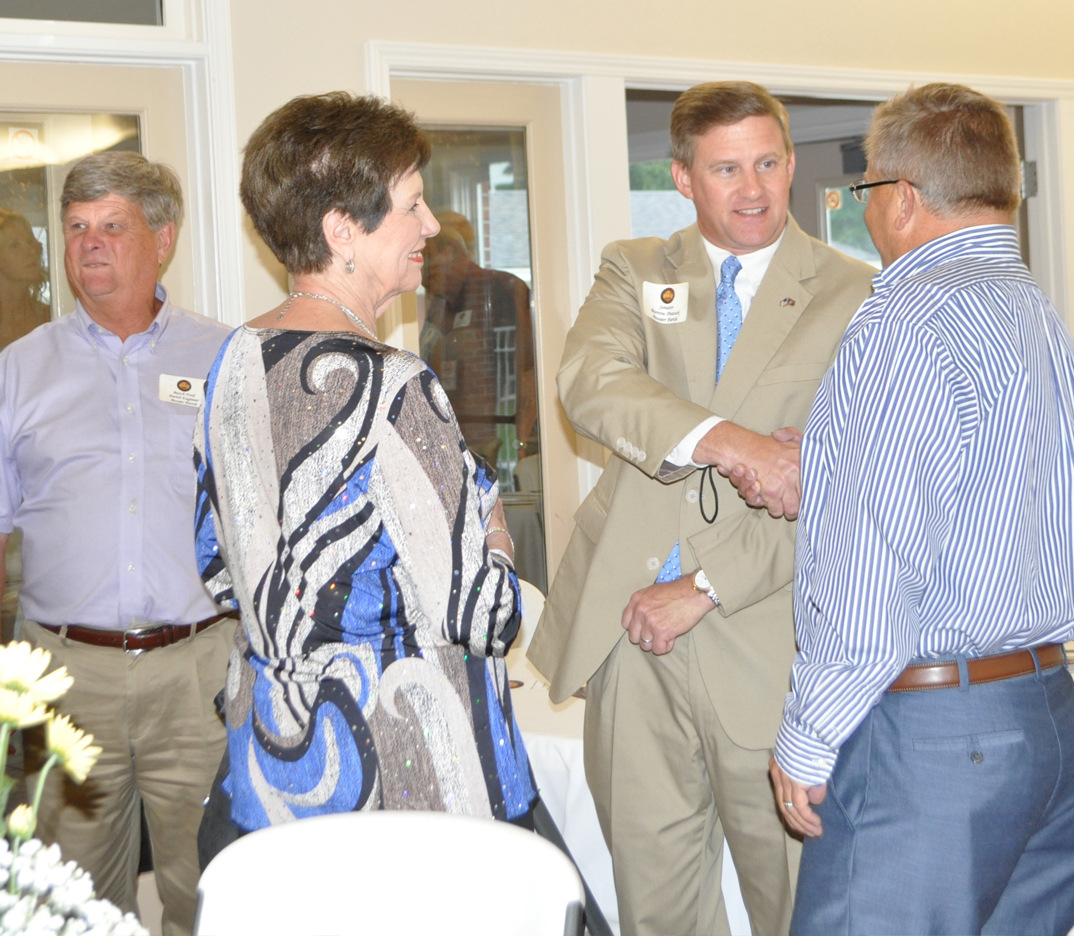 Webster Parish hosted the 2016 Region IV meeting Monday, and flooding and assistance were the topics of discussion for many.
Jenny Reynolds, director of Webster Parish Office of Homeland Security and Emergency Preparedness, was the guest speaker for the event, and she talked mainly about the structure of getting needed resources in times of disasters. No one throughout the state can forget about the 20 plus parishes affected by the widespread flooding in south Louisiana, or the spring flooding in north Louisiana this past March.
"The legal structure falls under the police jury president to appoint someone for emergency management, in some cases, it's an appointment of a director or to the sheriff's office," she said. "The other legal structure that we have to follow at the parish level is the Disaster Act, which as at the federal level. It gives us a framework to work within for continuity of response across all disciplines."
Reynolds talked about the NIMS system, or the National Incident Management System. It is standardized training for all disciplines for all hazards and includes the police juries.
"Each parish has to make sure their responders have these courses, and I wanted to make sure y'all knew about it too," she said. "When communities with what we're seeing down south right now, they are experiencing events of that magnitude. It involves everyone and it also costs a lot of money to respond to these situations."
She touched on several different things jurors needed to know about emergency management, such as knowing their OSHEP contact, knowing how to get the resources they need in times of disaster, and what state and federal agencies will and will not cover.
Police Jury Association of Louisiana Executive Director Roland Dartez says the greatest thing that has come from meetings like these as well as lessons learned from past disasters is the streamlining of the legal aspects of getting resources into affected areas.
"We have 20 declared parishes (areas of disaster).We're meeting with a number of mayors and jury presidents this week, and we have a daily call with all the state departments and all the parishes in the affected areas to try to make sure they get all the documents and resources they need."
Dartez says the state system now has templates for parishes to draw from to sign for mutual aid agreements in order to get the extra help they might need.
"This area just went through a flood, and what we did after all the disasters, we worked with most of the state and developed these templates so these parishes can actually follow the letter of the law," he said. "For instance, south Louisiana was dry and you guys were wet.
Let's get some resources up here to help. Now it's exactly the opposite. You have to have these mutual aid agreements and they used the templates the state developed to get these things done."
The importance of a police jury association is more than just networking.
"What's most important is that what may be unique to one area is not in another," Dartez said. "It's good to put the state association with the locals for the coming year so we can maximize our efforts in Baton Rouge to make sure their needs are being addressed."
Wanda Bennett, president of the Bossier Parish Police Jury, says the PJAL meetings are also a great way for jurors to network so that when they need to call upon each other, they've made contacts and friends.
"We get to know each other," she said. "Usually we see each other in a meeting setting where we're in Baton Rouge trying to stop legislation that could hurt the parishes, or to support legislation that could help our parishes. This gives a little bit of fun to it too. We got a lot of important information from OHSEP tonight, but then you get to see familiar faces and get to know people better."
Other business was conducted as well, including electing officers for the upcoming year as well as a resolution regarding "recovery of any and all funds inappropriately paid for the exercise of property rights by private persons firms or other entities" of the Atchafalaya Basin. The resolution was brought before the association by Desoto Parish and passed unanimously.
Bienville Parish will host the 2017 PJAL meeting.