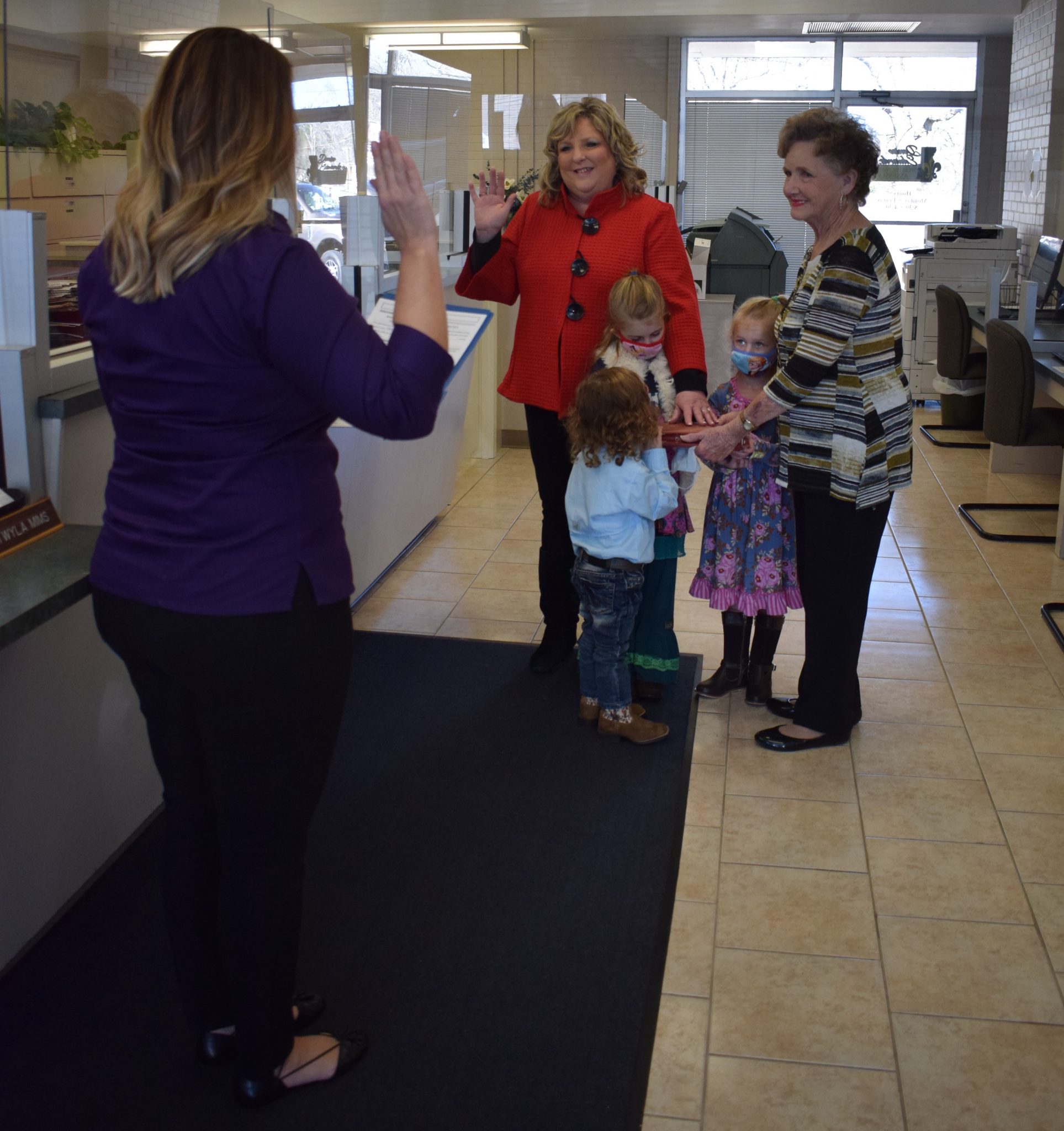 On January 5, 2021 Denise Edwards was sworn into office as Webster Parish Assessor by Holli Vining, Webster Parish Clerk of Court.
"I am pleased and honored to have the opportunity to continue serving the citizens of Webster Parish," Edwards stated after being sworn into office by Vining. "I have served the citizens of Webster Parish as a Deputy Assessor and Chief Deputy Assessor for over 38 years and now I have the great honor of continuing my service to Webster Parish citizens as the Webster Parish Assessor."
"My goal for the next four years is to continue serving Webster Parish citizens with the same high quality, efficient, effective and friendly service that has become the Assessor's Office trademark," Edwards continued. "Serving the people of Webster Parish has been my life and my career for the past thirty eight years."
Edwards stated that devotion to the people of Webster Parish and dedication to the work she has loved for almost 40 years are the top reasons for her continued service as the new Webster Parish Assessor.
"My number one goal is to ensure the premium service currently provided to Webster Parish citizens by the Assessor's Office employees continues and is improved," Edwards explains. "I feel loyalty not only to the people of this parish but also to the people of this office who have served the public with great efficiency, friendly and timely service."
"Parish taxing districts, especially fire protection districts that are governed by volunteer boards of directors but also parish and municipal districts with paid staff often need assistance with interpreting complex tax laws and ensuring all requirements are achieved in a timely manner in order to continue funding for public services," Edwards stated. "I'm pleased to share my 38 years of experience and knowledge with the 24 taxing districts and assist the taxing districts staffs with much needed assistance in
setting their millage rates, getting the millage rates approved on time and filing the tax rolls which are all-important to ensure parish, municipal and district public services are funded and fully functional," Edwards continued. "That's how our parish and municipalities fund public services such as our schools, law enforcement departments, water districts and fire districts which are all critical and important services."
In order to ensure our citizens obtain all the benefits to which they are entitled, I will continue to assist and inform our Webster Parish citizens how to properly file for homestead exemption and special assessment level freezes available to Senior Citizens and Veterans with disabilities and to assist with property assessment adjustments when possible," Edwards said.
Edwards is a Certified Deputy Assessor and a member of International Association of Assessing Officers which requires a thorough knowledge of how to conduct appraisals, Louisiana Tax Commission Tax regulations and guidelines. Louisiana State laws and regulations and current legislative changes and local taxing authority's procedures.
In addition to compiling, producing and filing tax rolls to the Louisiana Tax Commission, she is responsible for the computer systems and the office staff of nine – seven in Minden and two in Springhill – while knowing all policies and procedures.
Edwards said she is dedicated to ensuring every parish taxpayer is always provided technically proficient, effective, efficient, and courteous service by the Webster Parish Assessor's Office Staff and leaves the office pleased.
"Also, I will continue to operate the Webster Parish Assessor's office efficiently and be a good steward of the taxpayer's dollar," she said.
Denise Edwards is the daughter of the late George Gossett and Barbara Reagan. She is the widow of the late Jody Edwards and they have four adult children: Charly Dew & Levi; Emily Kennington & Landon; Cady Pruitt and Cherokee Edwards and three precious grandchildren: Amzie, Aria, Paxton and Shep.