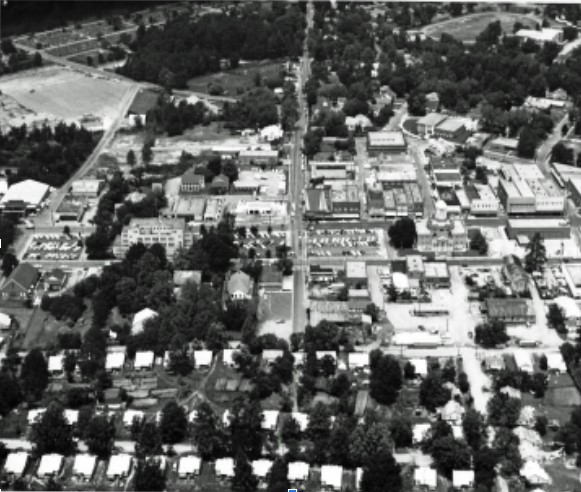 Nick Cox, Tourism Commissioner for Webster Parish Convention and Visitors Commission and Vice President of the Webster Parish Police Jury, along with the six tourism commissioners are pleased to announce the lease and soon-to-be acquisition/purchase of the historic 11-acre Miller-Inabnett property located in central Minden, Louisiana. 
The Miller-Inabnett property, also known as Miller Quarters, sits just off the edge of Minden's historic downtown and has recently undergone major improvements intended to help kickstart the city.
"Miller Quarters has great significance to the history of Minden. This community investment will open new opportunities for our citizens and visitors for years to come. We are excited to honor and preserve the legacy of the citizens who resided on this historic property," says Ty Pendergrass, Webster Parish CVC chairman.
In the 1930s just as The Great Depression took hold of the nation, Joe Miller constructed 60 low-income houses in Miller Quarters and rented them for $5.00 a week. Over the years the houses fell into disrepair and some were used for burn training. One surviving structure remains, and the tourism commission plans to preserve the home and pursue inclusion of Miller Quarters on the National Register of Historic Places and also the Louisiana Civil Rights Trail. 
Buddy Myles, local Minden resident and owner of Seafood Empire, says he is excited that the history of Miller Quarters and the people that lived there will be both communicated and celebrated. "Being able to use this space as a centralized gathering place for all of Minden is huge. This is the best way to commemorate the families who were and are part of the fabric of our town."
To date, improvements to the property include a picnic area, food truck parking, a small gathering place with swings, a seating area for entertainment made from natural elements, a balance beam, slide and climbing wall and a stunning entrance gate that pays homage to Miller Quarters. More improvements will be forthcoming.
"Excitement is abuzz as we begin to formally open the newly established park at Miller Quarters. We now have an additional outdoor gathering space to host a variety of events to be enjoyed by both Minden residents and visitors for years to come," says Johnnye Kennon, administrative assistant for Webster Parish CVC.
A grand opening celebration is currently being planned and a date will be announced soon. Webster Parish CVC kindly asks for the patience of the community as all the opening details are worked through. The tourism commission invites you to follow their social pages across all platforms @visitwebsterparish, their website, visitwebster.net and/or download the Visit Webster app from the App Store to stay current on announcements and updates regarding historic Miller Quarters.
"Downtown Minden festivals have grown significantly over the past few years and Miller Quarters will be a wonderful addition to our city by providing visitors with more space to gather, celebrate and enjoy the beauty and hospitality of our community," says Serena Gray, Webster Parish CVC CEO.
2022 Tourism Commissioners
Ty Pendergrass, Chairman
Nicky Patel, Vice Chairman
Tracy Campbell, Treasurer
Karen Calvert, Secretary
Sara McDaniel
Derek Melancon
Nick Cox