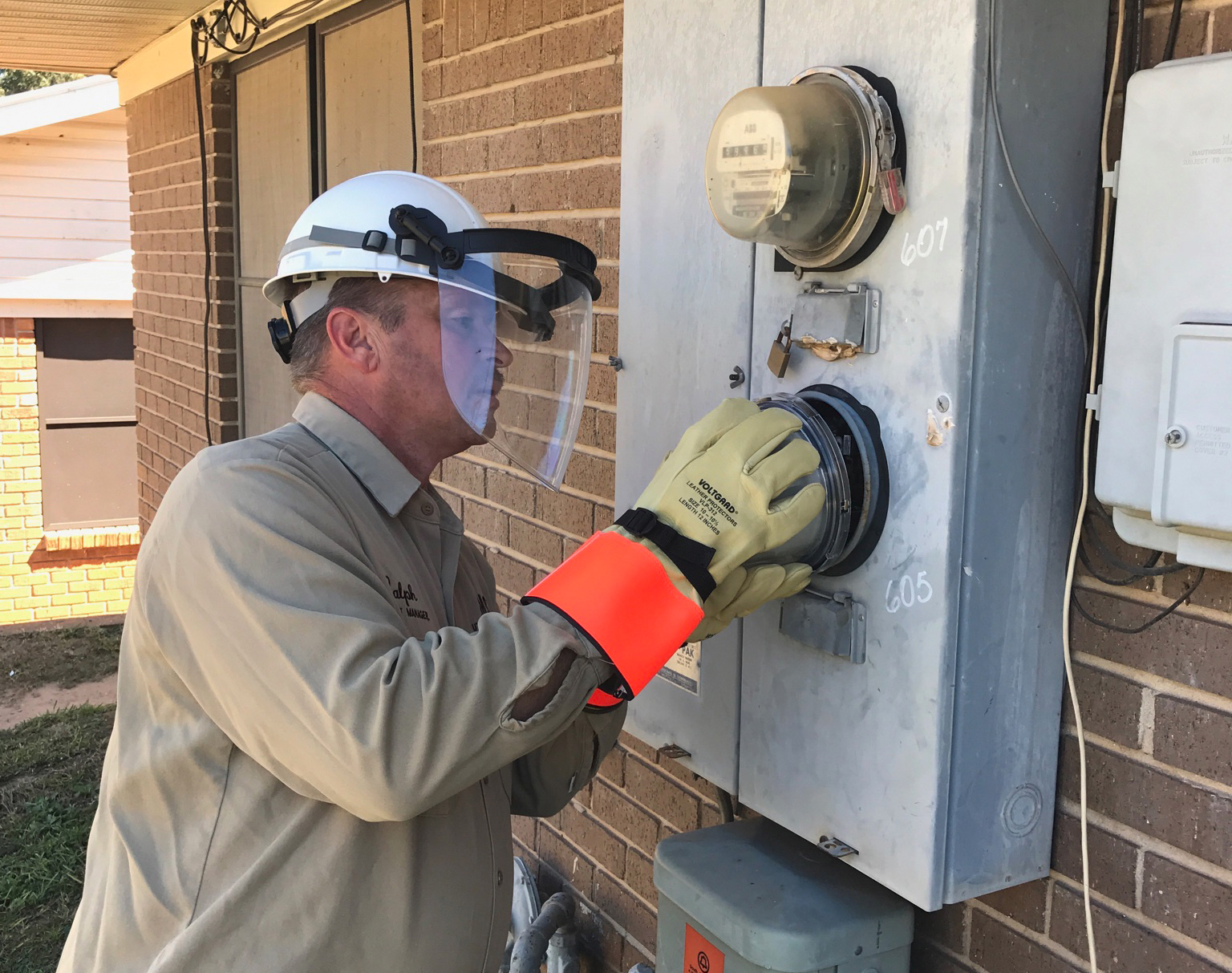 This past year has been a wild ride with a lot of twists and turns. As we look back on 2016, we're taking a moment to look at some of the top stories that caught our attention.
1. Minden's New Electric and Water Meters and Utility Costs
In January, the Minden City Council approved the purchase of new water and electric meters for roughly 5,600 customers in Minden. The project cost the city about $3 million, and the council agreed to finance $1.7 million. The meters were touted to be state-of-the-art and would provide accuracy over manual meter reading, thereby reducing human error.
The city is being equipped with a completely automated billing system that will show hourly utility and water usage data when completed. The meters are manufactured by Sensus Metering Systems and the city is contracted with Utility Metering Solutions, a division of Aqua Metrics, to do the work.
Once installation began, issues with incompatible meters arose. Homeowners learned that if they had incompatible meters, funding the upgrade would come out of their own pocket. The city would supply the box for the new meter, but it was up to the homeowner to pay for any electrical upgrades before the meter was installed.
Some residents were told in a letter their meter base would have to be upgraded by a licensed electrician, costing a homeowner from $700 to $2,000, depending on what needed to be done.
An outcry from the community came when they began receiving higher energy bills. Mayor Tommy Davis explained there is an issue with the contract with SWEPCO, saying the city buys its energy from SWEPCO, but it is brought in on lines owned by Entergy. There are charges from that, as well as congestion fees, being passed on to the customer.
The city is trying to renegotiate the 20-year contract with SWEPCO, of which 14 years remain.
The project is expected to be complete by the end of 2017.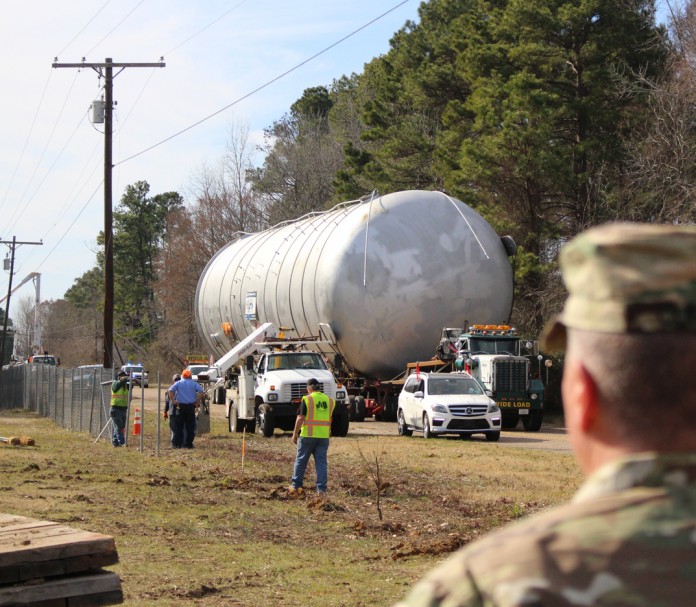 2. Contained Burn Chamber Arrives
The contained burn chamber that is destroying nearly 16 million pounds of M6 propellant arrived in February, but not before floodwaters on three rivers delayed its arrival.
Louisiana National Guard officials said the Arkansas River was the cause of the delay. It finally arrived in the Port of Natchitoches a few days later, and was transported by land to Camp Minden. It took two days of land travel before arriving on Feb. 12.
The burn chamber is 182 feet long by 27 feet, six inches high and 25 feet, 10 inches wide.
The citizens of Webster Parish won a major battle against government officials when it demanded a cleaner alternative to open burning the improperly stored propellant by now defunct Explo Systems Inc. Following the formation of a dialogue committee, the committee after months of discussion, offered six alternatives to open burn. The contained burn chamber with a pollution abatement system was the alternative of choice.
It took eight months from engineering to completion to get the chamber unit set at Camp Minden. To date, roughly 11 million pounds, or 67 percent, of the M6 propellant has been destroyed.
3. Flood Waters Slam Minden
In March, Webster Parish was slammed with what many called the "100 year flood," where two weather systems met over the parish and dumped over 20 inches of rain in 24 hours.
The flood destroyed multiple homes and businesses, caved roads and bridges, and flooding Interstate 20 in areas. In Minden, businesses lost merchandise as well as watched dumpsters float across parking lots and stranded motorists.
The following day, a state of emergency was declared for Webster Parish, which allowed federal officials, such as the Federal Emergency Management Agency, and other assistance agencies to come in to offer disaster relief assistance.
Lake Bistineau rose to a record 148 feet following the torrential rains, flooding and stranding hundreds of residents who live around the lake. Some lost businesses, while others lost everything in their homes.
Bayou Dorcheat hit a new record, beating the floods of 1997, of 20.5 feet.
Assistance from churches and faith-based organizations poured in to help those affected by the flood. The Minden Church of Christ mobilized its disaster relief unit, bringing $75,000 worth of food and supplies.
4. Minden Creates TIF Districts
In January, the Minden City Council learned about a TIF district, an economic development strategy that would benefit existing businesses and offer incentives for new business.
In May, the council moved forward with the creation of four Tax Increment Financing districts. A consortium was formed to help govern the grants that would come from the funds generated by an extra 2 percent sales tax from those businesses participating. The idea is to generate infrastructure funding for expansion of existing businesses and the attraction and retention of new business.
Minden Economic Development Director James Graham proposed the idea to give Minden the economic infrastructure to attract new business and create jobs.
5. MHS Stadium Condemned
Following the floods in March, the grandstands at Minden High School's W.W. Williams Memorial Stadium, were condemned. School officials said the grandstands were condemned because the base washed out from underneath the beams holding the stands in place. The grandstands were built in 1955, and once the project was turned over to FEMA, officials began to move forward.
After months-long discussion, community members and those who have a stake in the stadium, made it known they wanted the football stadium to stay where it is and rebuild. Webster Parish School Board Maintenance Supervisor Buster Flowers said the project is moving forward even as they await formal approval from FEMA.
FEMA is reviewing the project, set to cost approximately $3 million. The stands will be state-of-the-art, with roughly the same seating capacity as the old stands at about 2,000.
The grandstands were demolished in July, and construction of new grandstands with additions of a new concession stand and restrooms is set to begin in early 2017. A new ticket booth and a wider entrance will be constructed and the football field will be raised above flood plain. The raising of the field will be paid for by the school board. The board is expecting that FEMA will pay for the cost of rebuilding the stadium up to code.
6. Minden Welcomes New Businesses
The City of Minden has seen growth as construction continues for new businesses in town.
In January, construction began on a new dentist's office and retail space on Country Club Circle behind Walmart.
In August, additions for retail space on Homer Road next to Mark Dunn Builders, began, offering businesses 1,250 square feet of retail space.
Just last month, a new coffee shop was announced and expected to open in four to six months. The "Broken Bean," located on McDonald Street, will be run by residents of Minden Teen Challenge. The business is a tribute to Teen Challenge's mission, and the plan will be to offer a menu with coffees of all varieties, hot and flavored teas and snacks. The coffee shop will offer to-go orders, indoor and covered patio service and free WiFi.
Other businesses opening this year, include Latte Café, where construction is underway for a coffee shop and a separate restaurant serving crawfish, soups, stews and other plates. The coffee shop is expected to offer paninis, soups of the day, waffle bar, desserts and specialty coffees.
A husband and wife team have opened one business and relocated another downtown. Geaux Fresh opened earlier in December, offering healthy alternatives to dining out. It is fresh food fast, all made from scratch, owner Jodi Martin said.
Her husband, Devin Martin, relocated his Security Pro business upstairs in downtown Minden, at 801 Broadway. It offers a new showroom, which features products for anyone's security needs.
7. Loye's Pharmacy Closes
After 53 years, Loye's Pharmacy and Gifts closed the pharmacy portion of its business.
Owner Greg Jones said the reason for closing the pharmacy is due to the rising costs of prescription drugs, not just to his customers, but to his business.
He and his sister, Mitzi Madden, were heartbroken to have to close a portion of the business they grew up in.
CVS Pharmacy bought the pharmacy with the understanding that Jones would work for the chain pharmacy for at least three years.
Madden remodeled the gift shop and added merchandise, such as clothing, to its gift inventory.
The store still offers shipping, fax and copy services.
8. St. Jude Auction Sets Record
Once again, Minden broke the record in its fundraising efforts for St. Jude Children's Research Hospital. Minden is known to raise more money per capita than any other city its size.
The fundraiser brought in $1,441,599, breaking 2015's record of $1,319,630. The auction offers many prizes, big and small, with the grand prize this year a 2016 GMC Denali. Each year, a playhouse is built and donated to the auction by the firefighters of the Minden Fire Department. The auction is a three-day long auction.
Several activities throughout the auction raised money for St. Jude. The St. Jude Chili Cookoff raised $7,000, while the 5k run raised $75,000. Students from schools around the area brought in more than $140,000.
The internet also played a huge part in increasing the contribution to the hospital. More than $400,000 was raised.
In the 40 years of the auction, Minden has raised $13,923,763 for the research hospital.
9. Fired Officer Wins Suit Against City
Following a long battle to be reinstated after he was fired from the Minden Police Department, the Louisiana Supreme Court upheld the Second Circuit Court of Appeals decision that the City of Minden should reinstate Lt. Tim Morris. In March, the appeal court ruled that Morris should receive only a 90-day suspension without pay for his handling of a missing children incident in 2013. That's the maximum discipline Louisiana's civil service law allows.
Minden Police Chief Steve Cropper fired Morris in May 2013 on the grounds he violated policy and procedure. In August 2013, Morris appealed the firing to the local civil service board and they unanimously upheld the decision.
Morris then took the case to district court. In his appeal, Morris claimed he was "terminated without an investigation by MPD and via a 'biased' appeal process. Morris also stated his punishment – termination from MPD – was greatly disproportionate to his alleged violations regarding the incident."
Judge Mike Craig ultimately reversed the termination in March 2015 and remanded it to the civil service board to determine what discipline would be appropriate. Instead of taking the case back up, the board appealed the district court ruling.