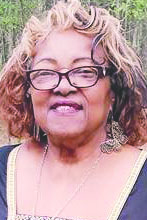 Homegoing Celebration Services for Wilma Belinda Kinsey will be held Saturday, December 15, 2018, 1:00 P.M. at the Pilgrim Rest Baptist Church with Rev. Kenneth Sapp, officiating. Interment will follow at the Pilgrim Rest Cemetery.
Wilma Kinsey was born to the late Rev. Golden Kinsey and Beulah Oliver Kinsey. She received her formative education in the Webster Parish School System and was a 1967 graduate of Webster High School.
Wilma accepted Jesus as her personal Saviour at an early age and united with the Pilgrim Rest
Baptist Church where she was a lifelong member.
Wilma enjoyed Drawing, Writing, Painting and making Floral Arrangements.
She departed this earthly life for Heavenly Reward on December 9th. She was preceded in death by her parents; three brothers, Alphonzo Kinsey, O. G. Kinsey, and Grady Kinsey; and a sister, Mary Catherine Kennon Walker.
She leaves to cherish her memories her son, Larry Jacobi Kinsey of Sibley; her daughter, Tabitha Kinsey (Arnold Stephenson) of Homer, LA; four grandchildren: Edgar C. Kinsey (Jenny) of Grand Rapids, MI, Qunika Kinsey (Darell) of Shreveport, LA, Sharnetta Kinsey and Lawiess Brooks, both of Sibley, LA; seven great grandchildren; two brothers, Golden Kinsey (Nona) of Sibley, LA; Leon Kinsey (Delores) of Sibley, LA; five sisters: Virginia Marks of Inglewood, CA, Ola K. West, Martha K. Thomas, Mary Kennon (Shelby), all of Sibley, LA, Lanie Ford (Andre) of Ringgold, LA; an uncle, Glennis Oliver (Adell); an aunt, Barbara Ann Oliver; and a host of nieces, nephews, relatives and friends.
Visitation will be held Friday, December 14th in the chapel of Kennon's Mortuary from 10:00 AM to 6:00 PM. Services are entrusted to Kennon's Mortuary.
KENNON'S MORTUARY
417 Martin L. King Jr. Drive
Minden, LA 71055