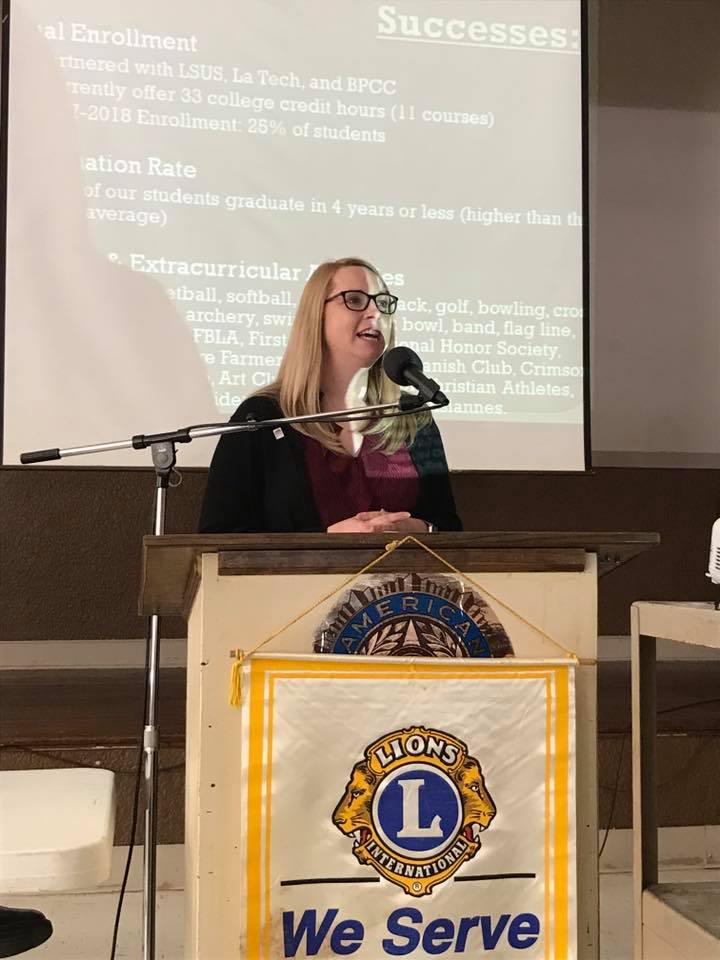 Minden High School principal Becky Wilson stopped by the Minden Lions Club Thursday for lunch.
Wilson, who had previously served as assistant principal at Minden High School and taught at Lakeside, shared insights into the day-to-day goings-ons at MHS and highlighted the many programs and extracurricular activities for students.
Wilson began her presentation with a game of Guess Who: Minden High Edition, showcasing graduation pictures of several members of the Lions Club.
The first-year principal presented data detailing the school's demographics, ethnicity, staff breakdown and teacher retention rate.
Wilson also spoke about the dual enrollment classes offered to students, which allow qualifying students to earn college credits through Minden High.
"When we make decisions at Minden High School, we ask ourselves, 'What's going to best for these kids? How can we help these kids?'"
She also explained Minden's Jump Start program which provides students three unique pathways to graduation based on their specific skills and interests.
"Success looks differently for different kids," Wilson said. "At MHS, there's a place for everyone."
Also discussed were areas where Wilson hopes the school can improve, chief among them being teacher shortages, unfunded mandates, technological demands and relationships between students, the community and its business leaders.
Things Wilson hopes to bring to Minden High School in the near future are a new welding/carpentry facility, improvements to classrooms and a new athletic training facility.