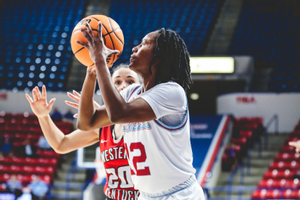 Louisiana Tech Athletic Communications
RUSTON — Louisiana Tech women's basketball team extended its season's longest win streak to five games with a 70-65 win over WKU at home behind four Techsters in double figures. 
Anna Larr Roberson scored a game-high 18 points with nine rebounds, while Gabbie Green scored a season-high 14 on four threes. Keiunna Walker scored 13, moving into No. 8 on the all-time scoring list, and added nine rebounds. Lotte Sant added 11 points on three threes and passed Debra Williams for No. 6 on the career three-point makes list.
In the first quarter, LA Tech (17-10, 10-7 C-USA) held WKU (14-12, 11-6 C-USA) without a field goal for nearly the first eight minutes while hitting 10 of their first 12 shots, including three threes to build a ten-point, 23-13, lead after one.
The Techsters extended the lead to 27-15, but a WKU 10-2 run closed the gap to seven before a couple of jumpers from Roberson stopped the bleeding. After back-to-back buckets from the Hilltoppers cut the lead to six, Silvia Nativi found Robyn Lee for a layup at the halftime buzzer to finish the first twenty minutes with LA Tech up eight, 35-27.
After WKU cut the lead to six again, Tech responded with back-to-back-to-back threes (two from Green, one from Salma Bates) to push the lead to 13 (49-36) with 5:38 left in the third stanza and force a Hilltopper timeout. Tech's run would extend to a 12-2 spurt, but WKU finished the period on a 7-2 run of their own to give Tech a nine-point lead heading into the fourth (54-43).
In the middle of the final period, WKU used an 8-2 run (61-53) with 5:56 remaining but failed to score a basket over the next three minutes. The Hilltoppers would get eight late points, but the game was out of reach thanks to six straight made free throws from the Techsters inside the final two minutes.
LA Tech shot 48 percent on the night and hit eight threes (8-24) while holding WKU to 31 percent and 22.6 percent from three.
Tech earned a plus-seven advantage on the boards (42-35) and moved to 11-0 on the year when winning the rebounding battle and 10-1 when scoring 70 or more.
QUOTABLES
Head Coach Brooke Stoehr…
"I thought we got off to a great start on both ends of the floor and forced some tough shots, which, fortunately for us, they missed. I loved our composure on the offensive end, and I think the stops on defense got us out in transition for some good looks to settle us early. At times we fouled too much and turned it over, but most of those turnovers were dead-ball, which still allowed us to set up our defense.
We got something from everyone tonight. Gabbie was huge, and we knew that at some point, she would get going, and she's been big the last couple of games. Keiunna is rebounding the ball really well and taking charges. Sal did a good job handling all that pressure and found teammates. It was going to take everyone tonight, and everyone showed up and contributed in big ways.
One of our keys this week was composure in chaos, and when they would get it to six points or so, our composure showed up, and we answered each time to extend the lead back. That's a very good Western Kentucky team who will make runs, but our veteran team responded."