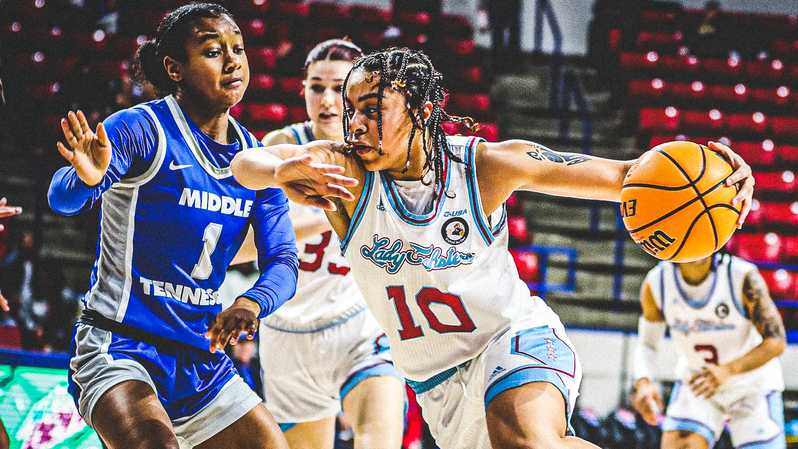 Louisiana Tech Athletic Communications
RUSTON — Louisiana Tech took No. 25 Middle Tennessee down to the wire after erasing a nine-point third-quarter deficit but fell 61-59 to the Blue Raiders in the final seconds Saturday afternoon. 
 
Three Lady Techsters scored in double figures, led by Keiunna Walker with 19 points and three rebounds. Anna Larr Roberson and Robyn Lee scored 14 each. 
 
In the first, Jaylan Gregory scored the first nine points for Middle Tennessee (23-4, 16-2 C-USA) to take a 9-2 lead, but LA Tech (17-11, 10-8 C-USA) responded with an 8-0 run capped off by Lee's first three-pointer of the season to grab their first lead of the day, 10-9. The Blue Raiders would finish the quarter with a mini 6-2 spurt to grab a 15-12 lead after one. 
 
In the second, with Keiunna Walker and Anna Larr Roberson sitting on the bench with two fouls a piece, Middle Tennessee built a seven-point lead (19-12), but four quick points from LA Tech's bench would cut the lead to three. Tech and Middle Tennessee would trade three-pointers during the middle of the stanza, but the Blue Raiders would scratch across the final three points of the half to take a 30-24 lead into the break. 
 
Middle Tennessee built their largest lead of the game at nine (38-29), but Tech found some offensive flow over the final five minutes of the third quarter and used a 12-4 run to bring the game to one (42-41) off a Lee old-fashioned three-point play in the final seconds of the third.
After Tech tied the game on three separate occasions in the fourth, the Techsters found their first lead since early in the first quarter off a Lee driving layup at 51-49 with 3:59 left to play. However, the Blue Raiders regained the lead off a Kseniya Malashka and-one with 2:07 remaining (56-55). 
 
After Roberson hit two free throws, Middle Tennessee hit a three to take a 59-57 lead with 1:16 left. Two Walker free-throws would tie the game again at 59, but Malashka would hit a turn-around jumper with three seconds remaining and block Tech's final attempt to snap the Techsters' five-game win streak. 
 
Tech's defense held Middle Tennessee to 13 points under their season average despite hitting 48 percent of their attempts (23-48). Tech shot 37 percent (20-54) and hit 4-13 from three (.310). MTSU out-rebounded Tech 38-24, but Tech did a great job taking care of the basketball, surrendering a season-low seven turnovers. 

QUOTABLES
Head Coach Brooke Stoehr…
"I thought this was a great college women's basketball game. Middle Tennessee is ranked for a reason, and they don't beat themselves. Give them credit for making plays down the stretch. It hurt us that we had two starters sit most of the game with foul trouble, and we took some tough shots, making scoring difficult. 
 
I think the difference in the game was rebounding, where we'd get a stop but not the rebound, and it turned into extra possessions for them. Robyn Lee was big today and kept us in it. She brought tremendous energy and did some things we needed her to do to keep us in it. 
 
We played really hard and gave ourselves a chance, and proud of our group for competing the way we did. This one hurt because I thought we should have finished it, but we still have two big games next week that we will move on and prepare for."