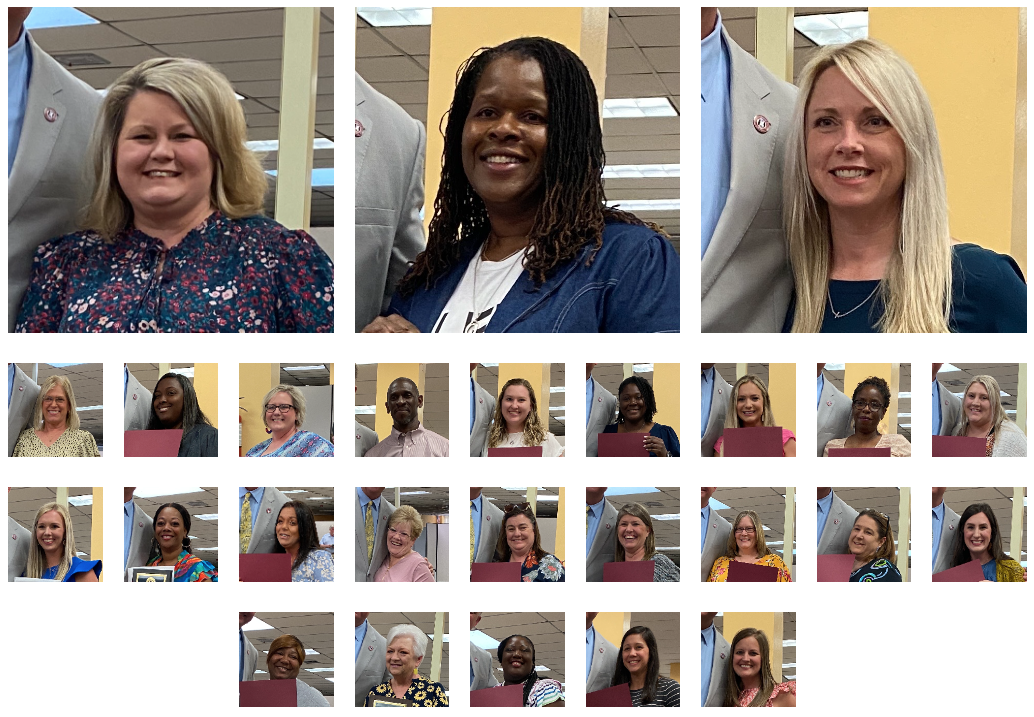 The employees of the year were announced during this month's school board meeting. Before announcing the winners, Robin Tucker, Personnel Director for the Webster Parish School Board, spoke of the value of these employees by stating, "They are the boots on the ground that let us run this system every day." The three categories were Support Staff, Teachers, and Principals, and the winners were listed in no particular order.
The Support Persons of the Year are Tonya Hyatt, a paraprofessional from Lakeside Jr/Sr High; Erin Watts, a secretary from Central Elementary; Betty Bullard, the cafeteria manager from Brown Upper Elementary; Marilyn Grigsby, a custodian from Browning Elementary; Keith Sturges, a custodian from North Webster Jr. High; Jamie Moore, a secretary from Richardson Elementary; Shawna Lewis, a paraprofessional from Webster Jr. High; Tammy Guice, a secretary from Doyline High; Samantha Ellington, a secretary from Minden High; Sharon Rhymes, a secretary from North Webster Upper Elementary; Kyndal Anders, a librarian from Jones Elementary; Miranda Wiggins, a secretary from Phillips Elementary; Ann Sexton, a secretary from North Webster Lower Elementary; and Monica Scott, a custodian from North Webster High.
The Teachers of the Year are Rendi Dillard of Lakeside High; Rachel White of Lakeside Jr. High; Megan Lincoln of Central Elementary; Kimberly Kerry of Brown Upper Elementary; Myrhonda Turner of Browning Elementary; Angela Smith of North Webster Jr. High; Carita Elkins of Richardson Elementary; La'Tanjorea Smith of Webster Jr. High; Jamie Whatley of Doyline Elementary; Dustin Hayes of Doyline Jr. High; Jessica Lewis of Doyline High; Rennie Bailey of Minden High, Victoria Young of North Webster Upper Elementary; Felica Harris of Jones Elementary; Hannah Pevy of Phillips Elementary; Elizabeth Holloway of North Webster Lower Elementary; and Macy Garner of North Webster High.
The Principals of the Year are Michelle Finley of Richardson Elementary; Bewanichi Sheppard of Webster Jr. High; and Rebecca Wilson of Minden High.
"We've also had some movement within our schools to where some of our support staff has moved up to central office," said Ms. Tucker. "These were selected at the beginning of the year, so it's nice to see promotions taking place, and it's also sad to see some retirements that are about to happen, but we didn't want to let this year pass by and not give these people their accolades." Congratulations to the winners, and thanks for the work you do everyday to support the students of Webster Parish.