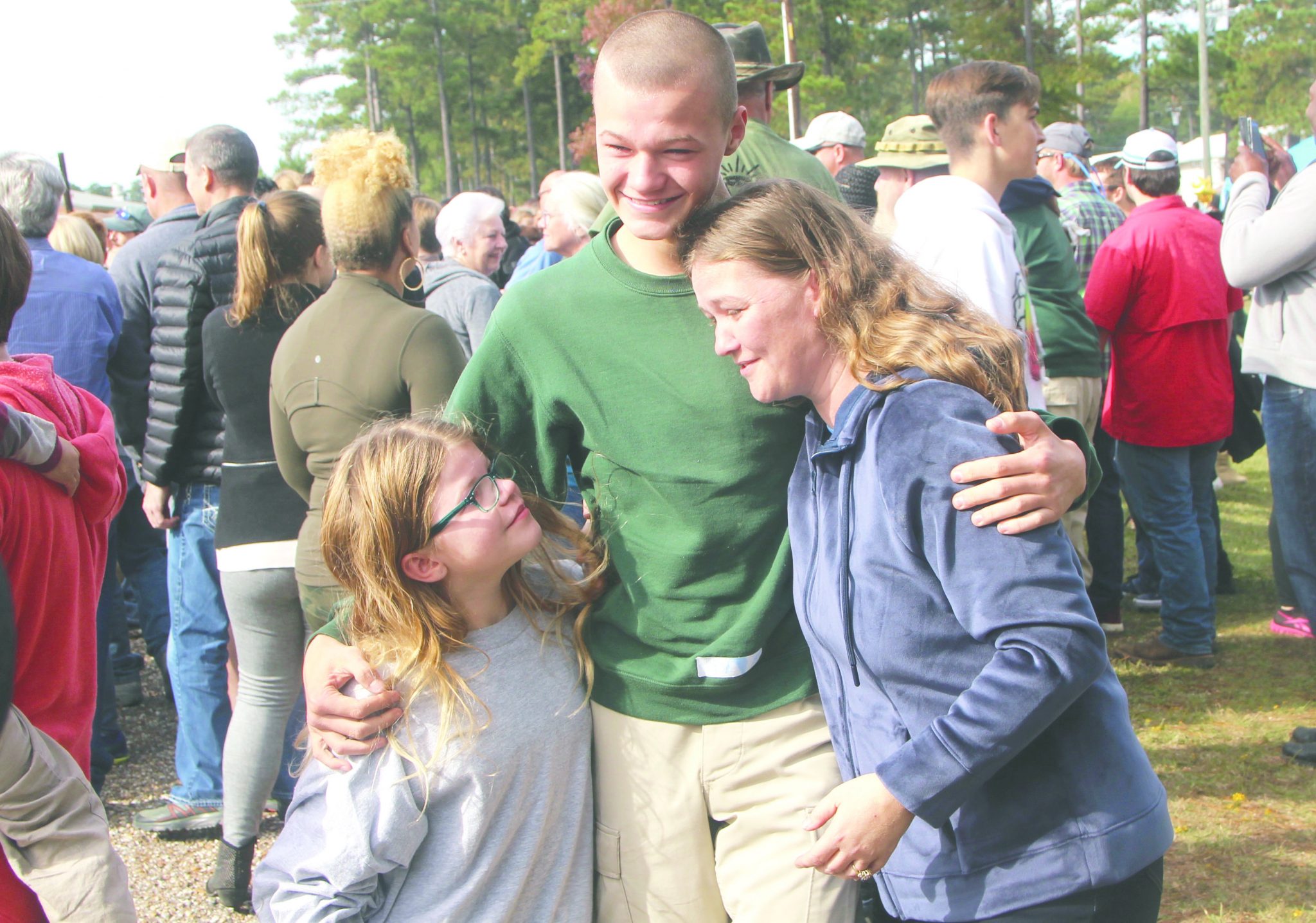 More than 200 cadets in the Youth Challenge Program's 2018-2 class celebrated their progress with family and friends at Family Day. Family day began Saturday morning with guests setting up tents, barbecuing and awaiting the arrival of the cadets.
Captain Jason Montgomery of the program addressed parents on the progress of their kids. Many cadets are working towards high school diplomas with some going on to college coursework and certificate programs.
"We want to allow the kids to see their growth. They may come in on a third or fifth grade level but once they leave this program they may be on a an eighth, ninth or a tenth grade level. That's seven and 8 grade level increases while they've been here in 5 and half months. That's impressive," Montgomery said.
The mission of the Louisiana National Guard Youth Challenge Program is to intervene in and reclaim the lives of 16-18 year-old adolescents.
"We've taken kids who've not historically been the best at wanting to go to school and we've forced nothing but school on them since they've been here. To the extent of putting them into college courses. Some of your kids are in college courses right now at the Youth Challenge Program at Camp Minden. From not wanting to go to school to being college courses, that's pretty impressive," Montgomery said.
The program also offers a Heavy Equipment Operators Course. Cadets can pursue a certificate over the 22 weeks they're enrolled.
"They're going to be able to leave here and go into the field of construction which is huge in Louisiana. That's something the kids should be proud of," Montgomery said.
Montgomery explained to parents that weeks 1-11 are termed "learning the way." Weeks 11-22, which the cadets are in now, are called "earning the way."
"We have expectations and we set those expectations for the kids and they are earning everything that they are getting right now. You'll see some of the progress that your kids have made," Montgomery explained to family members.
Each platoon marched in formation with drums and heads held high. The cadets demonstrated the skills and discipline they learned during the first six weeks of the program. They stood at attention, presented colors and were recognized with awards such as Most Improved and Most Outstanding Platoon.
Once the cadets displayed their skills, they were allowed to reunite with their families and spend time on the grounds surrounding the Dining Facility.
Cadet Charles Morvant and his mother had a moving reunion. His mother Jacqueline Morvant was tearful but happy.
"I'm very emotional. I'm glad to see my son and glad to see him doing so well," Morvant said.
There were many other happy reunions.
Marquise McClinton from Lafayette, Louisiana united with his mother Latasha McClinton.
"I'm a little emotional but he doesn't want to see me cry," McClinton said.
The students are scheduled to go home with family for Christmas for about 10 days, return and have a prom, then graduate from the program January 19, 2019, producing program graduates with the values, life skills, education, and self-discipline necessary in order to succeed as productive citizens.