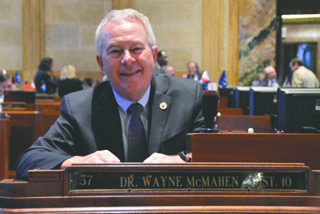 State Representative Wayne McMahen spoke with the Minden Press-Herald at the close of the second week of the legislative session which began on April 10. McMahen, the representative for District 10 which encompasses all of Webster parish and a small piece of Bossier Parish, is serving on the House Select Committee on Disaster recovery and the Joint Legislative Committee on Capital Outlay.
"Without question, the largest issue we are facing is a $1.6 billion surplus this year," said McMahen. "We have some things looming in the future. In 2025 we are going to lose almost a half billion dollars in tax revenue when the .45 cent tax rolls off. We need to start preparing for that. Now we are sitting here flush with money. Much of that is hurricane relief money and federal money left over from COVID. Those are monies you do not rely on receiving again, so we need to try to establish what we're going to do this year and what we can project going forward. We need to take care of some of the infrastructure needs and maybe some pay raises around the state. There is a constitutional cap that limits how much we can spend. It requires a two-thirds vote of the House of Representatives and the Senate to be able to go above that spending cap. I think we need to be very careful going forward because we are going to have some leaner years ahead."
With such a large surplus that cannot all be legally spent due to a spending cap, what happens to the money?
"I would think that if we could pay some debt down and roll some of the interest that we are paying off, that money would be freed up down the road for things like teacher raises and education. From a conservative standpoint, let's look at our rainy day fund and see how we can shore those up and free up some of the money we are paying in interest."
Currently in Webster Parish, there are a number of projects already in the works to improve infrastructure.
"One of the things that has been really good for our state, including District 10, over the past couple of years is the water sector money we put in place as a legislature," McMahen said. "I think the first round was $300 million and the second round for water sector was $450 million. That is $750 million that came back to a lot of rural communities to upgrade rural water associations and sewer systems. That is what the funds were delegated for so there were guidelines on how the funding could be used. That has been very good for our district as it has allowed us to upgrade water lines, water wells, purification systems and some other sewer projects in our district. The idea is to facilitate some of the water systems to consolidate so they will have more wells to back each other up and have better water volume and pressure at the fringes of the water associations."
"We have been very fortunate to get several water projects in this district," McMahen said. "These are the types of projects we have had problems finding funding for. We recognized, as a legislative body, these needs and decided we wanted to dedicate some of the federal monies to upgrade and fortify some of our infrastructure needs
in the water and sewer sector."
Of course, everyone knows that bridges and roads across the parish and state need upgrades.
"When I got into the legislature in 2018, the DOTD told me we had about $14 billion worth of backlog in infrastructure across our state that needed to be addressed," McMahen said. "The last figure for these needs was around $18 billion. We have a lot of road milage that needs to be addressed and we are looking for ways to move some funds toward that."
When asked how road projects are selected, Representative McMahen explained that the Department of Transportation and Development (DOTD) is charged with that.
"DOTD does a good job in prioritizing what we need to do first. They have a to-do list of which roads are most traveled and in the most need of repair. Some of the rural roads that need to be repaired have low traffic counts. When deciding which roads to fix first, the priority goes to the roads that have the most traffic. That is something the DOTD does, and I think they do a pretty good job."
DOTD has a vehicle with sensors that can measure the deterioration of a road. If you have ever noticed a road that appears to be in good condition getting a chip seal, that is because that road has been evaluated and found to be getting close to needing repairs. Instead of waiting three or four years and then needing a new overlay on them, the chip seal will give about eight more years of usability for a fraction of the cost of overlay.
"Louisiana is in a really good place right now, coming out of COVID and getting back on our feet," said McMahen. "Tax revenue is up. There are some major projects we need to do across the state. However, getting workers and enough people to put the infrastructure in place is a bit of a problem. We are still having supply chain issues with getting materials to do water and sewer projects. There are many projects out there that we have funds for right now that are still not finished because of these issues. We have several bridges that need to be worked on."
"I think we have a good legislature. We work hard as a group, and we're in a good place to move forward to make our state better over the next five to ten years if we are prudent and conscientious with the money we have and spend it wisely."
Watch for updates on the regular legislative session in future Minden Press-Herald articles.