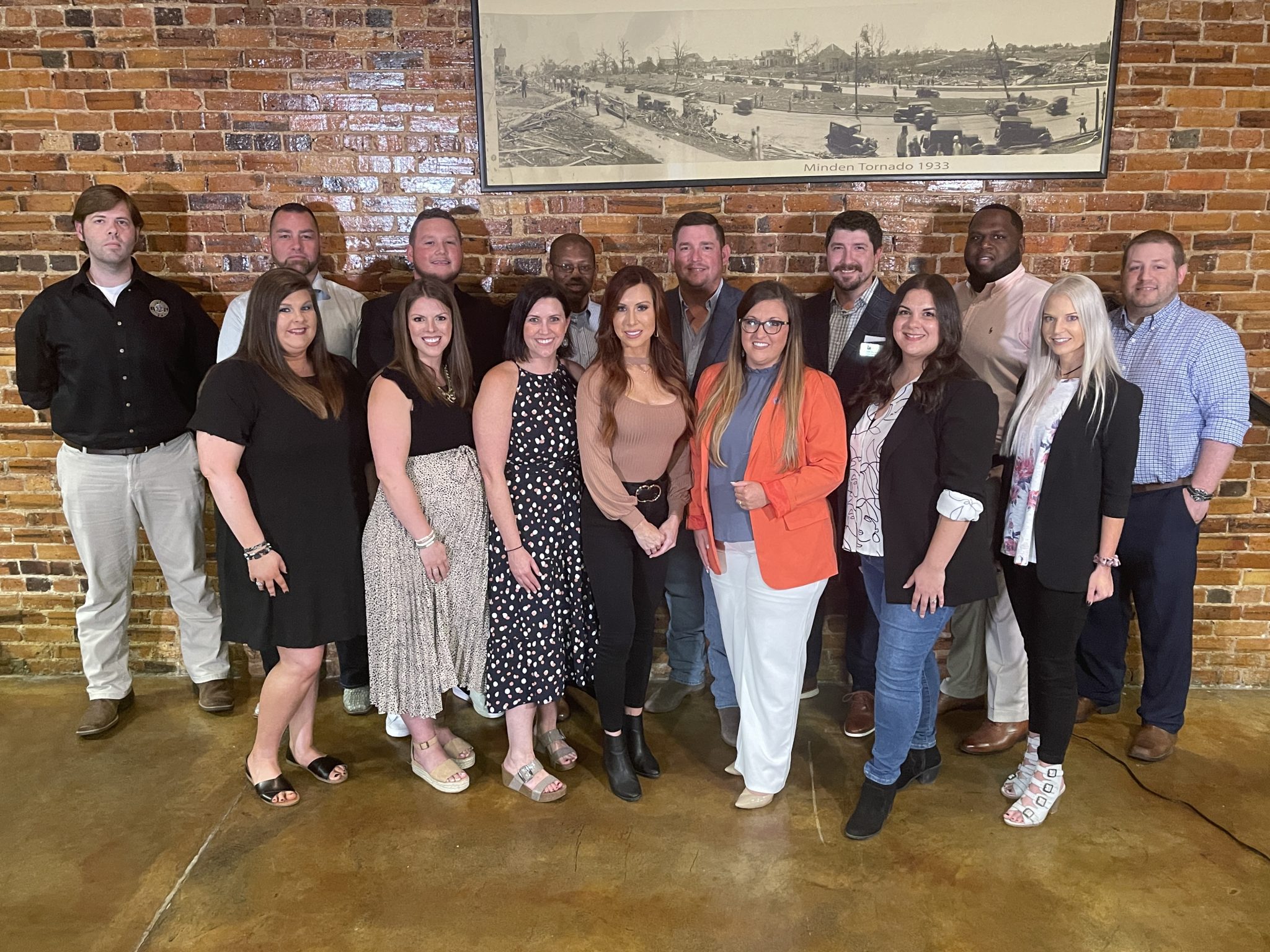 Fifteen young business leaders and entrepreneurs have distinguished themselves with their service to the community, and the Greater Minden Chamber is recognizing that service by nominating them for this year's 15 Under 40 Top Young Professionals.
Mandi Hart of Minden Medical Center and Greg Lee of Citizens National Bank were the MC's for the evening, introducing the following 15 young entrepreneurs as the 15 Under 40 Class of 2022.
"We received almost 50 nominations from the public this year," said Greg Lee, one of the MC's for the announcement. "That shows you, if you're in Minden or the surrounding area, the number of talented people we have here."
The 15 Under 40 Class of 2022 includes,  Steven Burdeaux of the City of Minden, Brandi Cade of Cultural Crossroads, Travis Chapman of Energy Transfer, Jordan Colvin of b1Bank, Dustin Divelbiss of All Hours Fitness, Lauren Gros of Webster Parish Schools, Bailee Hurley of Muddy Bottoms, Nathan Jones of the Webster Tax Assessor's Office, Savannah Jones of Webster Parish Libraries, Brian Meeker of Edward Jones Investment, Carlton "Buddy" Myles of Seafood Empire, Nathan Richardson of Claiborne Parish Schools, Phillip Smart of the City of Ruston, Dr. Danielle Thomas of Main Street Medical, Christopher Winget of the Webster Parish Clerk of Courts Office. 
The presenting sponsor of the Awards Gala for the tenth year in a row is TG Companies.
"Tonight we want to say a special thank you to our presenting sponsor for the tenth year in a row, TG Companies," said Mandi Hart.
"Terry was a driving force behind this Chamber. He started 15 under 40. It's hard to be here tonight without him telling us how to do things.
"Terry has left a legacy, and something Terry truly believed in was young professionals. I know he helped mold me as a young professional and helped mold many people here tonight as young professionals. He invested in young people, and he saw what, a lot of the times, we never saw in ourselves.
"I just want to say how much we all miss Terry. He will be missed throughout this event, but we are going to recognize him and want to carry on his legacy through these young professionals and how much he poured into each one of us," said Hart.
The recipients will be recognized at the Awards Gala taking place Tuesday, Sept. 13th.