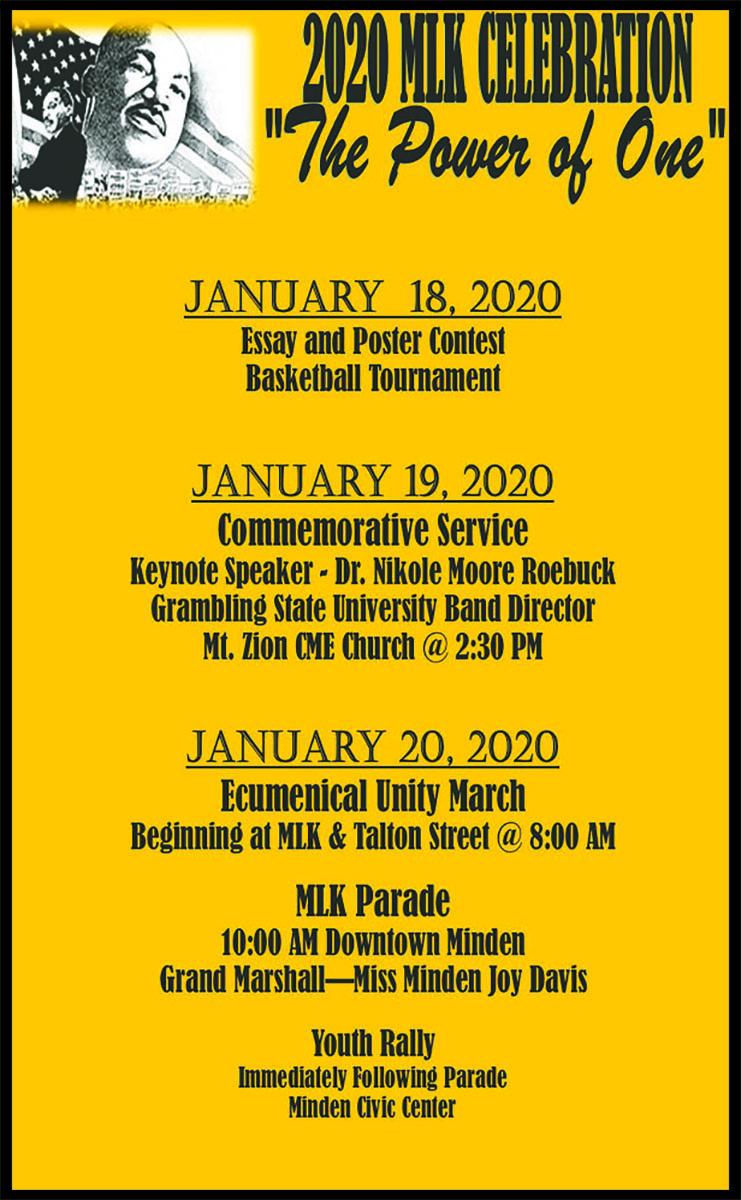 Monday, Jan. 20 will be recognized as Martin Luther King Jr. Day throughout the United States, including Minden. President Ronald Reagan signed MLK Jr. Day into law in 1983, creating a day during which America honors his legacy and thinks back on his history as a civil rights leader and icon.
During this weekend, citizens of Minden will be participating in 33rd Annual Martin Luther King Jr. Day Observance. "Each year, we pause to commemorate the life and legacy of an international hero, Dr. Martin Luther King, Jr. The official holiday for this celebration is the third Monday in January each year. This year will mark our 33rd Annual Observance in Minden, Louisiana. We want this milestone celebration to be memorable. Our theme for the 2020 MLK Celebration is 'The Power of One!'" read the press release from the Martin Luther King, Jr. Celebration Committee.
Friday, Minden High School will be holding MLK Jr. Day program starting at 10 a.m. in their auditorium. They will be featuring MLK Day themed artwork made by the students, and have a program during which they will celebrate the life of Dr. King.
Saturday, Jan. 18 there will be a basketball tournament at the Minden REC Complex Gymnasium. On Sunday, Jan. 19 there will be a Commemorative Service held at Mt. Zion CME Church at 2:30 p.m. The Keynote Speaker will be Dr. Nicole Moore Roebuck, GSU Band Director & Music Department Chairperson. The MLK Youth Leadership Awards and Essay Contest winners will also be presented.
On Monday, Jan. 20, MLK Jr. Day itself, the Ecumenical Unity March will take place starting at 8 a.m. on MLK Drive. Later that day, the MLK Parade will begin at 10 a.m. in downtown Minden. During this parade, there will also be a competition for best-decorated float, best band performance, with Jr. High School and Sr. High School categories, and most spirited group/organization.
The Grand Marshal for the 2020 MLK Parade will be Miss Minden 2020 Joy Davis. The MLK Day Youth Rally and the Awarding of Essay, Poster, and Parade Contest Winners will take place at the Minden Civic Center immediately following the parade.
"All citizens of Minden, black and white, all denominations, faith-based organizations, civic and social groups, and businesses, are invited and encouraged to participate and re-commit our community to the ideals of Dr. King," the press release read.
Dr. King organized many different protests, marches, and events in order to raise awareness of the issues that African Americans were facing in their day-to-day lives. As a result of these protests, he was also arrested many times, and by the end of his life was even under government surveillance.
Perhaps the most notable of his historic marches was on August 28, 1963, when his historic March on Washington took place and a crowd of more than 200,000 gathered at the Lincoln Memorial where King made his famous "I Have a Dream" speech.
"I have a dream that my four children will one day live in a nation where they will not be judged by the color of their skin but by the content of their character,"Dr. King proclaimed.
Dr. King is also an example of non-violent protest causing real meaningful change, because the result of his marches was raising awareness about the oppression that African-Americans were facing, eventually resulted in the passage of the Civil Rights Act of 1964. This Act authorized the federal government to enforce desegregation of public accommodations and outlawing discrimination in publicly owned facilities. As a result of this, Dr. King was chosen to receive the Nobel Peace Prize in 1964.
Unfortunately, Dr. King's life would be cut short. On April 4, 1968, while standing on a balcony outside his room at the Lorraine Motel, Martin Luther King Jr. was killed by a sniper's bullet. The man who later confessed to the crime was James Earl Ray and he was eventually apprehended after a two-month-long international manhunt.
Even though his life was ended too soon, his impact will be forever felt. The actions he took impacted the lives of millions, and his words and speeches will live long in the minds and hearts of people around the world.