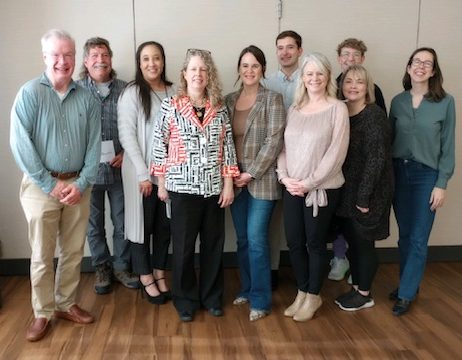 The Northwest Louisiana Master Gardeners are proud to announce the 2022 recipients of NWLAMG community grants. NWLAMG awards grants to organizations and municipalities that support beautification and horticultural education within our community. Of particular interest are projects that make a difference in the community, that are sustainable, and involve collaboration among local organizations.
The NWLA Master Gardeners awarded a total of $10,941. The winners of the community grant program:
Faith and Fostering – $904 – Faith and Fostering serves homeless young adults who have experienced trauma and creates a safe, comfortable environment. We are providing funds for landscaping at one of the homes.
Highland Center – $951 – The Community Center has a mission of providing a safe, welcoming place where all people can grow, learn and share to build a stronger Highland neighborhood. We are providing funding to improve some of the landscaping around the Center.
Keep Bossier Beautiful – $1850 – This project is centered around enhancing the Bossier City Animal Control. It's a partnership with Keep Bossier Beautiful, the city of Bossier and Bossier Parish Schools. The Bossier Parish Talented Arts Program is designing metal artwork that will be displayed at the Animal Control Center. We are providing funding for the landscaping that goes along with this enhancement.
LSUHS Growing for Good – $1000 – Growing for Good is a project created by the medical students as a way to give back to the community. They grow and donate fresh produce to local families as well as offer cooking demonstrations. We are providing funding for additional gardens to increase their produce donations.
MLK Health Center & Pharmacy – $340 – MLK Health Center is a teaching laboratory that educates patients and visitors on healthy eating habits and general gardening skills. The funding for this project will be used to reestablish a bed that was infected with Rose Rosette disease.
Shreveport Garden Study Club – $3500 – Babyland is part of the Greenwood Cemetery Project initiated by the Shreveport Garden Study Club in partnership with the City of Shreveport started 25 years ago. We are providing funding for landscaping for this final phase of the club's capital improvement at the cemetery.
Shreve Memorial Library – $2397 – The library branch located on Pines Road is redoing their landscaping and we will be providing the funding for the updates.
The NWLA Master Gardeners launched this program in 2010 as a way to give back to the community after all the support given each year for the Le Tour des Jardins, Fall Bulb Sale, and Spring Plant Sale. The mission of the Master Gardeners is to educate the public about gardening and engage our community in horticultural pursuits. Giving these grants allows them to multiply their efforts by aiding and funding projects envisioned, implemented and maintained by other groups. To date, we have donated over $150,000 to the gardening community.
For more information on the Community Grant Program or each individual grantee, please call the NWLA Master Gardeners at (318)408-0984.