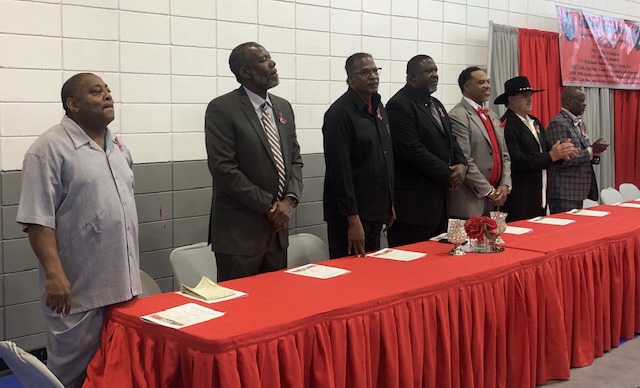 By Shawn White, Special to The Minden Press-Herald
How many teams can you say had a 100-game winning streak?
The UConn Women had a streak of 111 games from Nov. 23, 2014, through March 31, 2017. The Kentucky Wildcats had a home streak of 129 games from January 4, 1943 to January 8, 1955.
You can add the Sibley Raiders from 1978-80 to that list. They won 100 consecutive games over the seasons. What they all have in common is that they are all celebrated. That's what happened at the Minden Recreation Center last Saturday night.
The 1979 team achieved the national record for the best perfect season, finishing 59-0 and capping it off with a second consecutive Class B state championship.
They had broken the previous record that was held by Snook, Texas, at 52-0.
Unless the LHSAA changes the rules, this record has no threat of being broken as teams are no longer allowed to play that many games. According to MaxPreps, the Raiders 100-wins holds the seventh longest winning streak in prep high school history.
After getting drubbed in the Haughton Tripleheader by Haughton 69-53, little did Northwest Louisiana basketball know was about to hit it. The streak began with a win on Jan. 5, 1979 with a 69-38 win over Cotton Valley in the Sarepta tournament.
The Raiders capped the new streak with a win over Shongaloo in the tournament finals. The Raiders would win the next 24 games giving Sibley its first state championship with a 41-36 victory over Midland in the Class B finals.
"When we won our first championship," Carl Miles said, "then we were undefeated. We came back that second year and we started winning like 20 games in a row to 25 games in a row.
"Right there then, we were onto something. Teams we were supposed to lose to we began to beat. We saw the chemistry that we had; it was just something wonderful and special. We are going to ride it out as long as we can."
Sibley rolled through the 1980 season, going 58-0 while taking its second state championship with a win over Holy Rosary 72-61 in the 1980 Class B title game.
"It's kind of mind boggling," Deware Jones said. "We didn't recognize what we were doing when we did it. We now recognize that we really did something. It means that we have a record of 58-0 and no one will ever be able to break that because they can't play that many games anymore.
"So we are proud of that. We've got something that no one can ever take away from us. We want everyone here to know what we've done."
The Raiders went into the 1981 season looking like the streak would not end. They entered their own invitational tournament with a 15-0 record.
Win No. 98 came as the Raiders rolled over Sarepta 77-37. Win No. 99 came with a quarterfinal 82-51 win over Ringgold.
The Raiders were one win away from a streak in triple digits. Sibley faced Benton in the semifinals. The Tigers had given the Raiders' trouble earlier in the week on Tuesday as Myles had to hit clutch free throws in the final minute to get the 50-44 win.
The Raiders now faced the 100-victory mark on Nov. 23, a Saturday afternoon. Sibley got that 100th win 74-56. Myles scored 29. Jimmy Germany netted 21. Charlie Sheppard scored 18.
"We were in a state of shock," Myles said. "We were at 100 and we were like 'Wow, we did it.' It was like we got 100 games, what do we do, we are going to keep going."
"When we got to 50 we knew it was something special," Russel Miles said. "We could possibly take it up to 70, 80, 90, or 100 games and we did."
"We were determined to not lose," Jones said. "We were raised together and all we had to do was concentrate and do what we do. We started out at two feet tall playing together. We were not worried about any of those. We complemented each other and we did what we had done all our lives."
The finals were that Saturday night against the archrival Doyline Panthers.
The battle of the two unbeatens was set as Sibley had come in 18-0 and a streak of 100 while Doyline had a 9-0 record. According to the Shreveport Times article "Sibley Streak Ends" on Nov. 23, 1980, Sibley was behind late in the game and was down by five.
Sibley came back to within two but a late rally would not be allowed by the Panthers. Doyline would prevail 64-62, not only ending the streak but also taking the Sibley tournament title.
The Raiders had run into a hot Panthers team that was led by Anthony Walker's 36 points. Sheppard had led the Raiders with 22 points. Myles added 21 and Germany chipped in 15. The rivalry had a new flavor to it between the two schools.
"It was heartbreaking," Myles said. "But every good thing must come to an end. It was heartbreaking. We took it with our chin up. We knew it was going to happen, but we never knew who or when it would happen. Sad it had to be Doyline, but hey can't win them all."
The Raiders avenged the loss the next weekend in the Shongaloo tournament which Sibley won.
If you talk to the members of this legendary squad, though, they will all point the credit to the Louisiana Hall of Fame coach Don Stahl.
Stahl came to Sibley when the forced integration of Heflin, Dubberly, and Central occurred. He had been the head coach of a very successful Heflin.
Stahl actually reached a milestone during the streak as win No. 62 was his 500th victory.
The coach was even mentioned in the March 10, 1980 edition of Sports Illustrated in the Faces In The Crowd section announcing the Raiders 71st win in the streak. Stahl would go on to accumulate a 824-435 record over his career.
"Coach Stahl was an absolute genius," Sheppard said. "He had us ready. He had us prepared. We have to give him all the credit for the success we had. You can't go and win if you're not prepared."
"Coach Stahl was a disciplinarian but in a good way," Jones said. "He was rough but you will come out successful because he knew what he was doing. He was very strict in a good way. He made sure that we did what we were supposed to do as far as running. He got us into shape. He taught us a lot of plays. That was important to us."
Stahl even after the streak knew his team was strong and felt his "team's reputation works to its advantage in the form of a psychological advantage over opponents" according to a Dec. 15, 1980 article by Phil Wehrle of The Times.
Stahl was quoted saying "We stress to the kids that we are used to winning," he said. "This is no place for losers. Sometimes I think we have a 10-point advantage against some teams before we ever start the game. We've beaten five or six teams that were more talented than us."
One of the key players in the 100 game streaks was Willie Jackson. The Louisiana High School Hall of Famer didn't run the whole 100-game gambit but ended with the 58-0 state championship.
Jackson headed to play at Centenary , which was a Division I school at the time, and won the TAAC Player of the Year three consecutive years.
Jackson credits his success and his drive to his coach's values that were instilled in him.
""Tough," he said. "He was one of a kind. He was a disciplinarian but he loved you. He had tough love. We need a lot of that today. He could be your friend but he also was going to push you to be the best that you could be and that's important. He was a father figure to us all. We knew when we got around him we were going to do our best. That's what he expected throughout our lives."
Jackson continued about how the two were a lot alike.
"Discipline, playing hard. Everything we learned from Coach Stahl. That's what it was all about. I had a work ethic because I had a passion. I wanted to be the best that I could possibly be.
"I didn't want the other person in front of me to outplay me. In some respect, I was just like Coach Stahl. I didn't want anyone to beat me. I took that because he was a winner. I just wanted to be a winner all time. He instilled in us that if you play hard good things will happen.
The Sibley High School Raiders are now the rejuvenated Lakeside Warriors. The old Sibley High School still partly exists as Sibley City Hall now.
The halls where these players roamed are partly gone and now is a town park. The brotherhood of the Sibley basketball 1979-81 is still strong though
"It's like none other," Sheppard said. "We've alway been close. We grew up together in the same community. It's like a brotherhood in itself. It was easy to come together and play because we've known each other. We played sandlot. We play pick-up ball. We did all that together. It was easy to play organized ball. We still communicate today."
The Sibley Raiders may not claim any more titles or extended winning streaks, but they will always have 100 reasons to celebrate.