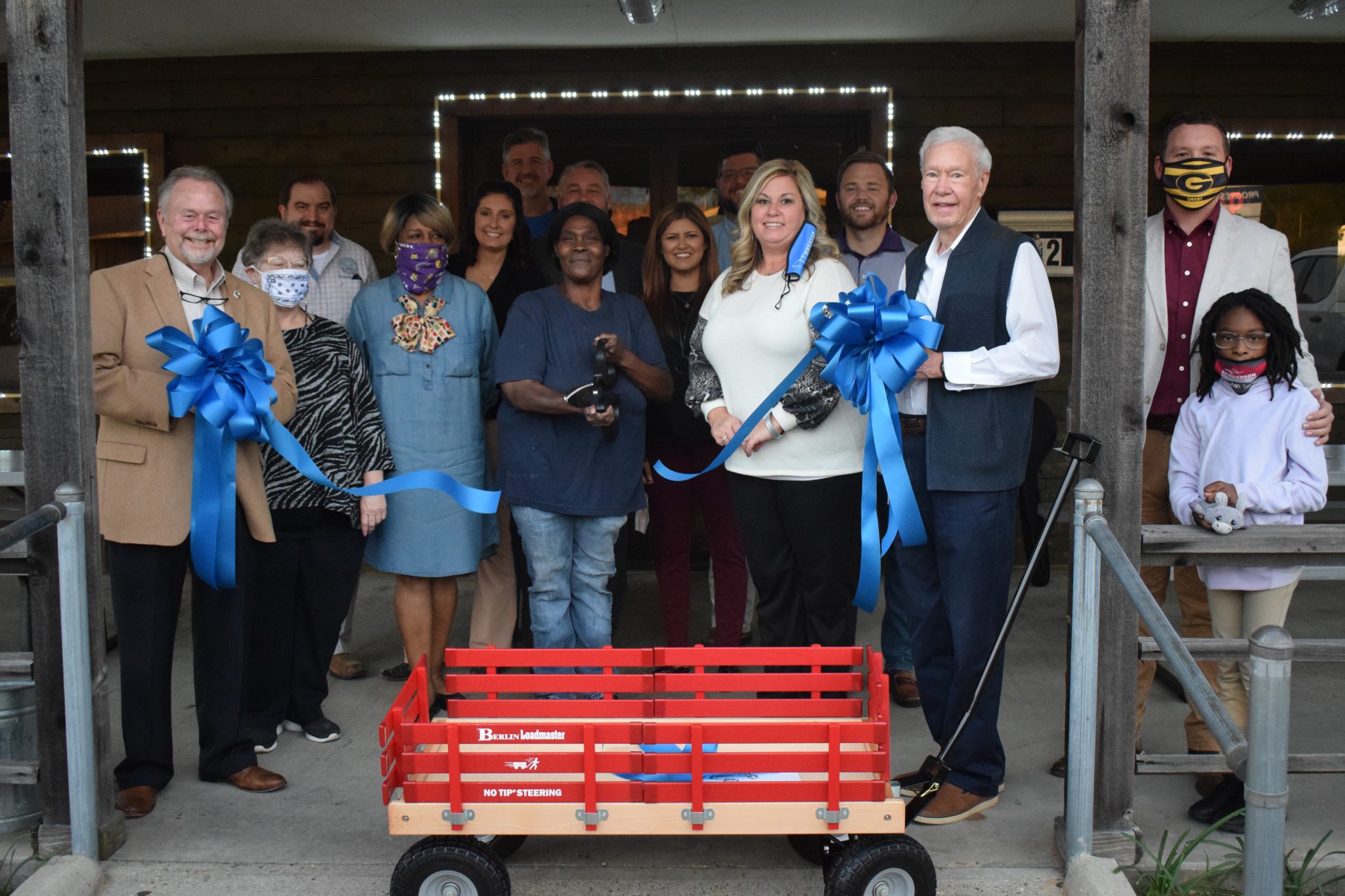 Local restaurant Alice's Soul Kitchen celebrated the 10 year anniversary of its opening with the Greater Minden Chamber on Wednesday afternoon. The business owned and managed by Sharon Robinson, along with her sister Maries Devers and brother-in-law Larry Devers. Located at 1204 Homer Road, Alice's Soul Kitchen offers a variety of home style meals, and as the name of the restaurant implies, every soul food one could imagine.
Sharon Robinson took the time to speak with the Minden Press-Herald about her business, past and present.
"I was working with my sister at Marie's Tax Services across the street, and we always liked this building. Our friend Mr. Stephens owned it, and we enjoyed them while they were here, and we always said if they leave we want to get that building and we would name the place after our Mom," said Robinson.
The "Alice" in Alice's Soul Food is referring to Robinson's mother. Robinson stated that cooking had been an integral part of her mother's life, and so it became part of hers as well.
"Before she passed, she always did cooking. I'm talking from hospitals, schools, jail houses, prisons, for the community, family friends, so we enjoyed cooking as well," said Robinson.
When asked about how she's kept this business going for ten years now, she was reluctant to talk much of herself and instead predominantly thanked God and others who were brought into her life that helped her along the way.
"We gave everything to God before we made any decision on how we were going to do it or what we we're going to do, because we didn't have any idea. So many wonderful wise people have given me so much information to keep the place going," said Robinson.
"God brings people into your life for a reason. There were so many days I was stuck on things. I've managed a lot of stuff, but this was my first rodeo ride and I tell you, that horse was bucking, but he didn't buck me off."
In particular she mentioned a sales rep named Joel who had given her input on running her business. The two had grown close, but unfortunately Joel has since passed away, something that Robinson was informed of once she made a call to Joel's supervisor, having realized that he wasn't at the restaurant at his usual time.
"One of my best informants was a young man named Joel. He was one of my sales reps, and he also used to own his own business. He gave me a lot of input, because he had a business of his own. I could call him any time of day, morning, noon, or night, and he was one of my big helpers. I just feel like God gave me that guardian angel," said Robinson.
"It broke my heart. He didn't come by one day, and I was like, 'He's running late today.' I called his supervisor and came to find out that he got killed that morning going to Homer to take an order for his customers up there. He had an accident and died.
It took a lot out of me. I feel like me and him built a good strong relationship."
Albeit a grim personal story, it reveals an aspect of Robinson's character that is undoubtedly why she has kept her restaurant going for 10 years. That aspect is her kindness and how friendly she is towards everyone she meets.
More than just home cooking in taste, Alice's Soul Food provides a homely atmosphere with an owner that is able to make everyone who comes through their doors welcome.
"I'm here to serve the Lord and accommodate anyone who walks through that door. If I can't, I will lead them to where they can be accommodated for what they like to eat. We're all in this business together, we're all in this community together. We have to help one another. There's no room to be selfish, arrogant, put your ego on your shoulder, or put your feelings in the way. We're all here to help one another," said Robinson.
Before the ribbon cutting itself, countless community leaders and representatives were present in order to congratulate Robinson on her accomplishment. Chairman of the Greater Minden Chamber David Specht stated, "Statistically, most small businesses close within the first 5 years of operation, and Sharon, you have doubled that. For that, we applaud you. We look forward to your continued success," said Chairman of the Greater Minden Chamber David Specht. "We are here to serve you as you serve our community."
Serena Gray of Webster Parish Tourism shared some kind words as well as a framed photo from when Rick Rowe of Tasty Tuesday featured Alice's Soul Food on their show.
"Rick Rowe was so impressed with you, your charisma, your love, and your passion for your business, and we are so grateful to have somebody like you representing the restaurant industry in our community," said Gray.
Near the end of her interview, Robinson once again stated that she simply feels blessed for having her business for ten years, but was also quick to admit that it wasn't all on her own. "It's not by myself. God is the first priority, and the customers are right behind him, then I fall in behind them, because if it wasn't for God and the customer, how would the doors stay open," said Robinson.