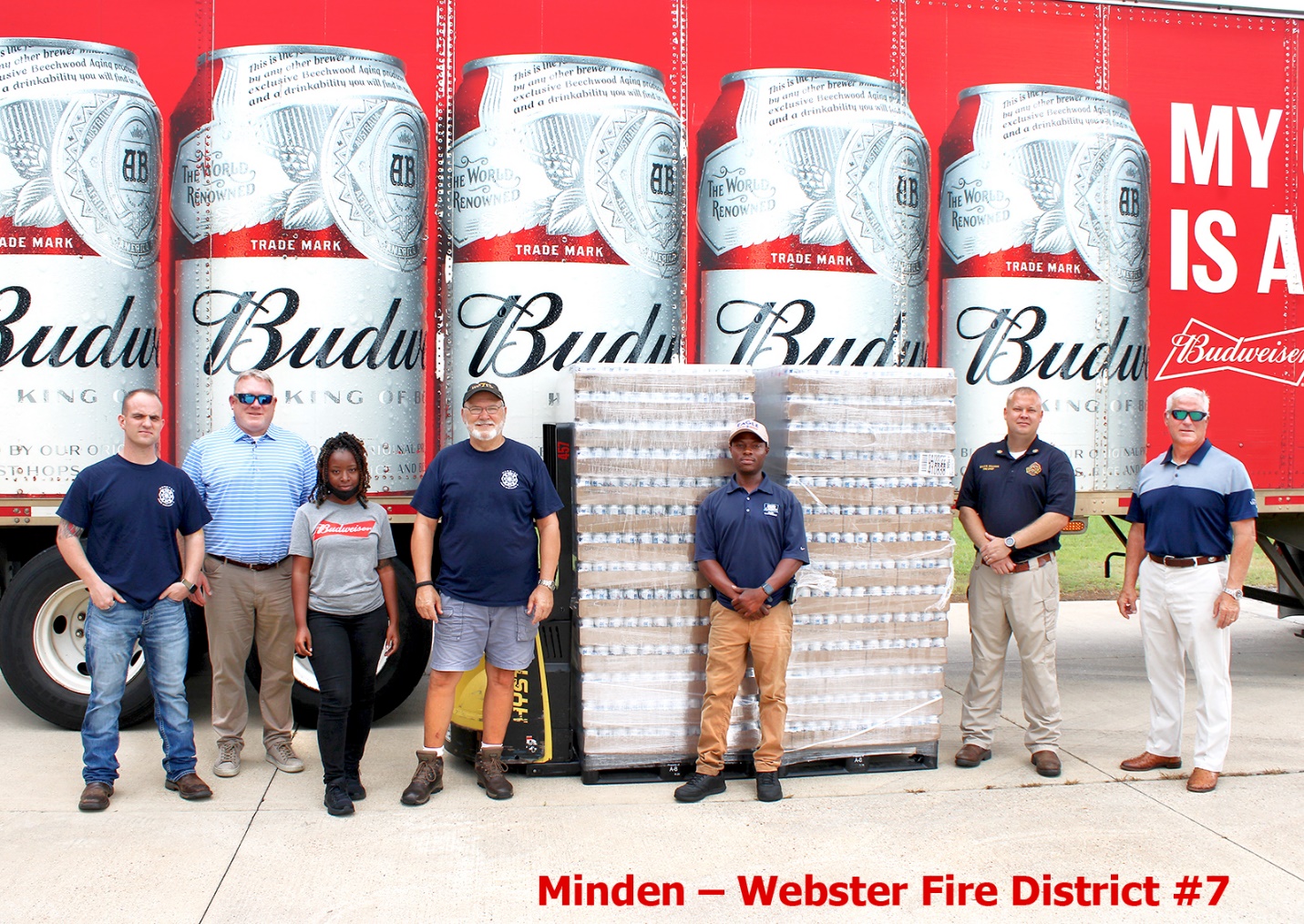 Submitted by Eagle Distibuting of Shreveport
The Webster Fire District 7 recently received canned emergency drinking water to help provide critical hydration to its responders during this year's wildfire season.
On Monday, June 29, 2021, Eagle Distributing of Shreveport, a local Anheuser-Busch wholesaler partner, dropped off two pallets to Webster Fire District #7 and one more to Bienville Fire District 4 & 5 – to help support its wildfire response needs. Maintaining firefighters' hydration during long incidents or disasters such as wildfires is a major safety concern for many departments.
The Webster Fire District 7 serves Dixie Inn and the surrounding areas, which is also equipped with a training center for area departments.
"Firefighters lose a tremendous amount of fluid during high-intensity responses such as battling wildfires. Proper hydration is critical to ensure the safety of firefighters and to keep them performing at their best. The water was donated by Anheuser-Busch through a partnership with the National Volunteer Fire Council (NVFC). Anheuser-Busch has a longstanding tradition of providing emergency drinking water and supplies for disaster relief efforts. The company periodically pauses beer production each year to can emergency drinking water to be ready to lend a helping hand during natural disasters and other crises," said David Davis, Eagle Distributing of Shreveport.
"Since the program began, over 3.2 million cans of water have been distributed to more than 520 departments in 47 states," the National Volunteer Fire Council's website stated. "To help departments meet this need, Anheuser-Busch is continuing its commitment in 2021 and has pledged to donate 1.5 million cans of clean drinking water this year to help keep our wildfire responders hydrated as they protect and strengthen our communities."