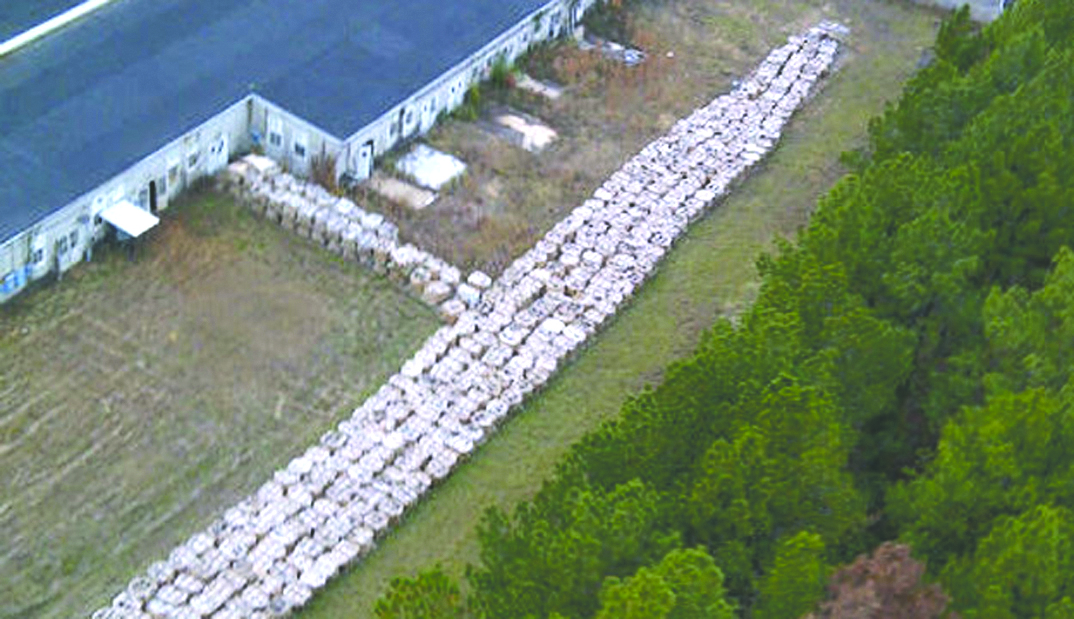 Wright guilty of conspiracy
SHREVEPORT – The vice president of Explo Systems Inc. pleaded guilty Thursday to a criminal conspiracy at Camp Minden that led to an explosion, completing the prosecution of this matter, according to a press release from United States Attorney David C. Joseph.
William Terry Wright, 64, of Bossier City, Louisiana, pleaded guilty before U.S. District Judge Elizabeth E. Foote to conspiring to violate federal law.
Explo Systems Inc. is a private company whose primary business operations involved the demilitarization of military munitions and the subsequent resale of the recovered explosive materials for mining operations.
According to the guilty plea, Wright was the vice president of operations at Explo and oversaw the demilitarization operations. The U.S. Army awarded Explo a contract on March 24, 2010 to dispose of 450,000 155mm artillery propelling charges designated as M119A2 for $2,902,500.
The Army and Explo officials later amended the contract on March 6, 2012 to dispose of 1,350,000 propellant charges for $8,617,500. The contract required Explo to properly store and dispose of the demilitarized M6 propellant, which is a solid, granular, explosive material.
The contract also required Explo to document the sale of the demilitarized M6 propellant by completing an End User Certificate (EUC). On the EUC, the purchaser of the demilitarized M6 propellant certified the purchase and compliance with applicable federal laws.
Once the EUCs were certified, Explo submitted the EUCs to the Army.
"Wright and other Explo officials and representatives conspired from January 2010 to November 2012 to defraud the United States by submitting false EUCs to the U.S. Army Joint Munitions Center (JMC) to dispose of hazardous waste at unpermitted facilities and improperly store explosives," the release said.
"This caused the government to pay money to the conspirators to which they were not entitled. They also moved and improperly stored M6 propellant in order to prevent government officials from discovering the improperly stored M6 propellant."
Wright and others also instructed lower-level employees to hide and conceal improperly stored demilitarized M6 propellant and reactive hazardous waste from government officials during inspections.
Additionally, from June 2011 and continuing to October 2012, Explo officials submitted false EUCs to the JMC showing sales of demilitarized M6 propellant to third parties, when the sales did not occur. Explo officials, including Wright, also did not inform or notify the third-party EUC certifiers that Explo would submit the executed EUCs to the JMC as proof of sale of demilitarized M6.
Wright submitted and caused to be submitted EUCs with forged and or fabricated signatures. The submission of false EUCs further concealed Explo's inability to perform the requirements of the contract.
On October 15, 2012, an explosion occurred at a munitions storage igloo on Camp Minden. The explosion contained approximately 124,190 pounds of smokeless powder and a box van trailer containing approximately 42,240 pounds of demilitarized M6 propellant. The damage destroyed the igloo and trailer, shattered windows of dwellings within a four-mile radius, and derailed 11 rail cars near the storage igloo.
Wright faces five years in prison, three years of supervised release and a $250,000 fine. As part of the plea agreement, Wright agreed that he owes $149,032.80 restitution. Sentencing is set for August 30, 2018.
"I thank our federal and state law enforcement partners for their commitment to protecting Louisiana's citizens and environment," Joseph said. "Those who try to cheat the taxpayers while endangering the well-being of our community will be held accountable."
"The guilty pleas entered by the defendants in this case are the results of the uncompromising work by DCIS, our investigative partners, and the U.S. Attorney's Office to ensure the integrity of the Department of Defense procurement process by penalizing government contractors who choose profit over quality and safety," commented John F. Khin, Special Agent in Charge, Southeast Field Office, Defense Criminal Investigative Service. "DCIS remains committed to pursuing and bringing to justice anyone who uses fraud and deception to undermine our critical warfighting missions and the safety of our communities that support DoD activities."
Explo owner David Alan Smith, 62, of Winchester, Kentucky; Program Manager Kenneth Wayne Lampkin, 65, of Haughton, Louisiana; Traffic and Inventory Control Manager Lionel Wayne Koons, 59, of Haughton; and Director of Engineering and Environmental Control Charles Ferris Callihan, 68, of Shreveport, were all charged in the conspiracy. Smith pleaded guilty December 14, 2017 to the conspiracy count and one count of making a false statement; Koons pleaded guilty on April 24, 2018 to one count of making a false statement; Lampkin pleaded guilty May 14, 2018 to one count of making
a false statement; and Callihan pleaded guilty on June 8, 2018 to a one-count bill of information charging false representations under the Resource Conservation and Recovery Act (RCRA). Sentencings are set for August 30, 2018.
The Environmental Protection Agency-Criminal Investigation Division, U.S. Army Criminal Investigation, Department of Defense Criminal Investigative Service, FBI and Louisiana State Police-Emergency Service Unit investigated the case. Assistant U.S. Attorneys Earl M. Campbell and J. Aaron Crawford are prosecuting the case.