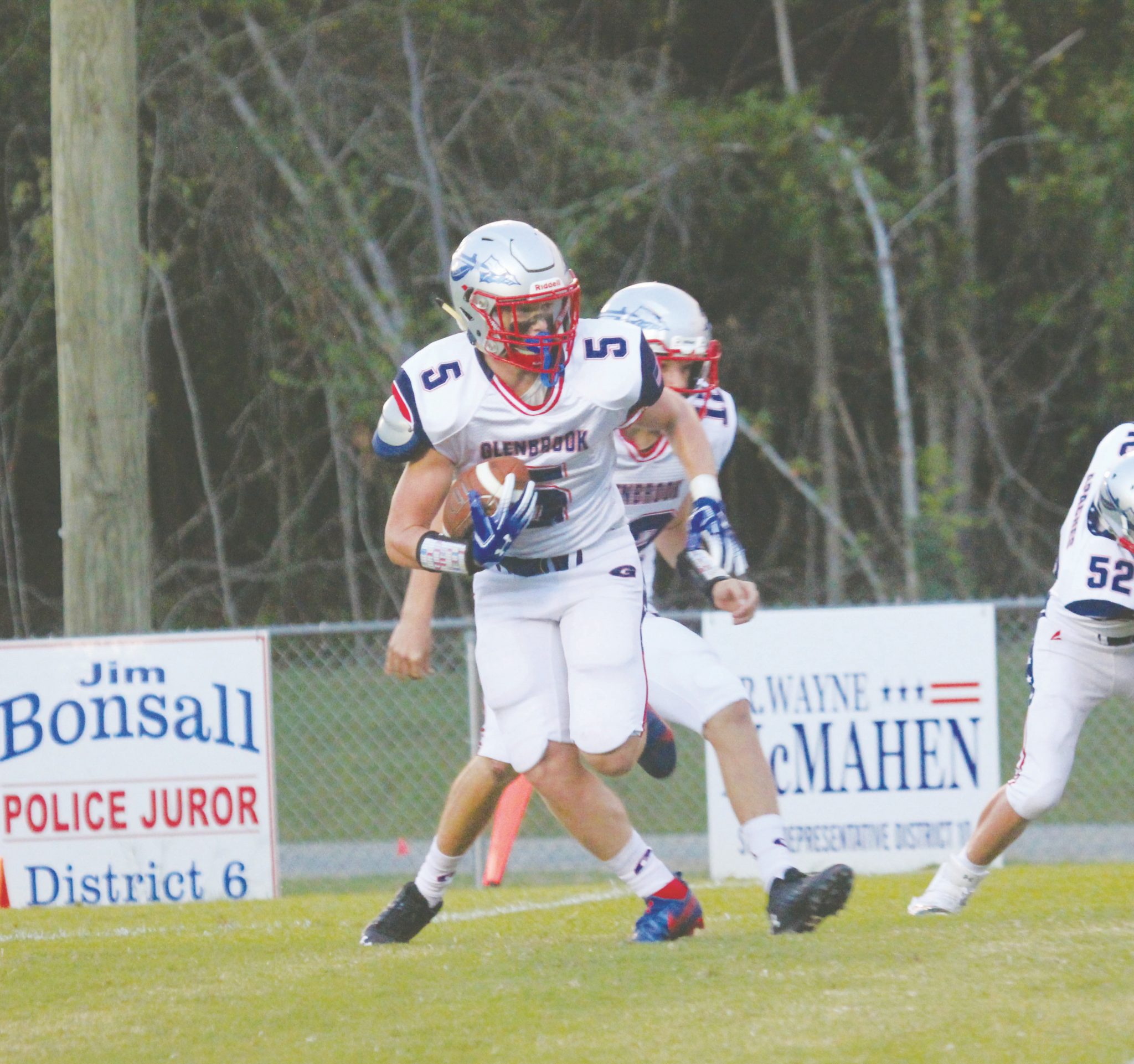 It's become a standard method of operation for the Glenbrook Apaches football team – explode out of the games and never look back.
And the Apaches did it again Friday night as they went on the road and defeated the Ringgold Redskins 49-14 to move 6-2 overall and 4-2 in District 1-1A.
Apaches coach David Feaster there is a reason that Glenbrook's wins have come with fast starts this season.
"Everybody wants a fast start," Feaster said, "It begins with preparation. But we might do things a little differently than many teams in that we want the ball instead of deferring if we win the (coin) toss. We want to go down early and score and we do a lot of onsides kicks early in games. So we do believe in trying to start fast and get ahead.
"Part of that philosophy of playing fast is trying to get other teams tired. A lot of teams we play do the opposite and stay in the huddle a while and play slow and deliberate football trying to get first downs and run the clock. If we're ahead, that strategy becomes ineffective because they're behind and need to score fast. It can take the other team out of their comfort zone. So far our guys have been really good at getting those fast starts this year."
Glenbook moved out in front only 17 seconds into Friday's game as Hayden Harmon raced the opening kick back 65 yards for a score.
Rhett Johnson's seven-yard scoring scamper followed by a 15-yard scoring strike from Ty Feaster to Turner Mclelland and then a 24-yard touchdown pass to Easton Sanders pushed the Glenbrook lead to 28-0 by the end of the first quarter.
The Apaches pushed that lead to 35-0 at halftime before scoring early in the third quarter to go on top 42-0.
But that didn't mean everything went the Apaches' way.
"It was a good night as far as the way we played against a Ringgold that came in ready for action and to try and get the win," Coach Feaster said. "But unfortunately even with the win, there was a downside to this game, too."
That came as the Apaches lost their only two senior players to season-ending injuries. Senior tight end/linebacker Cale Hollis was lost after breaking a leg against the Indians while receiver Collin Gregg suffered a broken collarbone.
"Both of those are other sports guys," Coach Feaster said. "Hollis will require surgery, but there's hope Gregg will be back out on the basketball court later on during that season and the Cale will be able to get back to the baseball field, where he's anticipating a good season as our ace pitcher on the mound. Both of those guys have done a great job leading our football team but they also love their other sports, and we're hoping and believing that's still going to happen for them."
As they near the end of regular season play in their season in the Louisiana High School Athletics Association, the Apaches will play at winless Beekman Charter next week before closing out at home against Arcadia.
"If you would have asked me a year ago if I thought we would be having this kind of season, the answer would have been no," Coach Feaster said. "We had some games circled that we thought we might could win or at least be competitive in. I can't totally pinpoint when, but somewhere along the way I realized that we were going to be better than I originally thought. It wasn't an overnight thing, it was gradually that I realized we're pretty good. It really started in the scrimmage against Parkers Chapel and then the (Pineland) jamboree. It was probably when we played Calvary tough early on that I realized we really have something going on here."