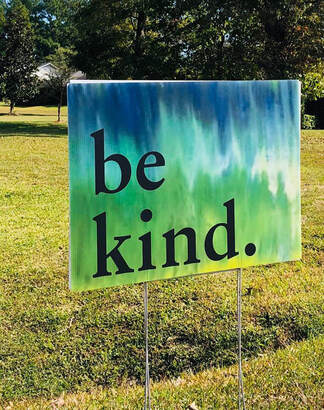 In order to raise money for Be Kind, every Tuesday throughout the course of Lent Minden Presbyterian Church sold soups to the community, raising $1200 over the course of a month. The idea to sell soups as a fundraiser came from the event's organizer, Lauren Phillips. It was a fundraiser that her previous church took part in, and she thought it would work here in Minden as well.
"My old church in Magnolia did something similar, but did it with other churches — which is a goal that we have — to get some more community involvement," said Phillips.
This was a new initiative for Be Kind this year. The organization wanted to see how the idea worked in practice on a smaller scale and are looking to partner with other local churches in the future in order to help expand the reach of the program. Selling soups also adheres to the common practices of Lent itself, staying in theme with the holiday.
"One of the ideas of Lent is that you do without some things and that's why soups are common. So we've been selling the soups to raise money for Be Kind, which will be donated to help five local charities," said the pastor of Minden Presbyterian Church, Keith Mariott.
This year Minden Presbyterian decided to keep the fundraiser relatively small-scale to see how effective it was and, given its success, plans to reach out to other churches for help with the initiative in the future.
"This year we wanted to do it ourselves to see what the logistics were. Next year we'll start asking other churches to be involved," said Marriott.
Pastor Marriott was adamant of the fact that, while the Be Kind organization is starting at Minden Presbyterian, all people, regardless of denomination, are welcome to take part in and contribute to the organization. Ultimately, the goal of Be Kind is to have the funds and resources to be able to contribute to a wide array of the local community's needs.
Be Kind was born in Kentucky by a friend of Mariotts and has been going strong for twelve years now. They have used the organization to help their local community in a variety of ways and serve as an inspiration for what Be Kind here in Minden can accomplish.
"The concept of Be Kind came from a friend of mine who's in KY, and they've been doing it for 12 years now, so everyone in their community knows about it. At Christmas last year, they paid all the bus fare from Owensboro for a month. So the buses were free for anyone who wanted to ride. One year they paid for all the school meals, so for the parents who didn't have money, they took care of it," said Mariott.
Although the ways that Be Kind in Kentucky went about serving the needs of their community were non-conventional compared to more common non-profit organizations, the impact they made was still immense. The good work that Be Kind does brings more awareness to the organization which, in turn, leads to more people wanting to contribute, creating a positive feedback loop that serves as a force for good in the communities they're involved in.
Since starting up in Minden nearly three years ago, Be Kind has contributed in a variety of ways to the local community such as taking donations and selling signs and then giving the proceeds to local nonprofits as well as helping feed the community in the early phases of the COVID pandemic. Their ultimate goal is to get more local churches and individuals involved in helping the organization to grow while spreading kindness here in the City of Minden.
"Minden is a giving town. It is, and Be Kind offers ways to help for the people who want to help. As Be Kind moves forward, I'm eager to see how it will grow and evolve over time," said Mariott.