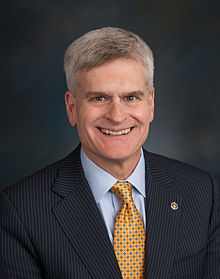 WASHINGTON, DC—U.S. Senators Bill Cassidy, M.D. (R-LA), Gary Peters (D-MI), and John Boozman (R-AR) today reintroduced bipartisan legislation to expand opportunities for high school students to obtain college credit, making higher education more accessible and affordable.
The Making Education Affordable and Accessible Act (MEAA) would help improve high school and college graduation rates by expanding the use of existing grants to institutions of higher education to expand their dual and concurrent enrollment initiatives and early/middle college programs.
Concurrent enrollment provides high school students the opportunity to take college-credit bearing courses taught by college-approved high school teachers, allowing students to begin working toward their associate's degree. This saves students and families money, while preparing them for the workforce.
"This legislation reduces the financial strain on Louisiana families by making college and career level coursework available to more high school students," said Dr. Cassidy. "To bring high-skilled jobs with good pay and benefits to our state and the rest of our country, we need a highly capable workforce. This bill prepares more Americans for tomorrow's jobs."
"Rising costs of higher education should never stop students from furthering their careers and pursuing their dreams. I'm going to continue working on ways to reduce the financial burden of higher education for Michigan families," said Senator Peters. "This bipartisan bill will support the many paths for Michigan students to gain college credit without having to take on student debt and prepare them to succeed in today's workforce."
"Concurrent enrollment and early college programs have a proven track record of effectiveness in Arkansas. Making these programs more accessible creates opportunities for students in Arkansas and across the country to develop in-demand skills sooner or make progress toward higher learning, which in turn helps to increase the talent pool for local businesses," Senator Boozman said.
The Making Education Affordable and Accessible Act (MEAA) would allow money from the Higher Education Act Title VII Fund for the Improvement of Postsecondary Education (FIPSE) to be used to provide grants to institutions of higher education. These grants can be used to:
Carry out dual and concurrent enrollment programs as well as early/middle college programming;
Provide teachers in these programs with professional development; and
Support activities such as course design, course approval processes, community outreach, student counseling and support services.
The MEAA is supported by a broad group of education organizations and institutions:
"Strengthening the connection between secondary and postsecondary education, and expanding dual and concurrent enrollment programs, is critical to ensuring students have the skills that today's labor market demands," said LeAnn Wilson, Executive Director of the Association for Career and Technical Education. "By improving access to higher education for secondary students and by providing professional development resources to educators, MEAA makes important strides in fueling the talent pipeline for the 21st century American workforce. ACTE is pleased to endorse the bill and commends its bipartisan sponsors."
"At GEO Academies, we support our students in their quest to be successful in college and/or careers by starting them in college courses on a real college campus as early as 9th grade," said Kevin Teasley, President of the GEO Foundation. "We are their support team and their safety net to help them be successful in their college and career pursuits. The Making Education Affordable and Accessible Act will support our efforts to grow our program and serve more students."
"Today, more than half of jobs require some form of postsecondary education and yet, far too many students face steep barriers to accessing these opportunities," said Kimberly Green, Executive Director of Advance Career and Technical Education. "The Making Education Affordable and Accessible Act would greatly improve access to critical dual and concurrent enrollment programs so that more students can earn a postsecondary degree or credential at a faster rate, vastly improving their career prospects and success."
"Now more than ever, we need to provide students with accelerated routes to credentials that lead to meaningful career opportunities. The chance to earn college credit while still in high school, through dual enrollment or early college high schools, is a critical step on that pathway," said Maria Flynn, President and CEO, Jobs for the Future. "The Making Education Accessible and Affordable Act would support the expansion of college in high school programs so that more students, particularly those from underserved backgrounds, can benefit from these opportunities."
"Under today's student debt crisis, too many individuals are being hampered by the financial burdens of their postsecondary education," said Marc Egan, National Education Association (NEA) Government Relations Director. "Expanding greater access to high quality dual enrollment courses would not only provide an accelerated opportunity for students to receive a postsecondary degree, but also reduce their student debt. NEA is proud to once again support Senator Peters on this important legislation."
"ACT applauds Sens. Peters and Cassidy on the introduction of the Making Education Affordable and Accessible Act, which expands opportunities for students to participate in dual and concurrent enrollment programs," said Scott Montgomery, Senior Vice President at ACT, Inc. "The incentives in this bill would not only help college-ready high school students earn college credit and move closer to a college degree, but would also recognize that high-quality programs require qualified, effective teachers, and essential support services."
"School leaders all across the country report that dual and concurrent enrollment programs are successful on many fronts: Learning in the context of career development provides additional relevance to the curriculum and introduces them to postsecondary work, which further empowers students to pursue their dreams," said JoAnn Bartoletti, the Executive Director of the National Association of Secondary School Principals. "Dual enrollment inspires students to continue their learning beyond high school, gives them a cost-effective head start on that learning, and sparks a closer working relationship between districts, postsecondary institutions, and local businesses. With targeted support like the Making Education Affordable and Accessible Act, these benefits can be accelerated and replicated all across the nation and unlock the human potential of each student in our schools."
"Time and cost are the most significant barriers to student success. The Making Education Affordable and Accessible Act cuts the cost of college, reduces the time to a degree and helps prepare students for career and life success regardless of family income," said KnowledgeWorks President and CEO, Chuck Ambrose. "Earning post-secondary credits in high school is a proven, high-impact approach to preparing students to succeed in a rapidly changing economy. This Act is an important step to getting education barriers removed."
"College is just a dream for too many students who either can't afford the tuition or aren't prepared to do the work," said Chiefs for Change. "We support the Make Education Affordable and Accessible Act because it would expand opportunities for high school students to obtain college credit. By allowing students to take rigorous, college-level courses while still in high school, we can make college more affordable and increase the likelihood that students earn a degree, ultimately setting them on a path to lifelong success."
"Some of the most engaging and bright students at our college are in our DEED (Dual Enrollment EDucation) program," said David E. Schroeder, President of Pillar College. "Learning from college professors alongside college freshmen and sophomores models the kind of seriousness that puts these young people, not just on a fast track to graduation, but also makes them better students for their entire academic career. I heartily endorse the Making Education Affordable and Accessible Act sponsored by Senators Peters and Cassidy."