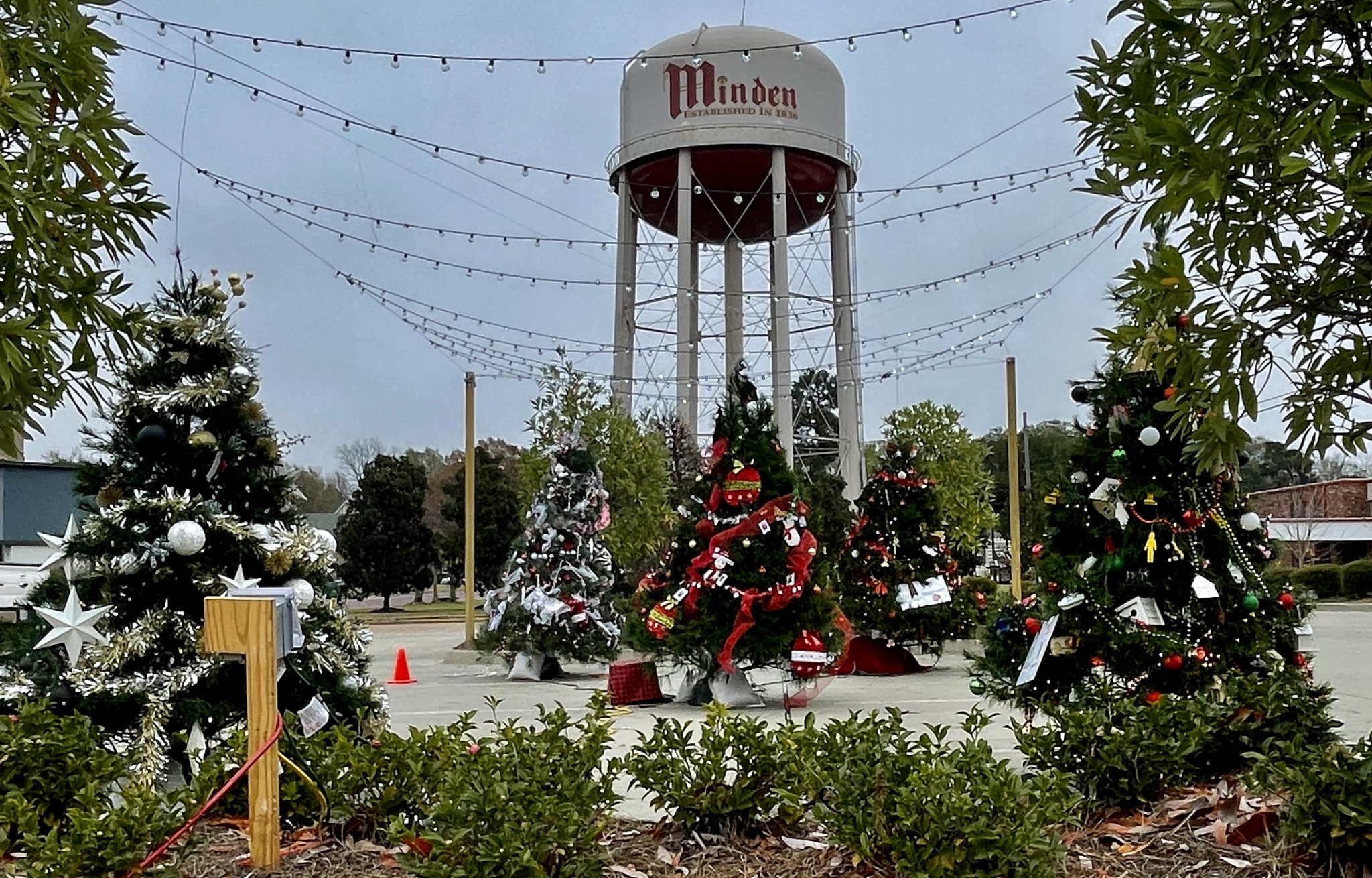 Christmas in Minden is returning back and bigger than ever this year, with countless events taking place all throughout Minden on Saturday, ensuring that everyone can take part in the Christmas season.
The event kicks off Friday evening with the Holiday Trail of Lights Hayride. New this year, the hayride will feature tour guides, explaining the significance behind many of the houses and landmarks within Minden's historic district. The Hayride is free, and will start at 6 PM in front of the Minden Civic Center. As a bonus treat, the Young Women's Service Club will be serving Hot Chocolate for $1 during this time as well, to keep the people warm as they wait in line for the tractor's return.
Saturday is the day most events will be king place, starting bright and early at 9 AM at Geaux Fresh with Brunch and Brunch and Photos with Santa and Mrs. Claus. Children can use this opportunity to give their Christmas wish lists to Santa in person before he makes his yearly deliveries. Parents can use the opportunity to get some holiday photos as well.
For those without an appetite for brunch, the Broken Bean will be serving festive cups of hot chocolate or coffee to help event-goers start the day off right.
Starting at noon, the Wimberly agency will be hosting a Smores Bar. Event goer can build their own smores, and roast their own marshmallows over the fire, providing a nice way to warm up between Christmas activities.
Starting at 1 PM, experience classic holiday magic by listening to the enchanting reading of Twas the Night Before Christmas taking place in front of the Stewart Center. The Shreveport Symphony will play in between reading and interactive games to follow. They will also feature a self-guided Book walk that will be set up along Main Street from MMC to the library.
Also at 1 PM, Eastside Missionary Baptist Church will be holding a performance of "Christmas begins with Christ featuring Charlie Brown and Friends." Hot chocolate and cookies will be served following the matinee performance. A second performance will be held Sunday starting at 6 pm.
Between 1pm to 4 pm, families should be sure to drop by City Artworks, where kids can craft their very own ornament keepsake to take home and hang on their tree. Kids Ornament Crafting & Face Painting. All supplies are provided by Main Street. Starting at 2 pm, free face painting will also be made available.
For the kids that can't stop stirring while they wait for Santa to come this way, the City of Minden will be hosting a North Pole Children's Area from 10 PM to 2 PM in the Civic Center parking lot, will activities for all ages including Bounce Houses, Pony Rides and more!
Throughout the day from 10 am to 4 pm, be sure to take a stroll down Minden's brick streets and check out the businesses taking part in Minden Main Street's Storefront/Window Decorating Contest. It's also a great time to shop for Christmas presents, stop for a meal or beverage, all the while, delighting in our Historic Downtown.
Another contest taking place is the Mistletoe Town Tree Decorating Contest hosted by Minden Medical Center. In the Minden Medical Pavilion parking lot starting at 4 pm, beautifully decorated Christmas trees will be featured for families o go and take some nice holiday pictures with. Attendees will also be able to vote on their favorite Christmas tree decorated by local businesses. Also, from 3 pm to 5 pm, pictures with the Grinch from "The Grinch Who Stole Christmas" will be able to be taken at Foot and Ankle Specialist.
For those waiting to grab a sweet treat before the Christmas Parade, stop by Seeds Women's Center for their Christmas Open House & Bake Sale. Taking place at their office on 402 Broadway Street from 3 pm to 5 pm, stop in to support their cause and choose from homemade cookies, cakes, pies, candies, cupcakes, jams, jellies and more!
Starting at 5 pm in Downtown Minden, the Minden Christmas Parade. This year's theme will be "Twas The Night Before Christmas." The parade will begin at the corner of Elm Street and East and West Street and end at the same location.
After the parade concludes, head over to the front of the Minden Civic Center for the lighting of the Minden's Christmas Tree. Here the winners of the Parade, Storefront Contest, and Christmas Tree Decorating Contest will be announced.
This weekend, all that is to be enjoyed about the Christmas season can be found all throughout Minden. One will need not but take a leisurely stroll through downtown Minden this Saturday to find all matter of holiday cheer being shared by one and all. A time to come together, and celebrate a time of year that's near and dear to everyone's hearts.