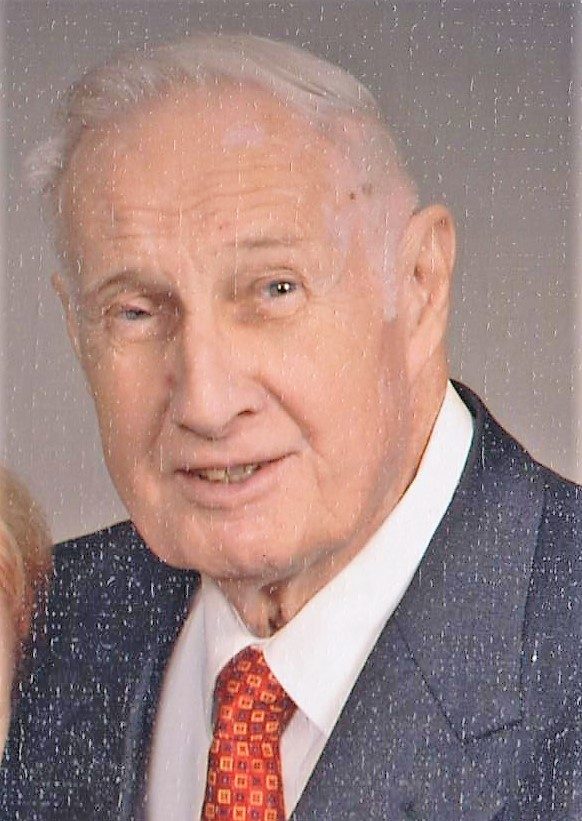 Dr. Ted Pettet Hughes, 87, passed away at Willis Knighton Bossier, Sunday, July 30, 2023, at 3:30 P.M. with his wife, Bonnie, holding his hand. He was born in Shreveport, LA on July 19, 1936, to Frank King Hughes and Elizabeth Pettet Hughes, and was a member of First Baptist Church of Haughton.
Dr. Hughes is preceded in death by his grandparents, Ted Pettet and Grace Foster Pettet, Frank Harrison Hughes and Willow Weir Hughes of Atlanta, TX; sisters, Willow Bess Hughes, Judy Hughes McCallon, and Merrilee Hughes Warren; wives, Allison Hughes, who is the mother of his two daughters; and Martha Martin Hughes, and Mary Jeff Ashworth Hughes.
Left to cherish his memory is his beautiful, sweet wife, Bonnie Martin Hughes of Haughton, LA; daughters, DeNeale Hughes York, and Allison Hughes Brown (Randall) all of Statesville, NC; step-children, Bart Thompson (Holly) of Shreveport, LA, Ron Thompson of Longview, TX, David Overby (Lisa) of Iuka, MS, Mitch Overby (Aleta) of Covington, LA, Duncan Ashworth (Susan) of Austin, TX, and Margaret Schoelman of Georgetown, TX; brother, Dr. Frank Hughes (Mary) of Shreveport, LA; brother-in-law, Gary C. Warren (Andrea) of Keithville, LA; and a host of grandchildren, great-grandchildren, nieces, and nephews.
Ted started first grade at Benton in 1942 and graduated from Benton High School in 1954. He played basketball and baseball in high school and had the honor of playing first string forward in the 1952-1954 basketball seasons. Bossier parish had only six high schools at that time, and Benton defeated all five other schools twice each year in the parish league, and won both parish tournaments. The parish tournament All Star team was awarded on good sportsmanship, with Ted receiving this honor in 1954. Benton's winning 1952-1954 basketball team record remained unbroken for many years.
Ted graduated from Centenary College in Shreveport. While at Centenary, he played forward on Centenary's Junior Varsity basketball team. He was Grand Scribe of Kappa Sigma fraternity, Sophomore Favorite, and President of the Junior Class.
Dr. Hughes was a 1961 graduate of Baylor Dental College in Dallas, TX. He served as Captain in the United States Air Force Dental Corp as the only dentist on two radar sites at Sweetwater and Ozona, TX. After his honorable discharge in 1963, he opened his private dental practice in Nacogdoches, TX.
In 1980, Dr. Hughes joined the Veterans Administration Dental Service, and practiced in three different V.A. Hospitals, North Chicago, IL, Temple, TX, and Shreveport, LA. In 1998, he completed his thirty-seven year dental career as Chief of the Dental Service at Overton Brooks V.A. Medical Center in Shreveport, LA.
Dr. Hughes as a life member of the Texas Dental Association, life member of the American Dental Association, Fellow of the Academy of General Dentistry, and life member of the Nacogdoches, TX Rotary Club. He was licensed to practice dentistry in both Texas and Louisiana.
Ted also proudly served with the Bossier Parish Sheriff's Posse for fifteen years, along with his partner, Ed King, whom preceded Ted in death.
The family would like to express their appreciation to Dr. Ted Broox Warren and his staff for their excellent medical care for the past twenty-five years. They would also like to thank the Bossier Parish Sheriff, Mr. Julian C. Whittington, the Posse members, and a host of sweet, Christian friends and neighbors.
In lieu of flowers, please donate to the Building Fund or Honor Society of First Baptist Church of Haughton, 105 E. Washington Ave. Haughton, LA 71037, Louisiana Alzheimer Association, American Cancer Society, or the American Lung Association.
Ted was a Christian Gentleman who enjoyed Lionel Trains, always had a smile on his face, and a twinkle in his eye. He will be greatly missed!
Services to honor Dr. Hughes' life will be on Saturday, August 5, 2023, 10:00 a.m., at First Baptist Church of Haughton. Interment will follow in Forest Park Cemetery, St. Vincent Ave., Shreveport, LA. Visitation will be on Friday evening from 5:00 – 7:00 p.m. at Hill Crest Memorial Funeral Home, Haughton, LA.