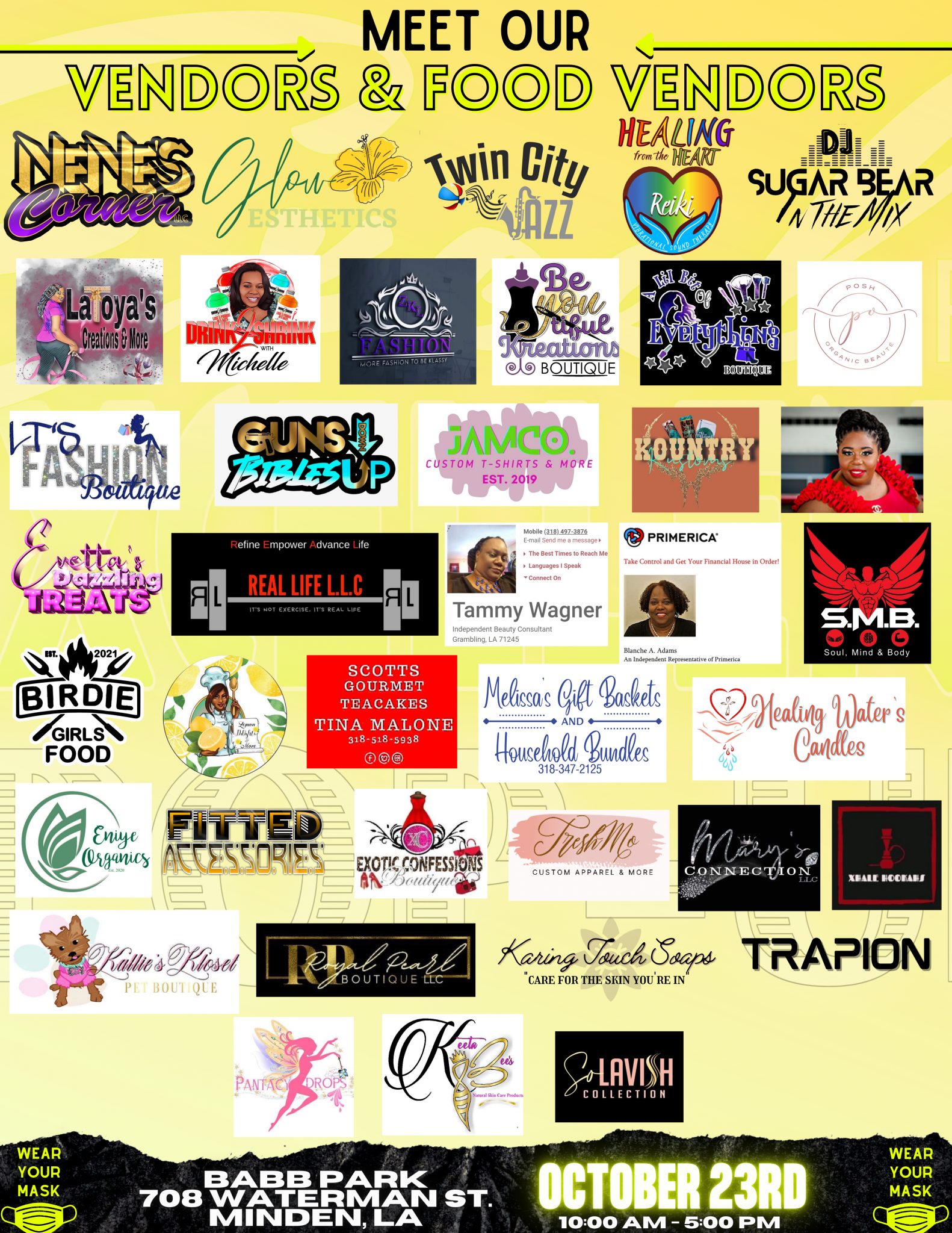 The first Annual Excel for Excellence Pop-Up will be taking palace this weekend, Oct. 23
at Babbs Park from 10 AM to 5 PM with over forty unique vendors displaying a wide array of products, food, and more to anyone who makes it out.
"We had planned for 30 vendors, but now have 40! We'll have vendors who sell 100% natural skincare products, pet clothing, wigs/bundles/extensions, men's apparel, women's apparel, custom items, and so much more! We're also promoting health and wellness- our fitness instructors will have on-site classes! Our food vendors are ready to serve some delicious meals and desserts!" said Murray.
In order to be COVID conscious, they scrapped some preliminary plans to have bouncy houses available for kids, but instead are choosing to get into the Halloween spirit by encouraging kids to dress up early in their Halloween costumes and visit the various stands for some trick-or-treating.
"Due to COVID-19, we did not want to rent a bouncy house for the children, so we've asked if they'd like to wear their costumes to the event, and bring their candy buckets. Most Vendors will provide delicious treats! We're thinking of safer activities for the kids, and will announce it as soon as we can," said Murray.
Lastly, Murray wanted to give thanks to those in the community that have helped them to support and grow this new event in the Minden Community.
"We also have been blessed with the usage and display of our event on the digital billboards around the area. We want to thank Mr. Craig Watson, Owner of Impressions Advertising! We also want to thank everyone who has supported us during this journey! All we want to do is do our part in the community, and to see the joy the news of this event brings- it truly warms our hearts," said Murray.
To stay up-to-date with the Pop-Up, interested individuals can follow the event's page on facebook at the following link: https://fb.me/e/2mg49okwm
A full list of vendors that have signed up so far is listed below:
NeNe's Corner LLC
Glow Esthetics LLC
Twin city jazz, ABA
Healing from the Heart LLC
JAMCo
Guns Down, Bibles Up
LT's Fashion Boutique
Ebony MoneyCoach Thomas – Independent Representative of Primerica
Kountry Kustoms
Beyoutiful Kreations
Blanche A. Adams – Independent Representative of Primerica
ZKL Fashion
ChelleDrink2Shrink
A Lil Bit of Everything Boutique, LLC
LaToya's Creations & More
Birdie Girls Food
Evetta's Dazzling Treats
DJ Sugar Bear In The Mix
POSH Organic Beauté
REAL LIFE Wellness
Tammy Wagner – Independent Beauty Consultant of Mary Kay
Scott's Gourmet Teacakes
S.M.B Health & Fitness
Fitted Accessories
Exotic Confessions
TreshMo Custom Apparel & More
Mary's Connection LLC
Kallie's Kloset Pet Boutique
Royal Pearl Boutique LLC
Xhale Hookahs
Karing Touch Soaps
Pantacy, LLC
Trapion
So Lavish Collection
Keeta Bee's LLC
Eniye Organics
Healing Water's Candles
Melissa's Gift Baskets and Household Bundles
Lemon Delights & More