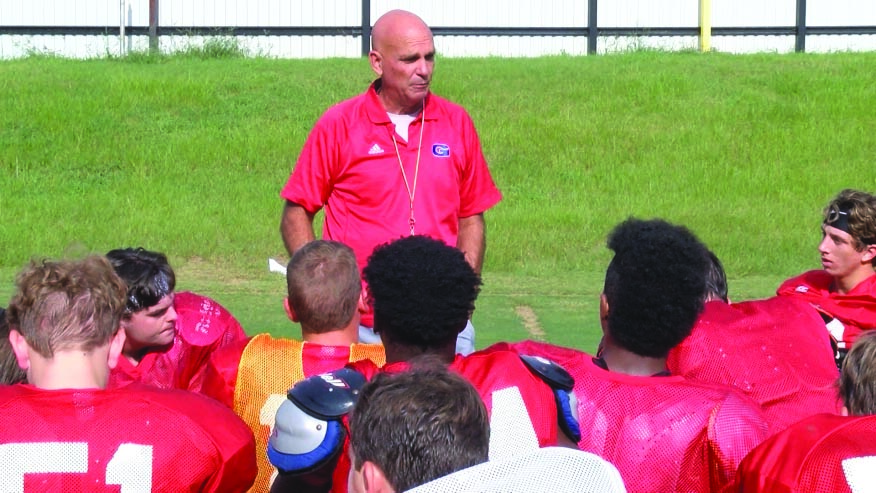 Changes are in store for the Glenbrook football program after head football coach David Feaster, who guided the Apaches to the Division IV Select School quarterfinals this past season, announced last week that he has accepted a position as offensive coordinator at Louisiana Christian University in Pineville.
Feaster made the announcement on a Facebook post on the afternoon of Jan. 11.
That post reads as follows:
"I can't tell you how much my family and I have enjoyed Minden and the Glenbrook Apaches for the last 5 years. I will rejoin Coach Drew Maddox at Louisiana Christian University as offensive coordinator. As excited as we are to take on a new adventure, it will be really tough leaving a team and community that has been so supportive of us. We plan to maintain the relationships that we have formed and can't wait to see the Apaches roll on."
Feaster, who guided the Apaches to a record of 20-3 over the past two seasons, feels he is leaving the program better than it was when he took over five years ago.
He said Louisiana Christian head coach Drew Maddox, who preceded Feaster as head coach at Minden, had previously asked Feaster about joining his staff and that now both agree the time is right.
"Coach Maddox and I had talked a few years ago about me joining his staff," Feaster said. "But at that point we got to talking and realized there was more work to be done at Glenbrook first building up that program and that it wasn't the right time to make that happen.
"But times change, and now the timing feels right. We think we're leaving Glenbrook a better team with a great group of coaches and players who have a great chance to continue growing and getting better. The timing just feels right now."
Feaster said his son, Glenbrook starting quarterback Ty Feaster, will be making the move to Pineville for his senior season.
"We'll find him a school to play his season and see what happens," Feaster said. "He's still saying goodbye to friends and I know this won't be easy on him, but he's also up for the adventure and realizes that the timing seems right for everyone."
Ty Feaster, the District 1-1A Offensive MVP, completed 157 of 231 passes for 2,436 yards and 37 touchdowns with only four interceptions for the Apaches as a junior.
He was also the first team all-district kicker.
"Obviously if things work out, I'd love to be able to coach him at Louisiana Christian," Coach Feaster said. "But there's a whole season to be played out first. Who knows? He might find another school he wants to go to. College coaching opportunities don't come up every day and after talking things over with my family and others, it just feels like the right time and opportunity to make this move."