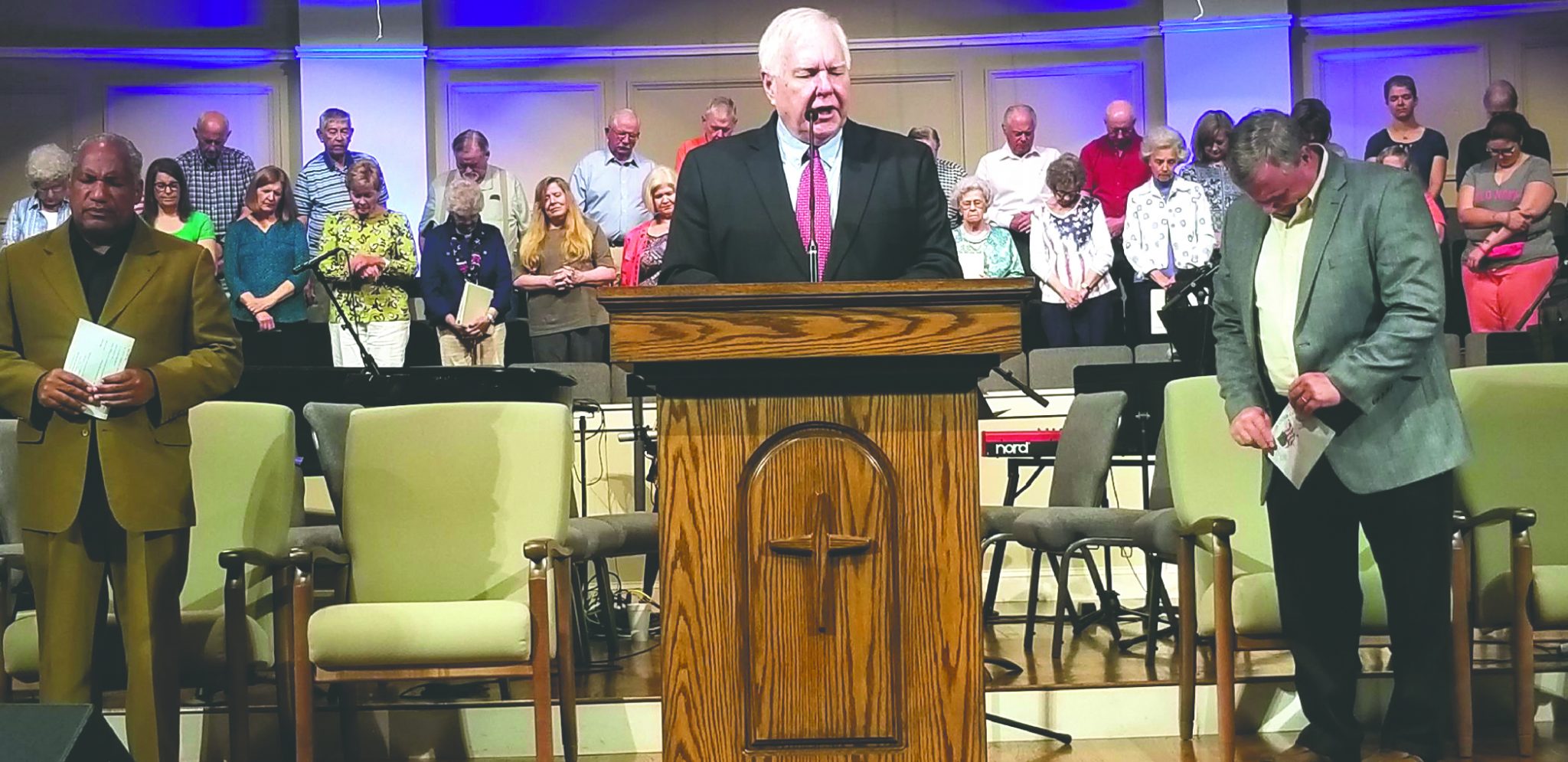 Juliuna Anderson
Special to the Minden Press-Herald
People throughout Minden came together for the 69th annual National Day of Prayer Thursday at First Baptist Church. Pastors, community leaders and members of various congregations prayed together with the theme "Love One Another" based on the scripture John 13:34.
A proclamation was presented by Mayor Terry Gardner to Brother Leland Crawford, Senior Pastor of First Baptist Church.
"I know today's a National Day of Prayer but everyday when I wake up I pray for our city. I pray that He gives me guidance and I pray to make sure that I do the very best job that I can do for the citizens here in Minden and to bring our whole community unity," Gardner said before presenting the proclamation.
The Minden High School J.R.O.T.C presented the colors as the joined congregants recited the pledge of allegiance and sang the National Anthem.
Reverend Robbie Dale Williams, the pastor of Saint Rest Baptist Church, led prayers for the Church of Jesus Christ and Prayer for Families.
"Thank you God that these are ambassadors of the Cross, gathered here today, concerned about their community," Williams prayed, "Strengthen our churches so much so that walls that divide us will be torn down. The descension that occupies and has taken residence in our communities will flee."
Judge Jeff Thompson of the Second Circuit Court of Appeals prayed for the President, all branches of the government and the military.
"I thank you for the fact that we've learned that our President, even today, and his wife are at a National Day of Prayer service showing that they recognize your authority in all of the government," Thompson said in prayer, "I thank you that there are people in Congress – the House and Senate who are believers and your followers. We regret that there are not more and probably those who are believers are not in majority but we pray that you give them strength, courage and a determination to do what is right and to your Holy Word."
Thompson went on to pray for Congressman Mike Johnson and the local government.
Reverend Richard Methvin, Pastor of Bistineau Baptist Church, prayed for all forms of media and for schools.
"I asked myself how do I pray for fake news? How do you combat deceit and deception," Methvin opened, "Truth. Jesus said you shall know the truth and the truth will set you free," Methvin then answered.
"I pray, Father, that you would help us as a community to unite around the one person we all can agree on, and that is the Lord, Jesus Christ, our Savior," Crawford said in a closing prayer.