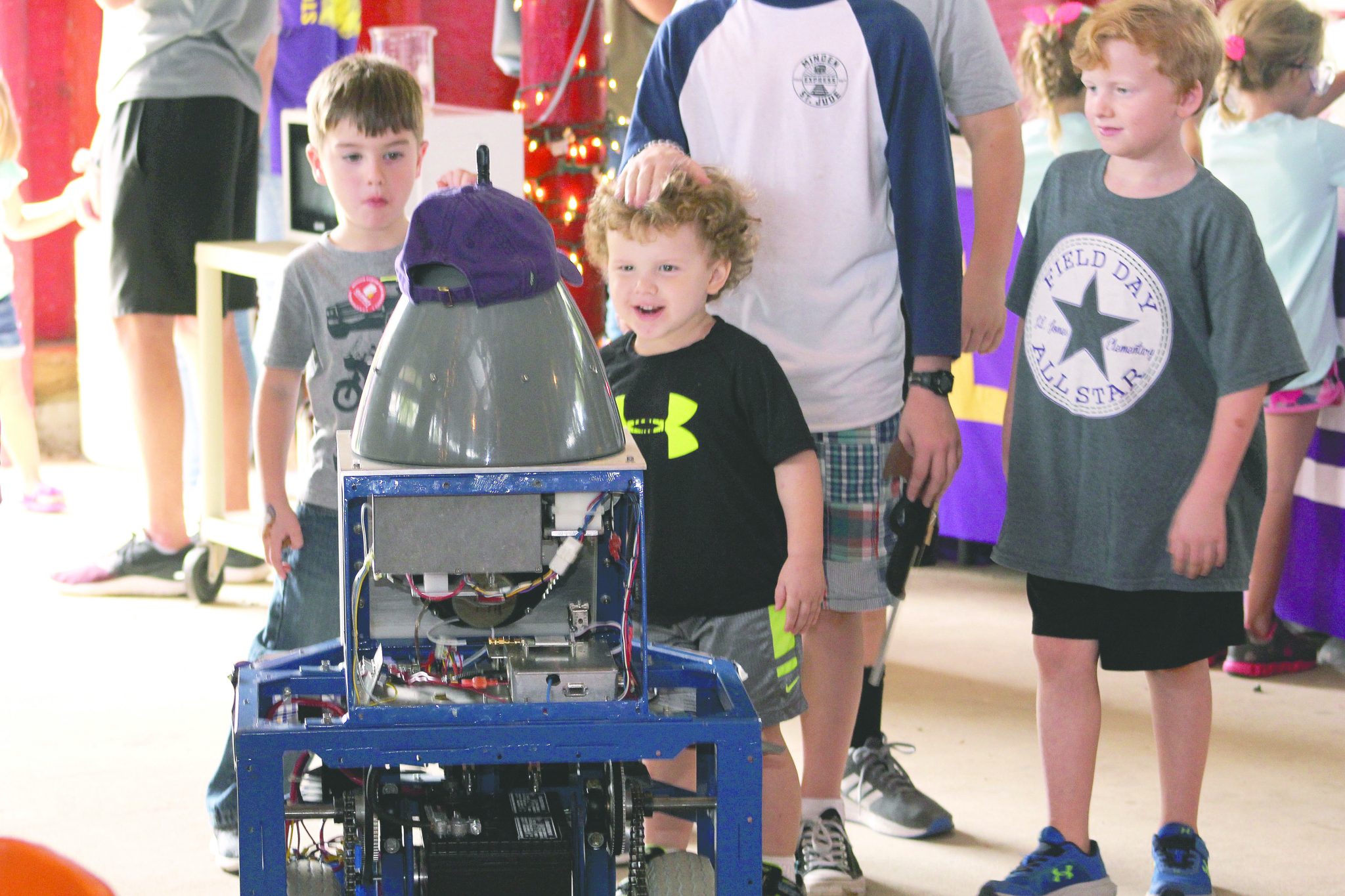 Pleasant weather, great volunteers and plenty of vendors made for a successful Makers Fair Saturday at the Cultural Crossroads Farm.
At the entrance, the Interactive Row and Arts Pavilion gave kids ample opportunities for interactive learning. Chemistry and Physics Chair, Brian Salvatore explained there were four science stations. Guests could learn about computer science, biological science, chemistry, and physics with students from LSUS.
There was a station where people could make nitrogen dot ice cream and Salvatore created smoky looking explosions with liquid nitrogen that was 325 fahrenheit degrees below zero and boiling water. There were robots including one that was over 100 pounds which had a camera face and could communicate and walk around with guests. Biological science students shared information on eradication of salvinia. In the same pavilion kids could receive face painting and balloon animals from Jelly the clown or make crafts guided by volunteers from the Youth Challenge of Camp Minden. They were led by First Class Sargeants Gant and Spain.
"We've got five of them that are teaching the little kids how to make crafts. So we gave the crafty ones to them," Spain said.
Youth Challenge members also assisted vendors in set-up and break down and they handled cleaning and trash removal for the event.
"They're performing community service and learning how to give back after so many years of not knowing how to and that's one of the things we're trying to do is show them how they can help," Spain said.
"They're glad to be away from Camp Minden and it's been nice," Gant said.
There were at least 28 vendors in attendance from across Northwest Louisiana and Arkansas. Niraj Chauhan arrived with his wares from Eureka Springs, Arkansas. He sold handmade incense, terracotta tobacco pipes and pendants.
"My incense, I make out of pine bark as the base, I go in the woods and collect the bark off the pine trees up in Eureka Springs, Arkansas. I grind it all up, and use essential oils. The sticks are out of bamboo. I cut a bamboo cane down, and strip it down lengthwise with a knife and dip it in the paste that I make out of the pine bark with rice which is what holds it together. And then I dip them in essential oils after they dry and dry them again. And then I go to this cave out north of Eureka Springs and dig out clay. It's terracotta clay, and I make all of these tobacco pipes and pendants," Chauhan explained.
"I've played with clay and making things since I was 12 years old. It was always a hobby, but two years ago I started doing it as a living. Whenever I left the farm, I was from about 8 years ago. I worked at restaurants for while, got burnt out on it and decided I'd just start doing my own thing. Work for myself.
I have a studio at the art colony in Eureka Springs where I make all of this stuff," Chauhan said about his background and craft.
The Makers Fair also hosted many local vendors. Brave Bear Denim owner Carla Downs had a teepee as part of her decor.
"We're from right here in Minden. We take jeans and we custom distress them. We have any size for girls or boys and we have different styles, we've done some LSU fabric, Minden High, Glenbrook. I'm excited, this has been awesome. When we set up, they had us coming in waves so set up was really easy. Then this tent is perfect and it's been steady all day" Downs said.
Amy Grillette of Tree Treasure Crafts in Sarepta was bath bombs, dream catchers, and local honey with her family. Her husband, Sam played a banjo to pass the time between visitors.
"I've been playing the banjo for about a year and half but I've been playing music for about 15 years," Grillette said.
Organizers from Cultural Crossroads were pleased about the turnout and success of the event.
"It's been great, we've had all but two vendors show up. We've had people showing up since 9 and we actually didn't start until ten so it's been great. We've had help from Youth Challenge Program which is invaluable because they've helped our vendors unload and they'll be there for them when they pack up," Secretary for the Board of Cultural Crossroads, Elaine Eaton said.
Workshops were available for different crafts such as sewing and making bath bombs.
"I think that's one of the things I need to work on communicating with the public, how the workshop component works. But it's a really cool idea and I think the people that have figured out how it works are excited about it," Eaton said.
Eaton said the best thing about the event was the volunteers and the patience everyone had with this being the first Makers Fair. Overall, she felt it was successful.
"I'm a little bit in awe," Eaton said of how well the event turned out.