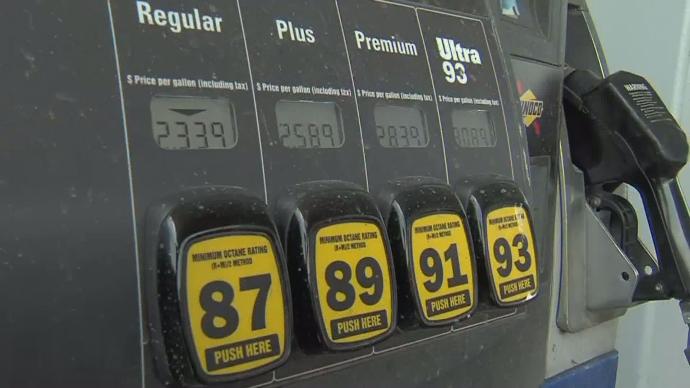 Gas prices are still falling. Average retail gasoline prices in Louisiana have fallen 5.5 cents per gallon in the past week, averaging $2.33/g Sunday, according to GasBuddy's daily survey of 2,436 gas outlets in Louisiana. This compares with the national average that has fallen 5.4 cents per gallon in the last week to $2.51/g, according to gasoline price website GasBuddy.com."For the second straight week, average gasoline prices fell, with nearly every state declining week-over-week as retail gas prices saw more catching up to the previous decline in crude oil prices," said Patrick DeHaan, head of petroleum analysis for GasBuddy.Including the change in gas prices in Louisiana during the past week, prices Sunday were 23.4 cents per gallon higher than the same day one year ago and are 1 cent per gallon lower than a month ago. The national average has decreased 2.5 cents per gallon during the last month and stands 23.4 cents per gallon higher than this day one year ago.
According to GasBuddy historical data, gasoline prices on February 19 in Louisiana have ranged widely over the last five years:
$2.10/g in 2017, $1.55/g in 2016, $2.10/g in 2015, $3.18/g in 2014 and $3.62/g in 2013.
Areas near Louisiana and their current gas price climate:
Baton Rouge- $2.31/g, down 6.7 cents per gallon from last week's $2.37/g.
Jackson- $2.24/g, down 5.6 cents per gallon from last week's $2.30/g.
New Orleans- $2.34/g, down 4.2 cents per gallon from last week's $2.38/g.
"The trend may not be over just yet, but oil prices have rebounded from their lows and are again strengthening, which may cut the party at the pump short in the weeks ahead," DeHaan said.
"Worth watching is U.S. shale oil production values which continue to increase, which may limit oil's rally moving forward, but dead ahead on the calendar is still turnaround season at the nation's refiners which promises at least some short-term pain for long-term gain."