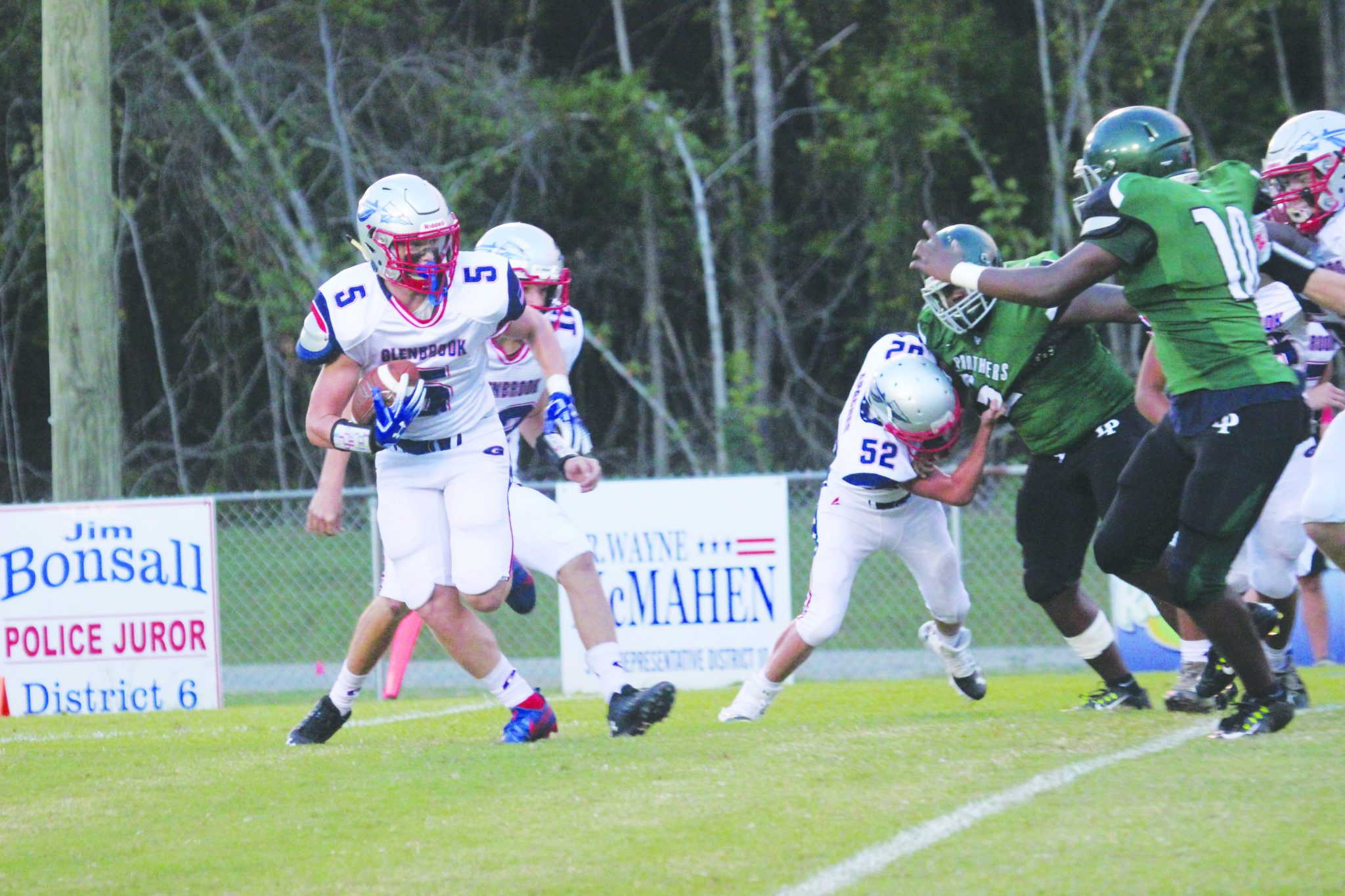 Glenbrook School was simply hoping to compete playing its first season of Louisiana High School Athletic Association football.
And competitive the Apaches have been so far this season.
On Friday night they did more than compete — the Apaches pulled off one of the biggest gridiron victories of all time as they went on the road and earned a District 1-1A win over Haynesville, the third-ranked team in the classification, defeating the Golden Tornado 42-41.
"It's huge," said Glenbrook head coach David Feaster about the win. "For me, it's just seeing our guys and the players in this program have the night that they had. It was so much fun. It was an incredible crowd and the number of people and their intensity, it was incredible for our guys to experience that — that's for me.
"But for the longtime Glenbrook people, I think they're saying, 'Yes! We've been playing sports over here for a long time, it's just nobody has noticed it before.' And so it was kind of an affirmation, if you will, and a validation of the state championship we won in baseball and in softball the last couple of years, and girls cross country. The football state championship we won 15 years ago. All that stuff seems to mean more now because of the football season we're having. People are realizing that we really can compete with all of these schools. To beat Haynesville is just off the charts exciting."
The Apaches struck first with quarterback Ty Feaster hitting Turner Mclelland on a 29-yard
scoring strike only two plays into the game-opening drive for a 7-0 lead.
Haynesville countered with 15 unanswered points before Mclelland was back at it, tying things up on a 15-yard scoring scamper followed by a two-point conversion pass from Feaster to Cade Hollis.
But the Golden Tornado quickly stormed back in front, taking advantage of a "Pick Six" and two other touchdowns to build a 33-15 advantage with plenty of time remaining in the second quarter.
"In that first half I probably told them 15 times that it was going to be a long game," Coach Feaster said of dealing with his team as Haynesville stretched out its lead. "Don't celebrate too much if things go good and don't get down too much if things go bad, because there's going to be a lot of it both ways and it's going to be a long football game."
An 86-yard scoring pass from Ty Feaster to DJ Carter and another touchdown pass helped the Apaches cut the Haynesville lead to 33-28 at the half.
After taking the ball over on downs to start the third quarter, Glenbrook marched 91 yards with Trey Kent's three-yard scoring scamper putting the Apaches on top 34-33.
Haynesville scored on the ensuing drive to go up 41-34 at the 2:34 mark of the third quarter before the defenses of both teams started slugging it out.
Rhett Johnson's 11-yard touchdown run with 5:23 remaining pulled the Apaches within one point at 41-40. Glenbrook decided to play to win, with Carter powering his way to paydirt to put the Apaches on top 42-41.
Haynesville could drive no deeper than the Glenbrook 48 on the ensuing drive as the Apaches took over on downs and milked the clock for the upset victory.
"It kind of came down to the fourth quarter and our conditioning because they have some great players. But they have a couple of guys that they can't do without — they run the ball over and over again. We finally wore them down. We had a number of players we were using. Obviously DJ Carter had a great night for us. But before he got going it was Turner McCleland who turned in some incredible plays.
"Our defense just fought all night and finally started winning the battles in the end with some incredible defensive stands in the fourth quarter."
Coach Feaster admitted that the Apaches' depth at skill positions played a big role in the win.
"We take a lot of pride in that with an enrollment of around 110 — that's boys and girls," Coach Feaster said. "We have 45 boys in high school right now. A little over half of those are playing football. We say every year we're going to start 22 guys. We want a lot of people ready to play football because on a night like tonight, we need all of those guys. A whole bunch of them came up big. We're very fortunate to have that many skill position players that contribute. We don't have that along our lines, but that's because of the numbers and dealing with size. But a lot of those guys are freshmen and sophomores and our skills players are juniors and seniors. We just have a number of them that are somewhat interchangeable, and that's been an advantage so far."
Glenbrook (4-2 overall, 3-2 in 1-1A), will next play host to Plain Dealing (2-4, 2-1 in 1-1A) next Friday at Apaches Stadium.