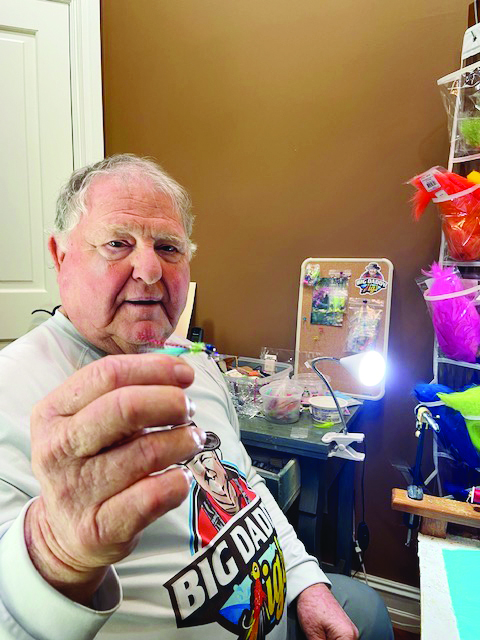 BY GLYNN HARRIS
Tying crappie jigs is something Ronny Graham never ever thought he'd be doing.
Since February 2022, however, he spends his spare time doing just that, tying colorful crappie jigs.
To get a handle on Graham's new enterprise, we need to go back to learn how it all started and what triggered it.
"It was during the COVID pandemic when my wife, Judy, started thinking about what we might be able to do since we were basically home-bound," Graham began. "She and I have fished for crappie together for years and I had been buying my jigs from Jim Hall, a Ruston fisherman who tied his own jigs.
"Judy suggested that maybe I could learn how to tie them and it would give me something to do since we were pretty well sequestered at home."
Graham had spent years working with Lincoln Builders, the company his dad started in 1962. After his dad retired, Graham was named CEO of the business, retiring in 2010. During his tenure in working with Lincoln Builders, Graham has held several positions related to the outdoors. He served on the Louisiana Wildlife and Fisheries Commission, was on the Habitat Committee for Ducks Unlimited and served a term on the D'Arbonne Lake Commission.
One day while visiting Clyde Barham who is married to his dad's sister and an expert crappie fisherman himself, the subject of jig fishing came up.
I asked him what type of jigs he used, rubber or hair jigs. He told me he used nothing but hair jigs that he tied himself.
"When I told him of mine and Judy's interest in making jigs, Barham gave me a 50 year old jig-tying apparatus so I decided to give it a try," Graham said.
"I bought the materials needed for jig tying and I learned as I went along. Today I have all the equipment I need to tie jigs and I have gotten pretty good at it," he said.
Visiting Graham at his home, we sat in his jig tying room and I was impressed with all the materials he had, skirt materials in a variety of colors and jig heads he purchases, paints and places in Judy's oven for a few minutes to let the paint set. He tied a simple jig for me and it took barely a minute before he handed me the completed jig.
"I don't want to go into the 'quantity' business of tying jigs; I'm more interested in 'quality," he said. "I will make some special order jigs for folks who want them and I plan to have a display of jigs available at only two businesses right now, Cranford's Grocery and Sporting Goods in Ruston and the Honey Hole Tackle Shop in West Monroe."
Graham has had to overcome some health issues since his retirement; a bout with cancer and two strokes. Fortunately he has recovered from these issues.
"When I started and got going on tying jigs, Judy made a statement that as a Christian, I firmly believe is true. She mentioned this transition into something I can do at home, an activity that began during the pandemic," he said. "She called it a 'God thing' and I totally agree. After my bouts with health problems, I don't believe the Good Lord is through with me yet and I'm thankful I have been provided with something I not only have the ability to do but it's something I thoroughly enjoy."
— Contact Glynn Harris at glynnharris37@gmail.com.