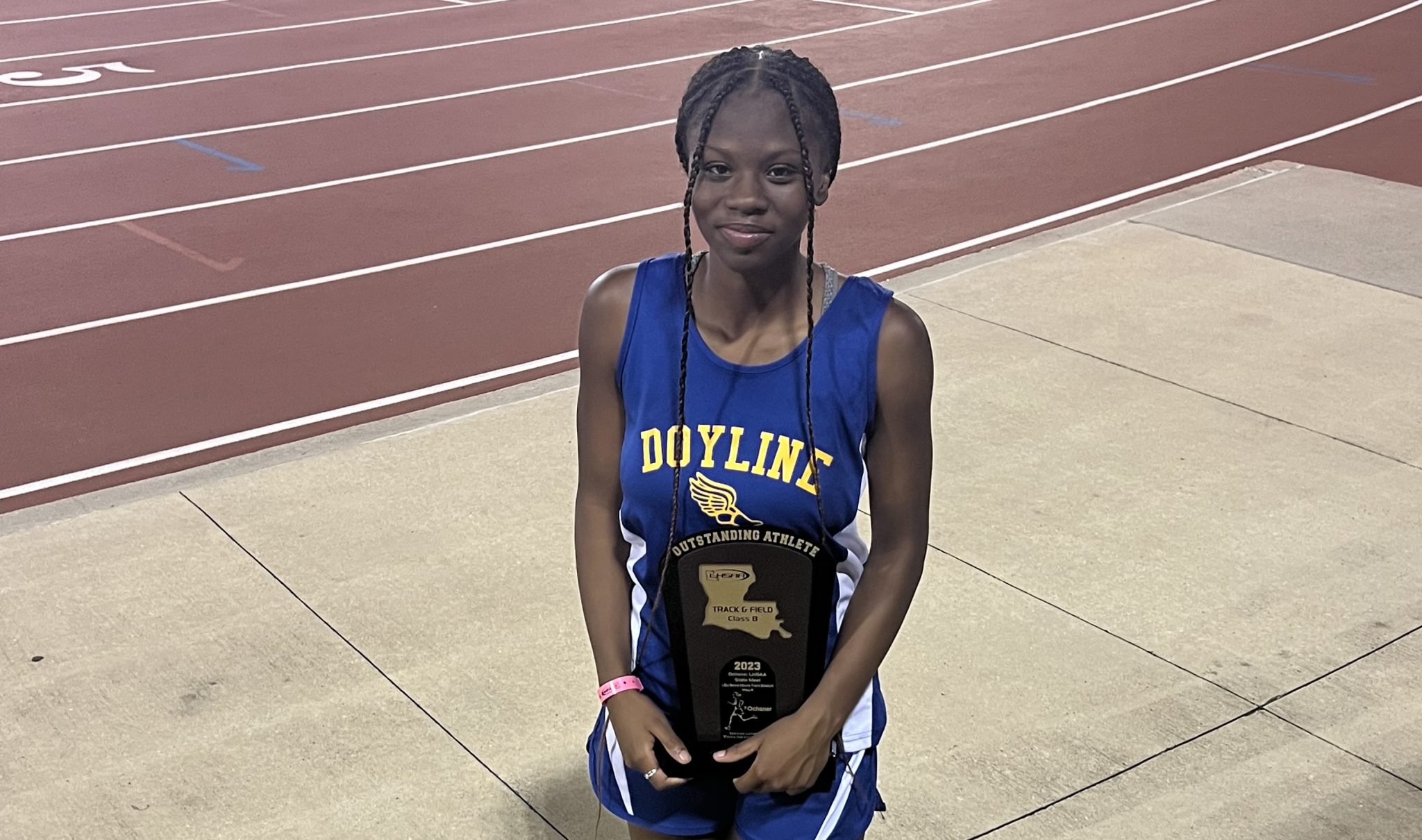 Doyline junior Izayla Harris won three Class B girls events and finished second in another in the Ochsner LHSAA Outdoor Track & Field State Meet Thursday at LSU's Bernie Moore Stadium.
Harris successfully defended her titles in the 100- , 200- and 400-meter dashes, setting class records in all three events. She also finished second in the triple jump.
Harris wasn't Doyline's only winner, though. Sophomore Caysten Mingo won the boys javelin.
Harris ran a 12.13 in the 100. The previous record of 12.22 was set by Lauren Myers of Midland in 2002. Harris finished .68 ahead of runner-up Lehr Turner of Florien.
She broke her own record in the 400 with a time of 56.69 seconds. Her previous record was 57.77 set last year. Runner-up Mary Johnson of Lacassine ran a 57.00.
Harris ran a 24.93 in the 200. The previous record of 25.25 was set by Tierra Randle of Simsboro in 2007. She defeated runner-up Krystina Green of Oak Hill by a whopping 1.58 seconds.
Harris was named Outstanding Track Athlete for the second year in a row.
In the triple jump, she went from third to second with a leap of 34 feet, 4 inches on her final attempt.
Episcopal of Acadiana's Irene Kaiser, the defending champion, won with a 35-1 on her first attempt. Simsboro's Lauryn Vernon was third with a 34-1.5.
Harris has won seven state titles since winning her first as a seventh-grader in 2019.
Mingo took the javelin with a throw of 159-0. Going into the meet, he had the lowest qualifying distance of 115-3.
Mingo threw 128-10 on his first attempt. He fouled on his next three. On his fifth, he moved into third place with a 136-7.
He then won it on his final throw, which went 22 feet, 5 inches farther than his fifth and more than 30 than his first.
Grace Christian's Tucker McCoy was second with a 152-6.
Doyline freshman Takerria Washington took fourth in the girls 800 in 2:46.89. Anacoco freshman Sophia Swinney won in 2:24.68.
Doyline sophomore Landon Spears was fourth in the boys high jump with a leap of 5-7.75. Holder's Marcus Penalber won with a 5-11.5.
Doyline finished fifth in the team competition, one point behind Midland. Christ Episcopal won with 62.
The Panthers finished tied for 14th with 14 points. Episcopal of Acadiana won with 91, 30 more than runner-up Castor.
Glenbrook sophomore Vivian Still finished fifth in the Class 1A girls 800 in 2:31.65. Louise S. McGehee's Kali Magana won in 12.20.63.
Still only began competing in track in the district meet. She was named the co-MVP on the All-District 1-1A softball team.