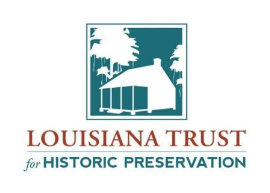 If you are interested in fixing up or restoring a historic building  in your community, an upcoming meeting will provide you with many of the answers  you need to get started. The Louisiana Trust for Historic Preservation (LTHP) is hitting the  road to meet with Louisianans to share resources and tools to help educate the public  on how to best save historic places in their backyard.  
LTHP staff and partners from the LA Division of Historic Preservation have organized 9 in-person meetings (plus one virtual) in various regions of the state to connect with fellow preservationists and community leaders to attend. Topics will include establishing historic landmark designations, tax credits, funding programs, easement protection process, and other advocacy programs that are available in Louisiana. The meetings will also have open discussion to learn about the challenges and successes related to historic preservation in each of the regions.
All meetings are open to the public and run from 5:30 to 7:00. Registration is appreciated and can be completed at www.lthp.org/events. Those located in surrounding communities are encouraged to attend the meeting in Bossier City at the Bossier Arts Council, 650 Barksdale Boulevard, Bossier City, LA 71111. Masks are required.
Remaining Calendar of Regional Meetings
• Tuesday March 22, 2022
o Bossier City – Bossier Arts Council, 650 Barksdale Boulevard, Bossier City, LA 71111
• Tuesday April 4, 2022
o Gretna – Gretna Historical Society, 209 Lafayette St, Gretna, LA 70053 • Thursday April 28, 2022
o Leesville – City Hall, 508 S. 5th Street, Leesville, LA 71446
• Tuesday May 10, 2022
o Lake Charles – Lake Charles Civic Center (Contraband Room), 900 Lakeshore Drive, Lake Charles 70601
• Thursday May 19, 2022
o Hammond – Council Chamber, 312 E Charles St., Hammond, LA 70401 • Tuesday June 7, 2022
o Via Zoom