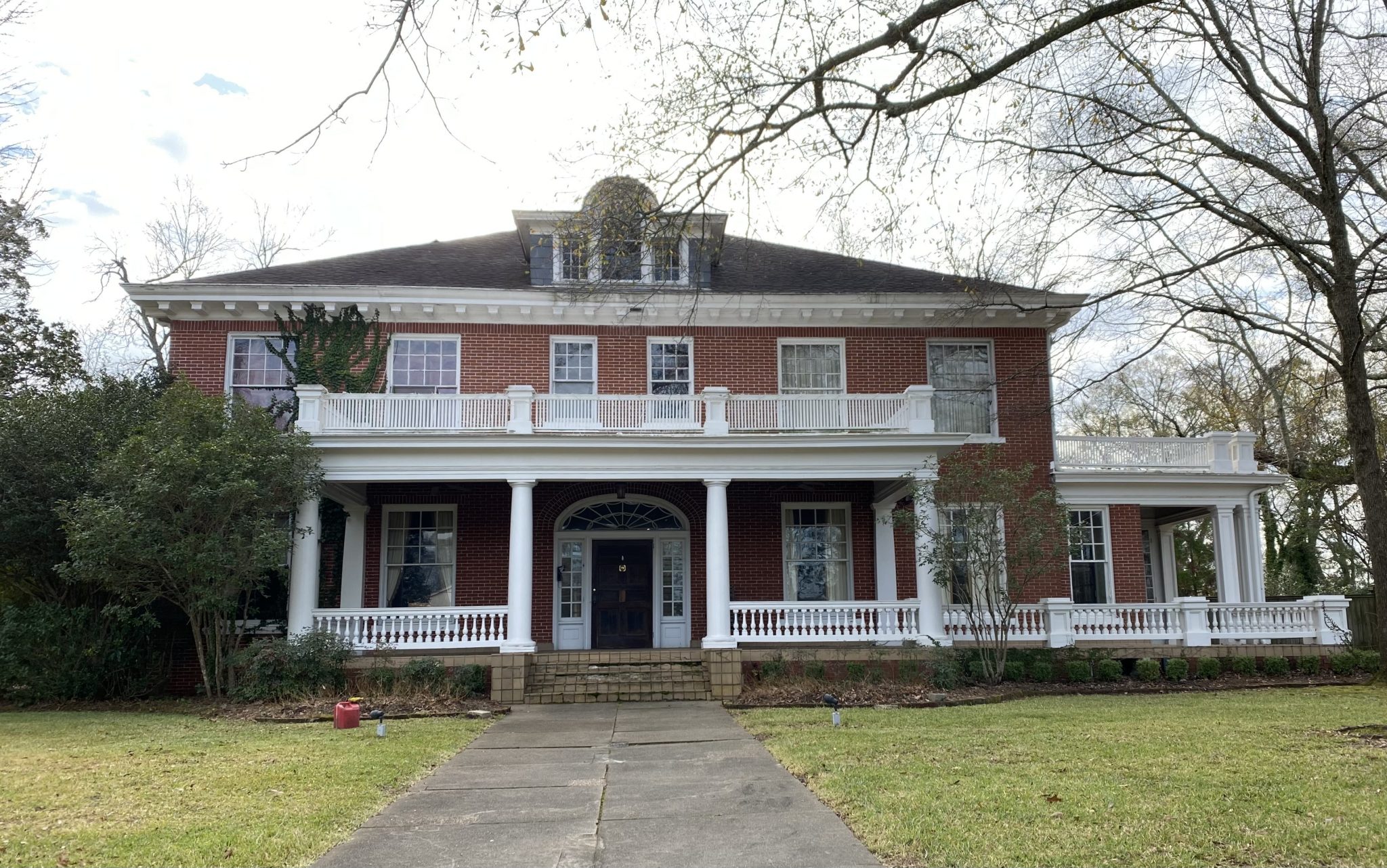 The Minden Planning Commission met last Thursday to vote on a zoning variance for the property formerly known as Grace Estate. Proponents for each side showed up with supporters and documentation. After three hours of debate, the request to allow a bed and breakfast to operate was approved, but the variance for the event center was not.
The property is located in the Minden Historic Residential District. In 1992, this neighborhood was designated a Historic Trust neighborhood. This means that the homes are protected, to a certain extent, from changes. "In the Historic Residential District, any changes that you make to the exterior of your home has to be approved with a certificate of appropriateness by the Historic Commission before you can get a building permit from me. It includes changing colors of paint and things like that that are even more inclusive than what I do," said Brent Cooley, City Building Official.
The Huffmans, who are in the process of purchasing Grace Estate and who have owned and operated Huffman house for seven years, requested that they be able to use 70% of the home as the bed and breakfast. This is a special request as the amount usually allotted is 20%. The President of the Minden Historic Residential District, Leslie Rainier, was against this portion of the variance. She stated, "The bed and breakfast idea was created for the benefit of the homeowners so they could offset the cost of running a large, historic home. It really was not created to provide a commercial venture and a profit-building situation."
They plan to convert spaces within the main house so that it will have five bedrooms and five and a half bathrooms. One suite would be for his daughter, who currently attends LSU in Baton Rouge. The other four sleeping rooms plus the two bedrooms and 2 bathrooms in the carriage house would be for guests. "The variance he's requesting is to do a Lodging House, which is an auxiliary residential use," said Cooley. "As long as he's not renting more than five bedrooms inside the house, that structure still can be, and should be, considered residential."
When asked where all these guests would park, Huffman explained his plan for a small strip of parking spaces on the side of the home near Sylvan Place.
The debate concerning the proposed event center focused on things that have happened in the past, under the previous ownership. Noise from bands and fireworks, parking issues, trash issues were all discussed extensively. "I'll commit right now that we won't shoot fireworks," said Jim Huffman. Huffman also planned to have security for any larger events as well as parking attendants to manage the parking and to collect trash. Regarding the trash, Huffman noted that the trash along Sylvan Place has been laying there for months and much of it cannot be attributed to the former event center.
Many people do not want to hear any disturbances when they are home. Between 2015 and 2021 there have been approximately ten events of around one hundred people at Grace Estate. Huffman pointed out that there are about seven or eight football games at Minden High that cause noise, parking issues, and trash. There are at least six parades a year that cause noise, parking issues, and trash. "But we tolerate it, because it's in the best interest of our community. We make a decision to have those things, in spite of the negative impacts," he said.
Mrs. Rainer rebutted by saying, "For some reason, the Historic District, even though it's protected by the National Trust, is constantly bombarded by people who want to come in and take a historic neighborhood and make it into something else."
Planning commissioner, Sarah Haynes stated, "We wanted to, as a commission, to do what's right. It's right down the middle. About half don't want it; and little over half of the people do want it."
While the bed and breakfast passed with three in favor and two opposed, the event center was declined with a vote of two in favor and three opposed.
Jim Huffman stated, "We are thrilled to have the opportunity to serve our community as a bed and breakfast. This was our primary focus." The Huffmans hosted a get-together this past Saturday in hopes of re-building some bridges in the District. He invites everyone to join the new Facebook page he created to allow for "free and uncensored polite speech" regarding happenings in the neighborhood. His is called "Minden Historic District Residence."