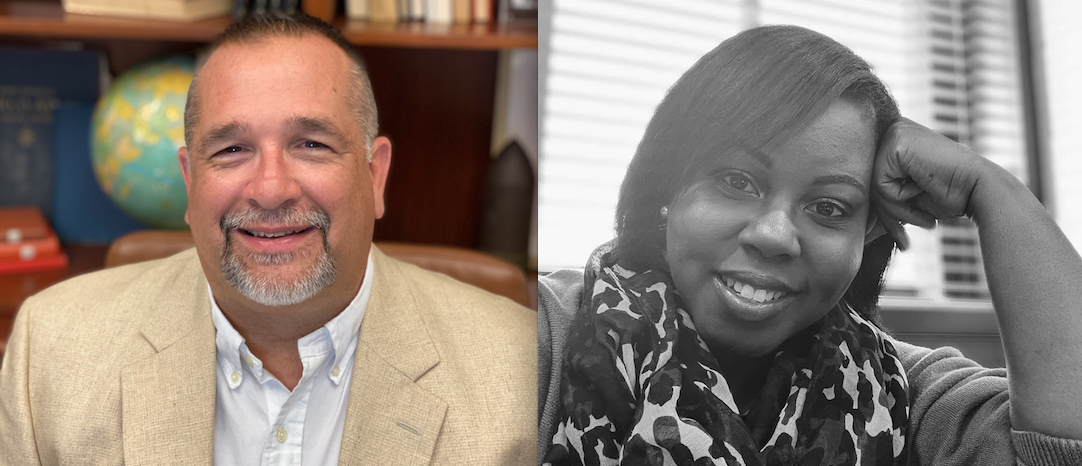 This is the second in a series of interviews to introduce the community to the new administrators in our public schools.
Webster Jr. High School is starting the new school year with two new assistant principals: Ms. Ashanti Cooper and Mr. Mike Dick.
Ms. Cooper hails from Bethany, Louisiana. She went to school in Caddo Parish and spent her early years working in education there. After getting married in 2019, she moved from Caddo Parish to Webster Parish. "I started working at Brown Upper [Elementary]," said Ms. Cooper. "I worked there for two years, and then last year I worked at the district — I was the testing coordinator for Webster Parish — and then this year I'm here. I've presented at conferences. I've been on curriculum teams — writing curriculum when we didn't have one. I've taken on mentoring teachers, teacher leadership, and different things, so I've gone through the gamut of everything educational. I have one of those stories where I started off as a paraprofessional and worked my way from paraprofessional to school teacher, to leader, all the way up to where I am today. When this position came open, I felt the need to go into another realm, which is administration — something I'd been working toward. After getting my masters and doing different little tidbits of administrative work — outside of actually having a title — it was a good fit, so I'm here."
Mr. Dick has been here in Minden for many years, and is well-known as a high school teacher and coach. "We've been in Minden for about 30 years," said Mr. Dick. "I'm from Shreveport originally. I graduated from Woodlawn High School in Shreveport. My wife, Dr. Lisa Flanders-Dick, is a professor at Louisiana Tech University. I've been teaching about 24 years now, and I was at Minden High School for 18 [years]. I coached for years when I first started, and I finally gave up coaching and I went to the classroom. I started teaching dual enrollment through Louisiana Tech. I really enjoyed it. I like the classroom. It's a good experience. I really enjoyed teaching those kids. I did that for six or seven years. It was fun, and then this opportunity came up. I was asked if I would take the position, and I took the position without hesitation. I thought it'd be great."
While his title at the moment is technically Administrative Assistant, he has passed his leadership certification exams and, once the paperwork has been completed through the state department, will officially be titled Assistant Principal as well. Mr. Dick will be receiving his masters degree in history this weekend.
All those years of teaching and coaching have given Mr. Dick a lot of experience with kids. "When you teach for 20 plus years, you've been around a lot of different kids, and you've been around a lot of different situations," he said. "I think that helps. I think that helps with making decisions. You've seen almost everything. You've seen it before, so you kind of know how to react to that situation. I'm not one to just get angry and holler at you — that's just not who I am. I think that patience with kids is a big deal. I think I do that really well."
Ms. Cooper is looking forward to creating some new traditions that both the students and parents will enjoy. "I'd love to make sure that there are positive things going out into the community about the school, so anything that we can do to actually make people want to come," she said. "One thing that I really, really want to have is a family dance, whether it be a Sadie Hawkins or a Daddy/Daughter Dance or a Mother/Son Dance. That's one of the initiatives that I did in Caddo Parish at my former school, and it became an event that parents really, really looked forward to. They would stop us in the car line: 'When is the dance? Well, let's get ready for it!' It was one of those big, big community draws because they got to dress up, their parents were there, they were having fun. And a lot of parents said that 'this was the only time that I really have that special time with my child.' So that's one thing that I really, really want to do.
"Another thing," she continued, "is to just keep us growing. We did really great this year as far as LEAP scores. We increased our school performance score. I just want to make sure that we continue in that direction. Making sure the teachers here get as much support as needed. Making sure the kids are comfortable and that they're happy. Making sure that they have something to look forward to — those are the things that I want to make sure that I bring to the table here at Webster, so that we can have a successful school year."
When asked what Mr. Dick would like people to know about him, he said, "I've been in this community for so long, I'm starting to teach kids of the kids that I taught before. And I think that's a benefit. They know who I am. They know me and my personality. They know that he's a fair guy, and he's going to give you a fair shake. I'm not here to 'get you.' I like being here for the teachers; I think that's important. I want the community to know that this is a really good school — that's what's really important to me. It's a good school. We have good teachers. We have good administrators. We have good support staff. We have a good thing going here, and I want them to understand that we're here for the kids and that we're going to do the best that we can for those kids. That's what we're here for."
Ms. Cooper, who is primarily over the 6th grade students, wants parents to know that she is always available to them. "They can come to me anytime," she said. "When we're dealing with children and changes, we know that there's going to be questions and bumps in the road, but I want them to know that they can come to me anytime, and I'll work my hardest everyday to ensure that your child feels happy and safe here." As a side note, the 6th grade students have their own dedicated hall where all their classes are held. "This is a way for them to get acclimated into middle school without being overwhelmed," Ms. Cooper said.
She wants the students to know that this is preparation for the next step. "One thing I tell my boys and girls is: I'm preparing you for high school. Your preparation starts right here in 6th grade, learning responsibility, learning how to take on many tasks, learning how to get along with your peers and collaborate. Those are things I want you to learn. Those are the skills you're going to need in order to be successful."
Both of these new assistant principals are happy with where they are and excited to be starting a new year. "I come to work and I like being at work and I'm excited about being here. I'm ready to roll. Let's go!" said Mr. Dick. Ms. Cooper expressed the same sentiments, saying, "I'm excited to be here, and I'm ready to get to work." If you have any questions or concerns about your child that you'd like to express, contact Ms. Cooper or Mr. Dick at Webster Jr. High. Their doors are always open to you.