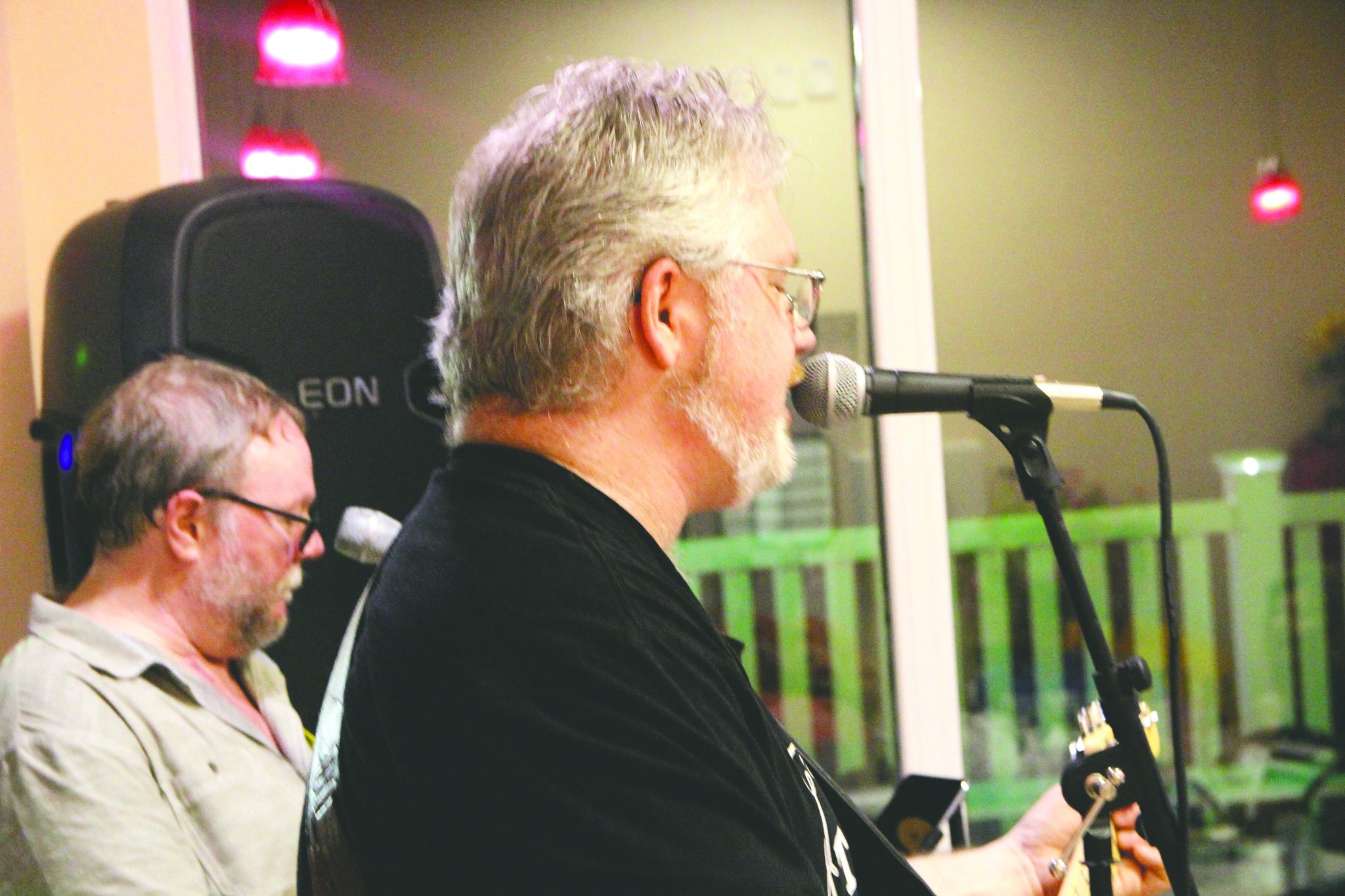 Latte Kaffe music scene brings classic artist to Minden

A friendship of decades brings live music from a classic, well known artist to Minden.
Entering Latte Kaffe, there's a little boy playing in the rain right outside of the large windows, waitresses are smiling and checking on tables, and friends are sitting eating and listening to live music. Dean "Deano" Mathis is sitting right in front of the duo playing, in his black and white fedora, enjoying the sounds.
Deano Mathis has been performing since he was 12 and is now 81. He's played with many bands but one that many know is the New Beats who recorded the song "Bread and Butter" in 1964. Bread and Butter reached Number 2 on the Billboard Hot 100 for two weeks that year.
Mathis' journey didn't start there. He has travelled and played with many famous rock artists such as The Rolling Stones and country artists such as Paul Howard.
"I played with everybody, just about. Paul Howard and the Arkansas Cotton Pickers picked me up when I was about 17. He played at the Grand Ole Opry,"
Mathis had been friends with Michael Carr, owner the restaurant Latte Kaffe for over 50 years. They've started a new tradition of hosting Deano, his son and nephew to perform for guests once a month. Carr said he invited Mathis to come see if he liked Minden when he met him in Shreveport and 40 years later, Mathis was still there.
Mathis recalled the day he and his band recorded "Bread and Butter."
The guys that wrote it, I didn't know them. I just had the acetate. Four songs were in a session and we only had 3. I was at lunch with this guy, he said, I've got a song I gotta play you when we get back to the studio. So we got back to the studio and put this acetate on, it didn't even have a melody. I had to put a melody to it. I told the guy who played it for me, that's the song we're going to cut. He looked at me and said you're crazy! I said watch me," Mathis said.
These days, Mathis let's his son and nephew lead the performances.
"My favorite part is kind of setting back and letting everybody else do it. I like to watch them play," Mathis said, "I'm really retired, I'm only doing this for Mike because he's my friend."
Carr thinks the music sets a positive tone for his establishment.
"Deano is so good with people. Older people, younger people, they all like it. He plays the kind of music people like to hear," Carr said.
He also thinks his friend is a good person as well as a great musician.
"He's so good hearted. He'd do anything in the world for anybody and he's so easy to get along with. Through the years he's played at the old folks homes all over North Louisiana and South Arkansas. It wasn't so much about the money but the enjoyment that the elders got out of his presence, singing old songs that they were familiar with back in their day," Carr said.
After decades, their friendship is still strong, which brings a new experience to music lovers of Minden.
"He is great, a very good friend, one of my best friends I've had all my life," Mathis said of Carr.