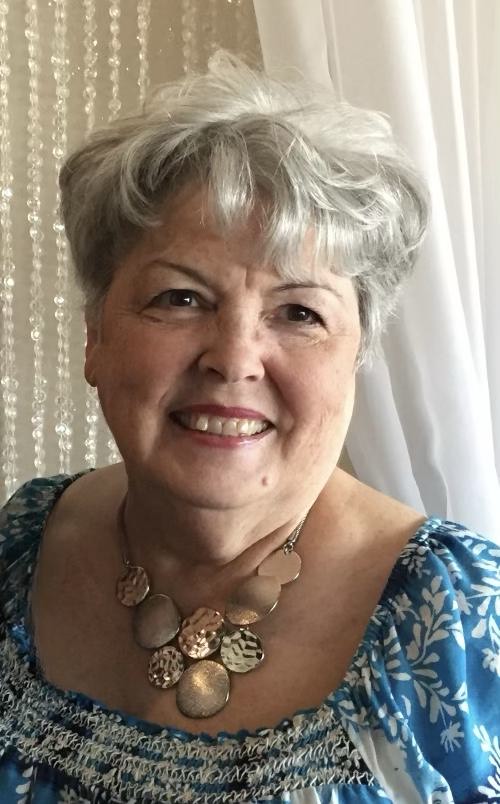 Linda Maureen Collinsworth Lessen, 78, passed away suddenly at her home on October 5, 2022, in Ennis, Texas. She led a productive and gracious life and, though she will be missed by many, we are thankful that she is again in the arms of her beloved husband, Paul, who died in 2010.
Linda was born on September 15, 1944, in San Diego, California, to Louis and Mildred Elliott. After her father died in 1945, her mother moved home to Louisiana where she met and married Henry Collinsworth in 1947. He adopted Linda and her younger sister, Connie, later adding a son, Dave, to their family.
Linda grew up in Forbing, Louisiana, and worked at Hearne's department store doing window dressing as a teenager. She graduated from Woodlawn High School in 1963 and then attended business school.
In 1962 she met the love of her life, Paul Lessen, while he was stationed at Barksdale Air Force Base. They married on October 26, 1963, and had two daughters, Paula and Amber.
Linda and Paul were stationed in several different states as well as in England during the 22 years of his Air Force career. During this time, Linda often worked as a teacher's aide which allowed her to spend more time with her children and help support the family. Trips to see local attractions and learning about the places we were stationed were important life experiences she shared with her children. She encouraged her girls to pursue their interests in music and art and made time to attend their school events and programs, even that one college football game where she sat in torrential rain to watch the band's halftime show.
In 1981 when Paul retired from the military, they returned to Louisiana, eventually settling in Minden. Paul began his second career with the Minden Post Office, and Linda went to work for Sears as a custom decorator. After many years at Sears, Linda retired from the workforce to help care for her great aunt, husband, and parents as their health declined.
Linda and Paul became members of the Lakeview Methodist Church in Minden and enjoyed being involved in Sunday school classes and singing in the choir. Linda even spent some time on the riding lawn mower during their weekends mowing at the church. She also felt a calling to help others and was instrumental in creating the church's Souper Saturday program, making and delivering soup to those in need.
She loved her family dearly and enjoyed spending time with her grandson, and she was so proud of his recent accomplishment of starting college. She was a role model to her daughters, showing by example, compassion, forgiveness, and love for her family and friends. Her strong Christian faith sustained her through many of life's trials and allowed her to continue to be a cheerful, optimistic, and loving person to the end. 
Linda was an avid reader and consumed books from many genres and was hooked on her Kindle App. Whenever sides were chosen for a game of Trivial Pursuit, everyone always wanted
Linda on their team because she knew something about everything. She also became a college football fan when her great nephews attended Texas A&M, but was torn for who to root for if they were playing LSU.
If Amazon had a "frequent buyer" award, Linda would have been in the running with her daily shopping list. Her other passion was supporting animal charities and rescuing boxer dogs, typically older dogs that were harder to place. Her love of dogs led her to Facebook groups dedicated to boxers and, although she didn't meet most of these groups in person, they were her friends and she offered encouragement and advice and shared the ups and downs of life with boxer dogs.
Over the years, she enjoyed many activities including participating in different bowling leagues with Paul, as well as working in stained glass, macramé, and quilting. She enjoyed adding new plants to the garden, exploring genealogy, and collecting old photos of her extended family.
Linda was predeceased by husband, Paul; parents, Henry and Mildred Collinsworth; and nephews Michael Hindahl and Chris Collinsworth.
She is survived by daughters, Paula Lessen and Amber (Phil) McDown; grandson, Nolan McDown; sister, Connie (John) Harwood; brother, Dave (Dale) Collinsworth; and many nieces and nephews and their children.
Memorial services will be held at Lakeview Methodist Church in Minden, Louisiana, on Thursday, November 3, 2022, at 2pm, and at J.E. Keever Mortuary in Ennis, Texas, on Saturday, November 12, 2022, at 2pm. Interment will be in Hartsburg, Illinois, at a later date.
Linda loved color, so we encourage those attending her service to wear bright and happy colors in her honor. In lieu of flowers, please consider a memorial donation in her name to the non-profit Tyson's Wonder Wheels 4 Boxers, which was an organization close to her heart, or to your local animal shelter.