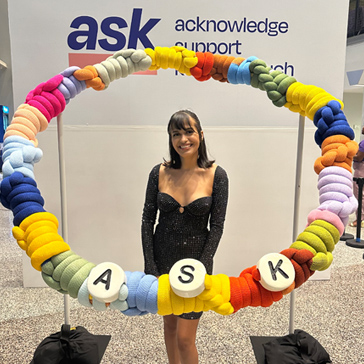 Alyssa Garza stood inside of a gigantic colorful bracelet with the letters A.S.K. affixed to it this past September at Music Television's Video Music Awards in Newark, New Jersey.
Garza, decked out in a sparkly black dress, was more than just an attendee.
The LSUS graduate student helped shape the mental health initiative A.S.K., which assists young adults in having conversations with peers who might be struggling with mental and emotional health.
"Peer support is extremely important," said Garza, who is pursuing a masters in counseling after obtaining a bachelors in sociology at LSUS. "Peer support provides bridges to receive support and services.
"We tend to turn to friends or people that we know first, and a high percentage of those people don't feel prepared to provide that support for their friends. This campaign is about providing three simple steps to comfort the supporters."
Garza is one of 10 college students and mental health advocates from across the nation to serve on the Youth Leadership Council, which steered the conversation in developing the A.S.K. initiative in a meeting this past March.
A.S.K. stands for Acknowledge, Support and Keep-In-Touch, as described in the Mental Health is Health initiative.
Acknowledge – validate one's feelings and recognize the courage it took to come forward.
Support – ask how you can help. Offer options and resources for coping methods and/or professional help if needed.
Keep-In-Touch – check in regularly with that friend, showing that you really care about and hear them.
MTV Entertainment partnered with the national organization Active Minds, a college student-led organization aiming to promote awareness of mental health issues, including suicide, in young adults.
"This is initiative is a revamping of the suicide prevention platform," Garza explained about A.S.K., which was unveiled at the VMAs. "We're working to get involved with more brands and sports teams, so this is a campaign that we want to expand globally and share this message."
Garza, who helped co-found and served as the first president of the LSUS Active Minds chapter in 2021, became involved with the organization at a national level after receiving an Active Minds Emerging Scholars Nash Family Scholarship, which assists students in pursuing graduate level mental health education.
She was approached by her advisor to serve on the Youth Leadership Council, which strived to include voices from underrepresented communities. Garza is Mexican-American.
Garza, who works in LSUS's on-campus youth clinic, is focusing on rehabilitation counseling but is open to other areas like higher education and private practice.
The LSUS chapter helped further the A.S.K. mental health initiative Monday by holding an event in which students made their own A.S.K. bracelets. LSUS was the only Louisiana school to take part in Monday's national event.
Co-founder and current president Tiffany Robinson said Active Minds plays a key role on the LSUS campus.
"The bracelets are a fun way to promote A.S.K. because students might notice the bracelet and ask us what it means," said Robinson, who co-founded the local chapter with Garza and fellow student Ryan LaFitte. "The initiative is important because although students aren't trained counselors, this tool gives us information on how to help in a language that students can understand.
"Peer relationships are so important because it can be intimidating to go to a counselor or an administrator if you're struggling. It's easier to turn to your friends."
In an MTVE survey, 70 percent of respondents said they wouldn't know how to help if a friend approached them with mental health issues.
Robinson, who is also involved in national Active Minds initiatives, said she's proud of the impact the local chapter has had on campus.
"This is our ninth event this semester, all with the goal of bringing awareness to mental health and to provide information about the resources that are available," Robinson said. "I love doing this because it builds communities and allows students to interact with each other.
"That's especially important after (the COVID-19 pandemic) when we just didn't have that."