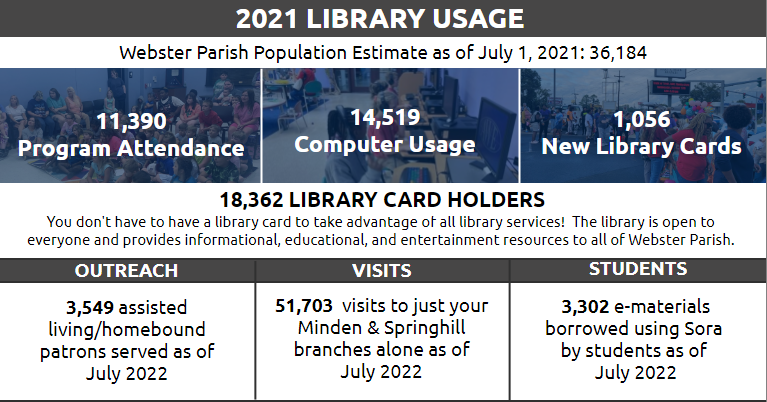 The Municipal Primary Election will be held on March 25, 2023, to decide if Webster Parish Libraries will have their millage renewed and to select a new school board member for District 9.
Webster Parish Libraries offers a wide variety of helpful, fun, and educational events throughout the year. Everything from story time, to delivering books to the homebound, to helping students study for the ACT exam, and much more. These services are funded by the millage that the citizens of Webster Parish vote to approve every ten years. In fact, this millage makes up 97% of the library revenue used to provide services to all residents throughout the parish.
The millage is not an increase, merely a renewal of the same rate of 12.39 mills for ten years. The current millage will expire at the end of 2024. Without this money, all of the branches of Webster Parish Libraries will be severely affected.
"The 10 year millage election results affect not only our libraries, but our entire parish. Our library system is the fourth oldest library system in the state and, in my opinion, one of the very best. This is because of the support received from Webster Parish residents year after year. It makes me proud to represent Webster Parish Libraries across the state. On March 25, 2023, we will once again hope to receive support from the people we serve. Our libraries are a valuable resource to the parish, and I couldn't even begin to imagine what our communities would be like without them," said Savannah Jones, Director of Webster Parish Libraries. "When our parish residents go to the voting booth on March 25th, the fate of their local libraries will be in their hands. This means you will be voting on what you want to see happen with your local libraries! We have so much we want to continue accomplishing for all the residents of Webster Parish!"
Also on the ballot is the District 9 seat on the Webster Parish School Board. District 9 is located roughly between Dixie Inn and Minden, from I-20 to just above Frenchie Dulany Road. The previous school board member, Frankie Mitchell, decided not to run in the November election but, since no one else ran, the position was left vacant. Mitchell volunteered to remain on the board until after this election so that her district was not left unrepresented.
The two candidates now running for District 9 are Jerri Lee and Jo Ann McWoodson.
The deadline to register to vote is March 4. Early voting will begin on March 11 and end on March 18. For early voting, the polls are open from 8:30 AM until 6 PM. On the day of the election, March 25, the polls will be open from 7 AM until 8 PM.