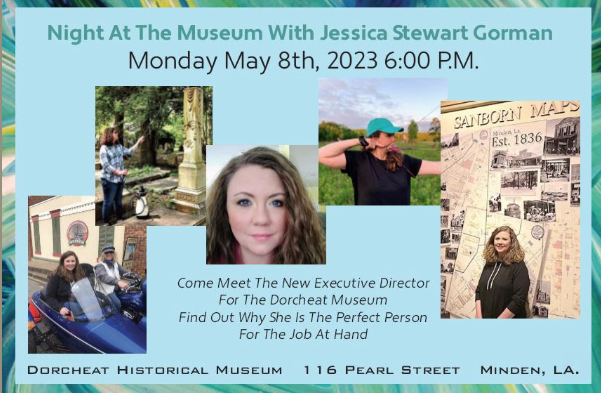 Don't miss the 3rd speaker for 2023 for the Dorcheat Museum.
Come welcome Jessica and find out why she is the perfect person to take on the roll of Dorcheat Historical Museum's Director position. Jessica is an avid researcher on Webster Parish history and works diligently to solve mysteries of our area. She is such an asset to the parish. Come find out what all she does do for the preservation of our history!
Don't miss your chance to meet and welcome our new Director. The museum events are held in the Media/Learning room at the Dorcheat Historical Association Museum, 116 Pearl Street, Minden, La. Museum doors will open at 5:30 p.m., with first-come, first-serve seating. Program begins at 6:00 p.m., admission is free with potluck desserts and snacks welcome.
For more information contact Jessica or Schelley at 318-377-3002 or visit www.museuminminden.blogspot.com to sign up for the museum email blast. You can also find the museum on Facebook. To learn more about Webster Parish's rich history visit the Dorcheat Historical Association Museum located at 116 Pearl Street in Minden. Museum hours; Tuesday-Friday 10 a.m. – 4 p.m. (closed from 1-2 for lunch). Open by appointment only on other days. The museum admission is free. Also open for special tours and rental by appointment.
Free Admission! Potluck items welcome! Seating limited doors open at 5:30
You can make a difference at the museum for 2022. We will greatly appreciate any help you can offer financially. Remember we are a 501 C3 nonprofit. You can now donate online with our new website www.dorcheatmuseum.com for your convenience.