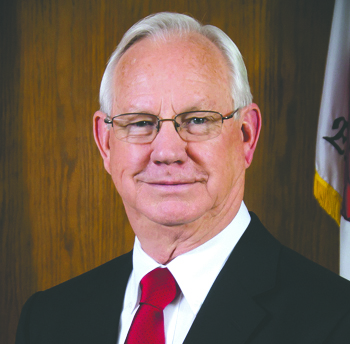 An effort to garner signatures for a petition to legalize the package sale of alcoholic beverages in Minden continues this week at the local Walmart and Brookshire's locations, and Mayor Tommy Davis ran the numbers on what it would take to bring the issue to a vote.
"They have to have 25 percent of the electorate in Minden on the petition to get it on the ballot," he said. "That's 1,970 signatures."
Signs at the tables in both stores claim the petition deals with restaurants. However, of the five propositions on the petition, the one most directly dealing with restaurants has already been passed. Davis said the fifth proposition was passed in a special election, but normally all five must go individually on the ballot at the same time.
As reported Tuesday, the proposition currently in effect, listed fifth on the petition, reads "Shall the sale of beverages of high and low alcoholic content be permitted only on the premises of restaurant establishments which have been issued an 'R' permit as defined by law?"
"I thought their sign was a little misleading," Davis said. "[Alcohol] is already in restaurants, so that's not what it's really about."
Corporate representatives from both Walmart and Brookshire's have responded to inquiries over email. When questioned if Brookshire's itself is behind the petition, Ellen Reynolds, Corporate Communication Director for the company, said they are simply leaving things up to the citizens.
"On the issue of legalization of alcoholic beverages for off-premise consumption, we support the right of local communities to decide the issue by a vote," Reynolds said. "Brookshire Grocery Co. is a service-oriented business, and we want to provide the goods and services that our customers desire. In the case of alcohol, it is always decided by the local citizens. We feel it is important for people to be able to express their desires through their vote, and we are allowing petitions to be signed in our stores of those who want to bring this issue to a vote."
Walmart spokesperson Anne Hatfield was similarly vague when asked if Walmart had anything to do with the petition being brought forward.
"Our customers are telling us they want added convenience and choice when shopping for adult beverages," Hatfield said. "We can offer our customers an assortment of beer and wine as part of a convenient and comfortable one-stop shopping experience. More importantly, we can provide those products in a responsible manner."
As reported Tuesday, those manning the booth at Walmart claimed they were representing Walmart.
Regardless of who is responsible for putting the petition forward, Davis said the end result simply depends on the voters of Minden.
"I don't know whether they'll get enough [signatures] or not," he said. "If they do, we have to follow the law. We just have to wait and see."