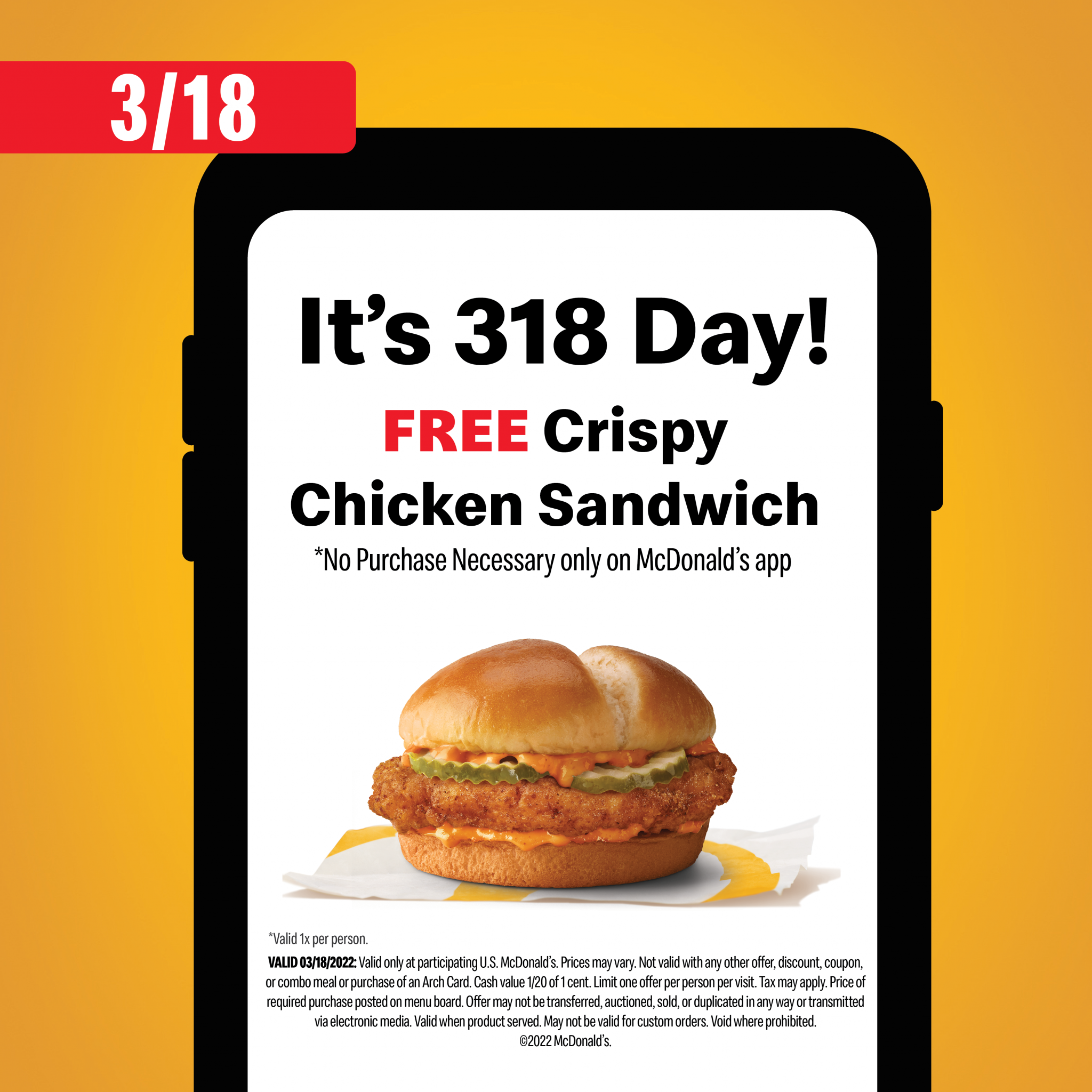 SHREVEPORT, LA – Not that we need a reason to celebrate where we live, but on Friday, March 18, Northern Louisiana McDonald's restaurants in the 318 area code will give out FREE Crispy Chicken Sandwiches to customers in honor of 318 Day! It's a one-day deal available only through the McDonald's app with no purchase necessary as local owner-operators celebrate their communities.
"We love our community and wanted to take this opportunity to thank our loyal customers in a big way," said local McDonald's Owner-Operator Roy Griggs. "If you haven't tried our Crispy Chicken Sandwich yet, it's a great opportunity to come try one on us! If you have, we hope you'll join us too as we celebrate our Northern Louisiana communities."
The Crispy Chicken Sandwich features a crispy, juicy, tender filet made with all-white meat chicken topped with our crinkle cut pickles and served on a toasted, buttered potato roll. 318 Day is the first in a series of area code specific celebrations coming to communities across the ArkLaTex in 2022. It's just one of the many ways local McDonald's owner-operators give back to their communities, including ongoing support for the Ronald McDonald House Charities.
For more information, contact:
Joshua Cook
501.777.5032
VALID 03/18/2022: Valid only at participating U.S McDonald's. McDonald's App users can receive one free Crispy Chicken Sandwich, no purchase necessary. Not valid with any other offer, discount, coupon, or combo meal or purchase of an Arch Card. Cash value 1/20 of 1 cent. Limit one offer per person per visit. Tax may apply. Price of required purchase posted on menu board. Offer may not be transferred, auctioned, sold, or duplicated in any way or transmitted via electronic media. Valid when product served. May not be valid for custom orders. Void where prohibited. © 2021 McDonald's