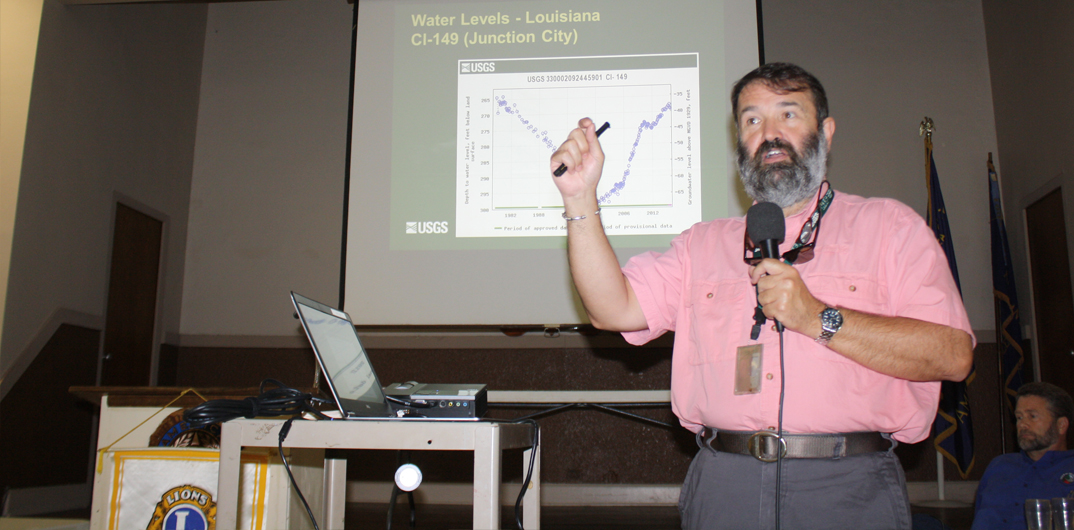 Ben McGee, groundwater specialist for the U.S. Geological Survey, spoke on the current state of the Sparta Aquifer at the Lions Club weekly luncheon Thursday.
According to information provided by McGee, 200,000 people are dependent on the Sparta Aquifer and 130 gallons are used per person each day, McGee said of the aquifer usage. Webster Parish uses 4.85 million gallons per day.
Compared to previous decades, however, the state of the aquifer is much better.
"Since 1995 water usage has decreased after decades of over usage," McGee said.
As of 2014, 55 million gallons of water from the aquifer was used daily, while the aquifer intakes between 52-56 million gallons daily. "We're using just about as much as comes in," McGee said.
The reasons for this improvement from previous decades, where aquifer usage was well above the amount produced, are bitter sweet. "The reasons we've seen a better state of the aquifer are both good and bad. On the good, conservation efforts have been successful," McGee said of individual, public use of water. "The bad is that a portion of this is due to industries shutting down."
Speaking more on the conservation efforts of both remaining industries and public usage, McGee explained that there is still more to be done. "We've stopped the bleeding, but the aquifer still needs to recover," McGee said, explaining that even though we are currently breaking even with our water usage versus intake, if more industry moves in and uses the aquifer, it wouldn't be unimaginable that usage would go over that threshold.
Before closing his speech, McGee went over things that are still need to happen, including the continuing water use and conservation, frequent monitoring of groundwater resources, continuing to use and look for alternatives to ground water sources (surface water, recycled and reclaimed water) and the state of water rights issues and legislation.
The Minden Lions Club meets on Thursdays at the American Legion Hall on Pine Street.