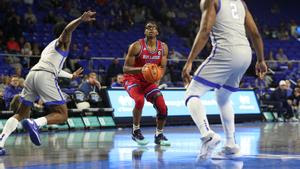 Louisiana Tech Athletic Communications
MURFREESBORO, Tenn. — Louisiana Tech was held to its season low in scoring as the Bulldogs fell, 63-49, to Middle Tennessee on Saturday afternoon inside the Murphy Center.
It was much of the same for LA Tech (13-16, 6-12 C-USA) who again faced a large deficit that they could not overcome. And that deficit came in the first half as the Blue Raiders erupted for 26-8 run to close out the stanza with a 20-point advantage.
The Bulldogs made just eight field and went 1-of-12 from beyond the arc. Meanwhile, Middle Tennessee (18-11, 11-7 C-USA) had its way offensively, shooting 50 percent from the field and sinking seven triples.
MTSU continued to stretch out its lead in the second half as well, going up 57-28 after Justin Bufford hit his third three-pointer of the game with 10:50 to go.
LA Tech had complete the control the rest of the game, limiting the Blue Raiders to just one made field goal for the remainder. The Bulldogs outscored the home team, 21-6, to close out the game, but it was too late, too late.
Isaiah Crawford battled his way to a game-high 17 points to go along with nine rebounds. Kenny Hunter also provided a quality outing, registering his first career double-double with 11 points and a career-high 15 boards.
LA Tech was also held to a season low in field goal percentage at 27.5 percent as well as a season-low three three-pointers. MTSU shot 40.4 percent for the game, getting double-digit points from three Blue Raiders including Elias King who had 13.
QUOTABLES
Head coach Talvin Hester
"My thoughts today are very similar to my thoughts on a lot of our games. We have to learn and play and fight for 40 minutes. At the end of the day, we have spurts where we are great. We also have spurts where we are not very good. I thought we shot ourselves in the foot in the first half with bad shot selection. And then we turned it around. I put a lineup out there that fought and did good things for us."