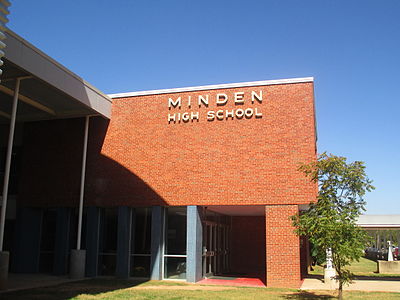 Minden High School was placed on lockdown Monday morning after officials were tipped off about a student with a firearm on campus.

"This morning, school board personnel received an anonymous tip that a student at Minden High School was in possession of a firearm," said Superintendent of Webster Parish Schools Johnny Rowland in a statement.
"According to District protocol, Minden High School was placed in immediate lockdown, and a thorough search was initiated."
Minden Chief of Police Steve Cropper said the lockdown started after a random backpack check had been initiated.
"Some of the school resource officers had gotten some information that was happening on the streets, in the neighborhoods," Cropper said. "There were some threats made, some allegations made, so that information was passed along to Minden High School, and they decided to do a random backpack check."
Rowland said an 18-year-old male student had indeed brought a loaded handgun into the school building.
"This young man was found in possession of a .40 caliber handgun in his backpack, along with some illegal narcotics," Cropper said.
Jaylon Teal, 18, of the 200 block of Ellis Drive, was arrested and charged with two counts of possession of schedule 1 controlled dangerous substance, possession of drug paraphernalia, illegal carrying of a weapon, possession of a firearm in a firearm free zone, possession of a controlled dangerous substance in a drug free zone, according to Cropper.
"This young man was a senior, fixing to graduate. Now, he's in whole heap of trouble," Cropper said.
"Because the staff at Minden High School timely adhered to established protocol, this situation was appropriately handled and resolved without further incident," Rowland said. "No other handguns/weapons were discovered."
Rowland said the lockdown was later lifted and the school has returned to normal operation.
Cropper said the lockdown performed by staff at Minden High was well executed.
"Minden's lockdown worked really well. In fact, we had officers that couldn't get in because the school had done what they were supposed to do," Cropper said.
"I was overly pleased with the lockdown situation and how it was handled. I want to extend my congratulations to the school system and the principal, Mrs. Wilson."
"The school sent out a message to parents informing them of the events that occurred," Rowland said. " "We will strictly enforce WPSB policy in dealing with this situation. Please know we take the health and safety of our students very seriously."
Cropper added that police would not tolerate these types of troubles coming from the streets into the schools.
"If anyone has any ideas of doing something like this in the future, in reference to this thing, we're just not going to put up with it," he said. "We're going to prosecute them to the extent of the law."