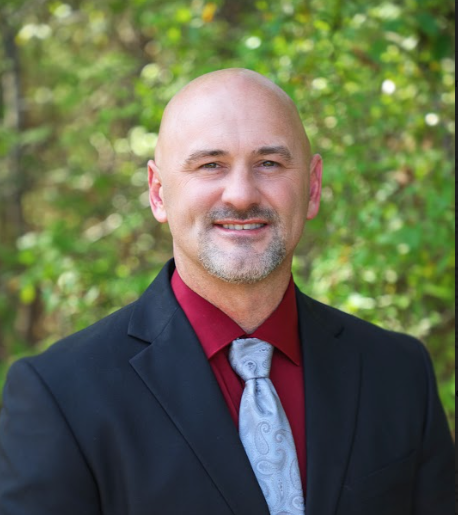 Minden's new chief of police, Jared McIver, brings 27 years of law enforcement experience as well as decades of training to his new department. Chief McIver has big plans for making the Minden Police Department a leader in law enforcement quality and professionalism.
Chief McIver has been serving the citizens of Webster Parish since he was 20 years old.
"I started out in the Webster Parish Sheriff's Office in 1996. I was the dispatcher," said McIver. "I was there two weeks when Sheriff Riser said, 'You are the worst dispatcher I've ever had. I've got to get you out of there.' And I agreed. That's when he moved me into the correctional center. I was there for a few months, and then they moved me up to the fourth floor of the courthouse [to work as a jailer]. I did that for a couple months, then they sent me to the police academy. I came back, and they put me on patrol. In 2001, when I was 25, I was promoted to shift supervisor."
But McIver had another goal that he wasn't willing to let slip by.
"But my ultimate goal since I was a junior in high school was to become a game warden with Louisiana Wildlife and Fisheries. And the reason was a man named Jim Brown — he lives in Doyline and he was with Louisiana Wildlife and Fisheries. His wife, Mrs. Halda Brown, was a teacher at Doyline High School. Mr. Jim would come up there from time to time to eat lunch with her. I would go talk to him, and he would tell me stories about everything they were doing. And it just excited me. I loved hunting and fishing. I remember telling him, 'Mr. Jim, one day I'm either going to come work with you or take your place,' and he would encourage me.
"So when I was in the sheriff's office, it being my fifth year of being there and being promoted to shift supervisor, I knew that, if I ever was going to chase my goal of being a game warden, I had to do it then. So I applied and was hired. I started October 1, 2001, in the Louisiana Wildlife and Fisheries Academy in Baton Rouge. While I was in the academy, Mr. Jim Brown retired, and I took his spot just like I told him I would.
"When I got out [of the academy], they started putting me through different types of schools and had me come back and start a lot of training. So for about 18 of my 20 years, I went to all kinds of schools everywhere; got certified in doing everything and teaching, and I taught in our training academy and all over the place."
About two years ago, McIver started thinking about making a change.
"I would come up here to the police department and drink coffee and visit with some of the patrol officers. I knew I was eligible to retire from Wildlife and Fisheries soon, and I just had a tugging at my heart saying, 'You ought to think about running for police chief.' I called Chief Cropper and I said, 'Chief, are you going to be running again in 2022?' and he said, 'Jared, I'm going to the house.' I told him I was thinking about running for his position. He was very encouraging and happy that I wanted to take over the department.
"I was able to retire at 20 years from Wildlife and Fisheries, and ran for the position. The rest is history. I'm excited about it. I'm glad that I'm able to give the guys training and the things that I bring to the table — the experience and all the resources from meeting different officers all over the state of Louisiana," McIver said.
For most of his career, McIver has been heavily involved in training or instructing, so it is no surprise that he understands the importance of a highly-trained department.
"My last 20 years with the state was 50% training and 50% in the field. I've traveled throughout the United States and all over the state of Louisiana training state police and game wardens and police officers and sheriff's deputies in all aspects of law enforcement. So I understand that training is key to how we react to situations," said Chief McIver.
He has already had one officer attend field training officer's school, and that's just the beginning. There are officers attending courses to learn about less lethal bean bag rounds (bean bags shot from a shotgun), defensive tactics, sobriety testing, and more. He even has one doing the intensive drug recognition expert (DRE) training, which McIver himself has completed.
"In 2008 I became the first ever Louisiana Wildlife and Fisheries agent to become a drug recognition expert or DRE," said McIver. "We can recognize people under the influence of drugs other than alcohol. Let's say an officer stops someone on the street and they're impaired — they do a field sobriety test and they're impaired. They bring in the Intoxilyzer and their blood alcohol level is zero. There's nothing there, but this person's impaired. So they call a DRE in, and the DRE does a 45-50 minute evaluation. When they finish they can tell that officer, it's not alcohol that you're seeing them under the influence of, it's a drug category, like they're under the influence of stimulants with cannabis, or depressants and hallucinogens, or it could be even more. But we're able to go testify on the behalf of that officer. He can go ahead and charge them with DWI, testify in court that that person was under the influence of these drug categories — that the officer made a good stop, it was a good DWI, and it was because they were under the influence of this rather than alcohol. It's an extensive class to go through, and there's only a few thousand of us in the entire world. I was able to become an instructor in that so over the years I became a drug recognition expert instructor. Joel Kendrick is being sent to that class in March. He's going to be our first ever Minden Police Department drug recognition expert. He's going to come back and bring that information back to our department, and hopefully we'll start getting more officers trained in that. It's one of toughest schools to graduate from.
"When I send these guys to schools, they're becoming instructors. Then they're coming back and teaching the entire agency what they have been taught and are certifying our guys. I've got two guys going to a firearm instructor's school to become instructors in that. We've got somebody going to first aid / CPR to be certified to teach that. We have two of our guys going to a defensive tactics class that the Webster sheriff's office is putting on. They'll come back and teach us.
"Our goal is to, at the end of the year, have our first ever annual in-service where every year, starting in the fall of this year, we'll recertify on everything: firearms, defensive tactics, field sobriety testing, Intoxilyzer, first aid, CPR. And then we'll start implementing things — situation scenarios and different things. But we'll designate a month every year for nothing but training and retraining and brushing up on our skills. We're happy to be able to do that for the first time, to have our own annual in-service starting," Chief McIver said.
Since taking office, McIver has added seven more patrol units to the department.
"When I first took office, we barely had enough patrol units to cover a shift. I was able to go out and talk with other area agencies, and we were able to purchase, at a very discounted rate, some other patrol units. Used ones, but they're in very good condition so we've got those out there now so that anytime that we have parades and different things we've got enough units to help cover things," McIver said.
He's also added a juvenile detective and two new hires to the department, as well as having two officers, Reece Tewell and Christopher Cayer, promoted to sergeant.
"We have positions open right now for patrol and dispatch," said McIver. "We're taking in as many applications as we can to start filling up our department to get all those slots filled."
A new procedure which he has implemented is area patrols. Area patrols keep officers spread throughout the city.
"We have numbered districts where we patrol areas. Officers are assigned by their supervisor on each shift to an area; we've got three areas that the city's broken down into. The officers stay in their area unless they go to back up somebody else," said McIver.
This system is already paying off with arrests being made because an officer was in the area.
Chief McIver is well aware of the importance of working together with other agencies and departments.
"Every week we meet up with the Webster Sheriff's Office," McIver said. "We realize that things that happen out in the parish come into the city and vice versa, so we joined our forces together, we work together.
"I've got a great working relationship with the mayor and the city council. I'm proud of our city council and I'm proud of our mayor because they work together. They're super helpful and resourceful as well. They have great minds. The things they bring to the table…I'm like wow, that's good. It's great having all our heads working together — the mayor, the city council, the police department, the sheriff's office — nothing but positive can come out of that.
"I know, in the past, that we haven't had that, so now that we do, it's good. The people of Minden want it, and I believe that's a big part in how they voted, and it shows. We all recognize that, and we do our best to do our work. We may disagree on things, but we just disagree and move on.
"I want the citizens of Minden to be proud of the Minden Police Department. If people ask, 'How's the police department in Minden?' I want the citizens of Minden to say, 'We're proud of them. They're highly trained, well qualified, and courteous.'
"We want to make sure that we're a servant to the people of Minden and that we're there to protect them. My vision for the Minden Police Department is for it to be one of the most professional departments around — to have other departments coming to us to find out how we're doing what we're doing. That's my goal and where I see us in the future."