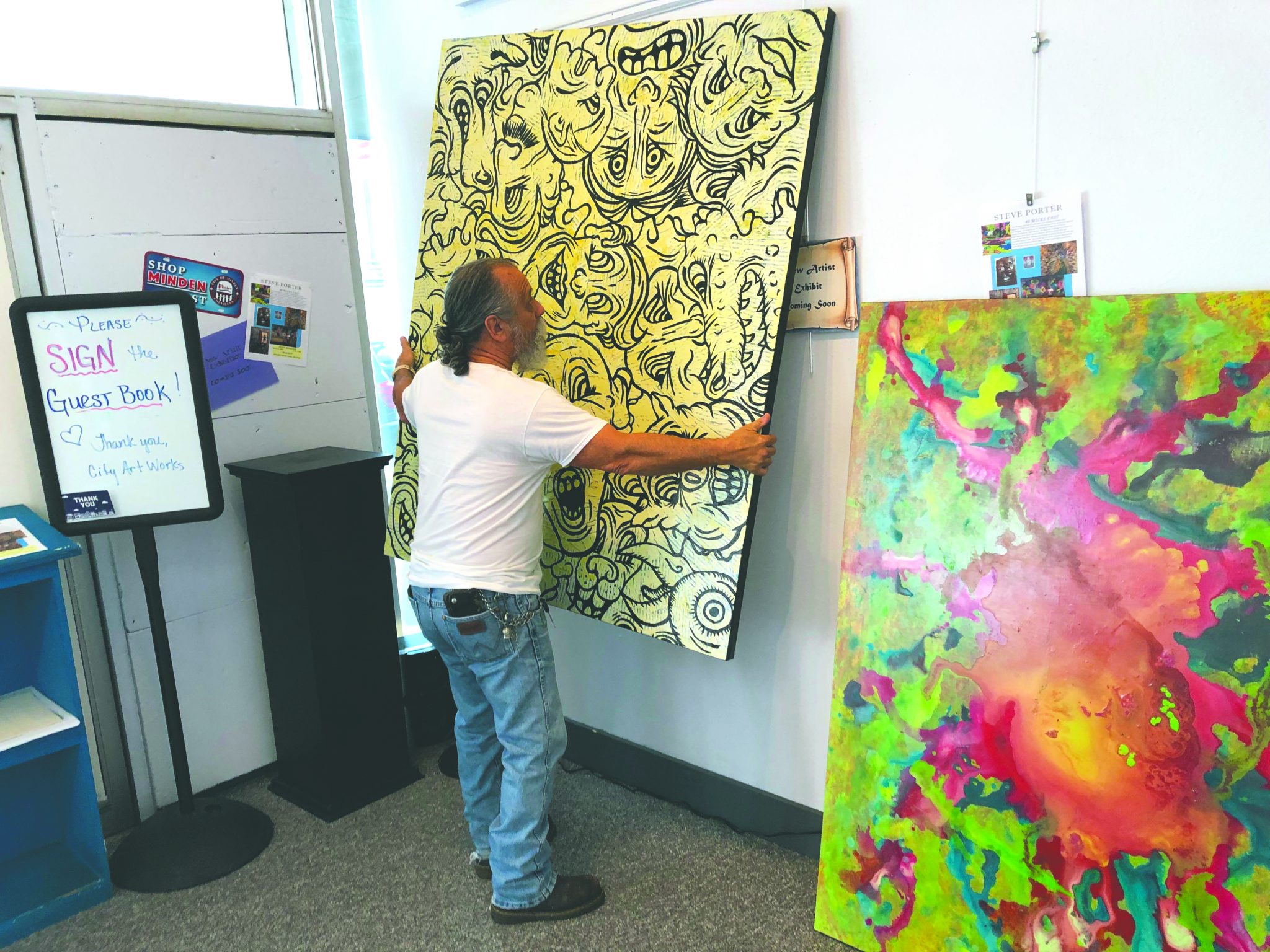 Minden City Hall and City Art Works will be hosting an art gallery starting May 23rd, 2019 and ending on June 6th. The art the gallery will be featuring is from Steve Porter, a local artist from the Shreveport-Bossier area as well as a teacher for the Bossier Talented Arts Program. Enjoying the added challenge of working on a large scale, he is known for his murals at Artbreak and on Texas Avenue. Besides painting, Porter says he has "authored and illustrated several books" and "His artwork is a part of many private collections all over the world, including France and Spain.
When asked to describe his style of art, Porter said "Possibly abstract, maybe stylized, contemporary." Porter's pieces didn't have any one particular theme, and what the different pieces evoked wasn't exactly consistent. In one room there hung a pieces showcasing a variety of colorful faces while another hosted a variety of grotesque looking masks. Porter explained that he "Liked to make people experience a variety of different things" when coming to his gallery. Though in particular, Porter said that, "I really like working with faces."
When asked how he tends to start creating his pieces, he said that "I get the canvas, and just start" and "I let the brush take me on a trip." He also said that his work "Continuously evolves. I'll work on something until I'm happy with it or just paint over it. Some of these pieces have several other paintings under them," according to Porter. While the amount of time each piece takes varies due to size and complexity of the piece, on average Porter says "They each take about 20-30 hours with some of his bigger pieces, sizes 9×12 feet and 25×5 feet, taking over 100 hours each."
Porter has had opportunities to showcase his artwork at galleries located in France and Spain, but has not done so because of an aversion to flying. "I was born without wings, hence, I'm a groundwalker." However, while he has had opportunities to showcase his artwork to a larger audience, he says that sharing with his local community comes first. "What I really appreciate is that in my hometown area, North Louisiana is where I grew up, and I would rather have people here enjoy my work first, then spread it out.
A majority of his pieces will be seen at City Art Works, located on 701 Main Street, but his biggest piece,being 25×5 feet, will be displayed at the Minden Civic Center. An Artist Reception at City Art Works will be held today, May 23rd from 5-7 pm.