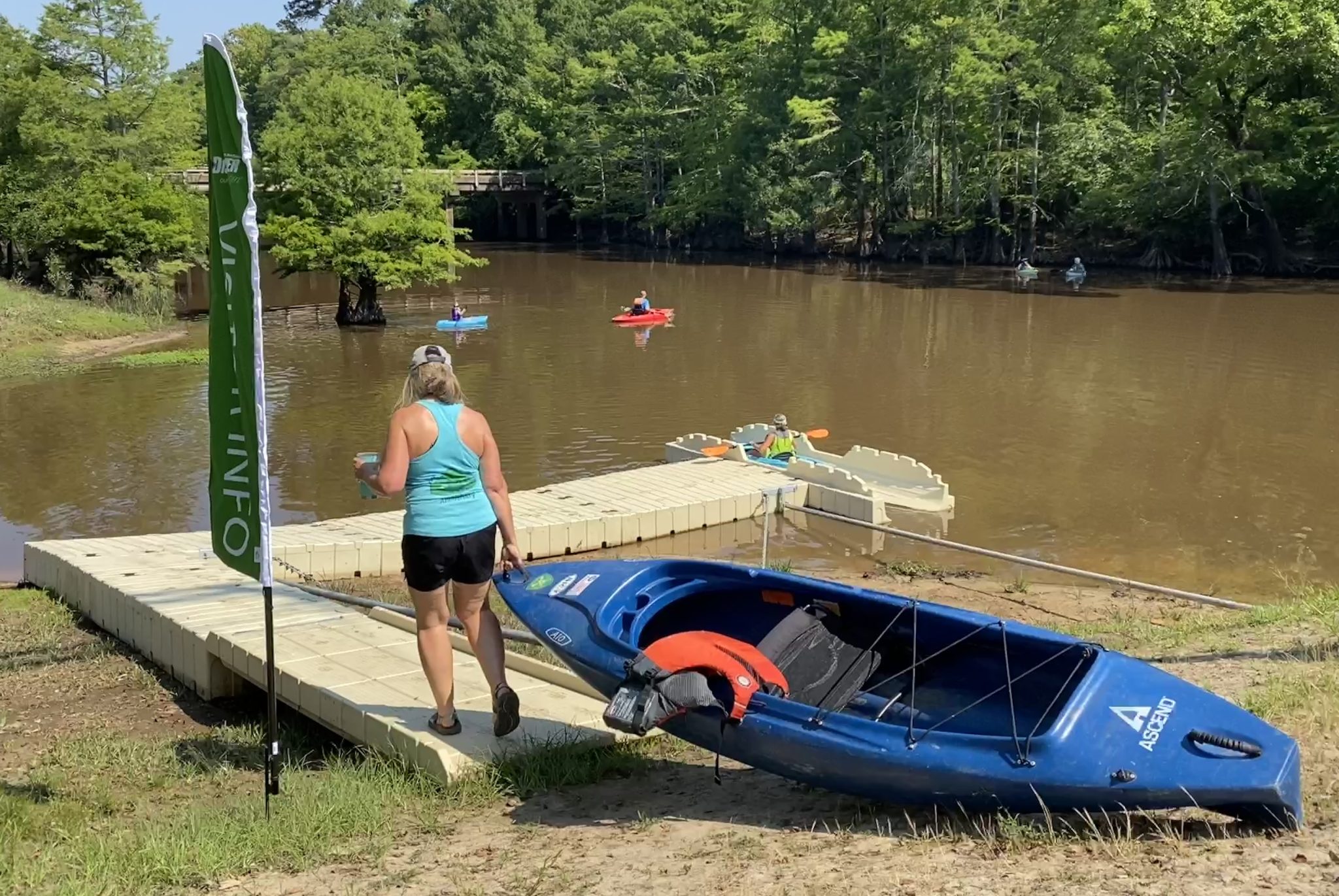 Webster Parish Tourism held a ribbon cutting on June 2 for the new kayak launch dock that has been installed in Dixie Inn on Bayou Dorcheat. It is located next to the boat launch on Dorcheat Street adjacent to the site of the former Dorcheat Seafood & Grill. Community leaders from numerous organizations came out to show their support for this project.

"This is a long-time dream in the making," said Serena Gray, the executive director for Webster Parish Tourism. "When I started this job five years ago, I knew I wanted to establish a kayak trail because it just blew my mind that there wasn't already one out here with Bayou Dorcheat running through the entirety of the parish."
The dock was installed by EZ Dock, which is also the company that evaluates proposed sites and gives advice on what type of dock should be placed there. Two other proposed sites are being considered at this time, one in Sibley on Hwy 164 and the other in Shongaloo on Hwy 2. Whichever one can be completed more quickly will be the next dock to be installed.
"The work that goes into preparing the land for these docks is done with the police jury's help. They see the vision of Tourism. They see what we're doing, and they want to help us accomplish the dreams and the plans that we have for the parish. We could not be doing this project without the police jury's partnership and cooperation," said Gray.
"I think these docks will help our locals realize how serious we are about kayaking, and give our locals an opportunity to have a quick family trip right here in Webster Parish. The information that we have on the paddle trail and the information that we have on checking the water gauge is on our website at visitwebster.net/outdoors.
"At our last kayak event, which was on Lake Bistineau, we had 132 paddlers travel in from five different parishes, four different states, and three international countries," Gray said. "It was the biggest paddle that we've done so far, and we just know that, as we continue to build this product, more people are going to come and take advantage of that.
"And what a beautiful location and what a beautiful spotlight right here in Dixie Inn. We love this launch, and we're going to do our best to take care of it.
"We wouldn't have been able to come this far in kayaking and paddling on our waterways without the support of the Bayou Chapter of the Ozark Society," said Gray. "They are phenomenal. They volunteer their time to place the signage, they come to our events, they help us teach people how to get on the water.
"We're doing such a great job that other parishes are wanting to replicate what we are doing. I think imitation is the highest form of flattery, so we must be doing something right. We have a beautiful parish, and we're going to continue to promote it."
A moonlight paddle is scheduled for June 3. Participants will meet at the launch at 6 PM, then shuttle their vehicles to the destination dock before returning to start the paddle.
Dorcheat Bayou Rentals rents one- or two-seat kayaks, including life jackets and paddles, and they even rent kayak trailers if you need one to get to the launch. For reservations, call (318) 403-3440.